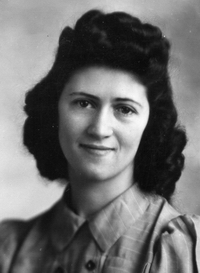 Dorothy Wagner Dunkleberger, 89, of Boiling Springs went to be with her Lord on Wednesday, September 28, 2011, at home with her family by her side. Dottie was born in Newville May 6, 1922, a daughter of the late George Albert Wagner and Della Mae (Bowers) Wagner.
Dottie was a lifelong member of the Newville and Churchtown Churches of God. She served on the Church Council, the Christian Service Council of Churchtown, and participated in the Ultra Plus Sunday School class. Dottie was active in Farm Women Group 13, eventually serving as president. In later years, she joined the Golden Age Club of Boiling Springs. Dottie enjoyed traveling, crocheting, gardening, and oil painting. Dottie was a devoted mother and wife, who worked tirelessly alongside husband Paul on their 103-acre dairy farm for over forty years.
Dottie is survived by her husband of 63 years, Paul B. Dunkleberger, two daughters; Charmaine Bailey of Fairbanks, Alaska and Nettie Rhoderick of Mechanicsburg; grandchildren Matthew Brechbill of Hagerstown, Maryland, Tim Brechbill (and wife, Tiffany) of Wellsville, New York, Cara Deviny (and husband, Logan) of Spokane, Washington, and Nicholas Bailey of Fairbanks, Alaska; great-grandchildren Cherub Brechbill, Timmy and Naomi Brechbill, and AnnaLeigh Deviny and a daughter-in-law, Pam Dunkleberger of Carlisle. Dottie was preceded in death by brothers; Theron and Kenneth Wagner, one sister, Bernita Rife, and one son, Randy Dunkleberger.
Funeral services will be held at 1:30 p.m. Monday, October 3, 2011, at the Churchtown Church of God, 351 Old Stonehouse Road South, Boiling Springs, with Pastor Dick Warner officiating. Burial will be in Cumberland Valley Memorial Gardens, Carlisle. Visitation will be Monday from 12:30 p.m. until time of the services at the church. Attendees are welcome to bring any favorite memories of Mom to share. Ewing Brothers Funeral Home, Carlisle, is in charge of arrangements. Memorial contributions may be made in Dorothy's name to her church.
Click here to send a condolence

So sorry to hear of your wife/mother's death. I will remember her as a kind and gentle lady who was a hard worker at home. My thoughts and prayers are with you all at this time.

Sally (Reighter) Kilmore
_______________

Dear Paul, Charmaine,Nettie and Family,
We Christians are not afraid of the night of death because our heavenly home is "just on the other side." I love the scripture that says "To be absent from the body is to be present with the Lord." There's no doubt Dottie has seen the face of her Lord, what blessed assurance for us that await that JOY. My prayers are with you all as you grieve the separation, but rejoice in Dottie's life of service and love to her family, church and community.
She will be missed by all who were blessed to call her Friend.

Love & Prayers,
Virginia Manning and Family
_______________

Dear Paul & Family,
My parents were Vic & Betty Whitten who are celebrating in heaven with Dot. I am so sorry for your loss, but we do know they are in a much better place and we will see them again. I ran into Betty Wert a few weeks ago and she had told me that Dot was not doing well. We reminisced about old friends from Farm Women Group #13, many of whom are no longer with us. I have so many fond memories of Dot. You are all in my thoughts & prayers.

Debbie (Whitten) Arnsberger
_______________


Your message of condolence will appear here.