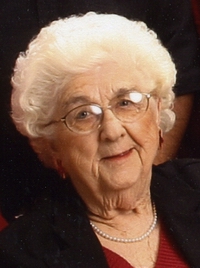 Anna M. Line, 95, of Carlisle, died Tuesday, September 13, 2011, at the Sarah A. Todd Memorial Home, Carlisle. She was born December 4, 1915, in Highspire, a daughter of the late James B. and Sara (Bistline) Gross and was married for 54 years to the late Roy G. Line, who died Aug. 10, 1991.

Anna was a member of First Presbyterian Church, Carlisle, where she was a former Deaconess. She was a Past President of the Carlisle Garden Club, a former Board member of the Carlisle Y.W.C.A. and was a volunteer for the Carlisle Meals on Wheels and at the former Carlisle Hospital for many years. She also had been a member of the Shamrock Club, Carlisle Hospital Auxiliary, Mary Dickinson Club and AARP Chapter 3374, Carlisle. Anna was a loving homemaker, mother, grandmother, sister, aunt and friend. Her love for her family was to be admired and she loved children and children loved her.

She is survived by one son, Larry L. (and his wife, Yvonne) Line of Lancaster, two sisters; Kathryn Leachman of Cheyenne, Wyoming and Aliene Mahoney of Carlisle, two granddaughters; Yvette Line-Koller of Lancaster and Jennifer Bonavita of Ephrata, five great-grandchildren; Myahn, Hagan, Mackenzie, Alexis and Michael and many nieces and nephews. Anna was preceded in death by one sister, Thelma Conrad and four brothers; John, Henry, James and William Gross.

Funeral services will be held at 11 a.m. on Saturday, September 17, 2011, in the Ewing Brothers Funeral Home, 630 S. Hanover St., Carlisle, with Rev. Jon Black officiating. Burial will be in Westminster Memorial Gardens, Carlisle. Viewing will be held Saturday from 10 a.m. until time of service. Memorial contributions may be made to First Presbyterian Church Benevolent Fund, 2A N. Hanover St., Carlisle or to the Sarah A. Todd Memorial Home, 1000 W. South St., Carlisle, PA 17013
Click here to send a condolence

I am so sorry for your loss. I will miss her so much.
Anna always had a big smile for me.
My thoughts and prayers are with you.
I work in Dietary at Sarah Todd

Tonya Mentzer
_______________

I'm sorry I didn't make it to the service, but my thoughts were with you.
Your mother was a lovely person.

Mrs. Dennis Gross
_______________

My family (Bruce, Helen, John, and Jane Bolan) and I knew and loved Anna and family from the time we joined the First Presbyterian congregation. She was a dear friend. We enjoyed many services, "nickel" suppers, pinochle games, and family times with her. Please know that our thoughts and prayers are with her family.

Jane Bolan Sullivan
_______________

My heartfelt sympathies in the loss of your dear mother.
May the fond memories shared bring comfort during this time of great sorrow.
(Please read John 5:28,29)

A. Jackson
_______________


Your message of condolence will appear here.