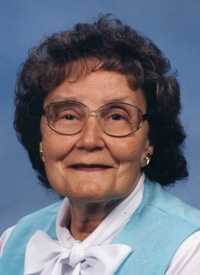 Ruth A. "Gram" Frank, 84, of Carlisle, passed away on Friday, August 19, 2011, at Carlisle Regional Medical Center. She was born on Wednesday, July 27, 1927, in Idaville, and was a daughter of the late Mervin A. Beamer and Louise Grace (Miller) Beamer Coover, and the widow of Howard L. "Hob" Frank, who died Sept. 11, 1982.
Ruth was a 1947 graduate of Boiling Springs High School. She retired after 32 years of service with the former Carlisle Poultry & Egg Co. She was a member of Carlisle First Church of God and was a dedicated volunteer for many years at the Church of God Home, Carlisle.
She is survived by one daughter, Karen L. Chestnut of Carlisle, two brothers; Glenn Beamer of Fairfield and Karl Beamer of California, one sister, Martha Ludwig of Mechanicsburg, two grandsons; Kevin (and his wife, Lori) Chestnut of Carlisle and Brian (and his wife, Elizabeth) Chestnut of Mechanicsburg, two great-grandsons; Collin Lindsay and Drew Chestnut and several nieces and nephews. Ruth was preceded in death by three brothers; Richard, Robert and Raymond Beamer and three sisters; Mildred Penrow, Gladys Anderson and Beatrice Beamer.
Funeral services will be held at 10:30 a.m. on Tuesday, August 23, 2011, at the First Church of God, 705 Glendale St., Carlisle, with Rev. D. Alan Mathna officiating. Burial will be in Wenksville Cemetery in Adams County. Visitation will be from 6 - 8:00 p.m. on Monday, August 22, 2011, in the Ewing Brothers Funeral Home, 630 S. Hanover St., Carlisle. Memorial contributions may be made to the Church of God Home, 801 N. Hanover St., Carlisle, PA 17013.
Click here to send a condolence
To The Family,
Ruth was a devoted Volunteer and good friend. She will be sadly missed by her friends at Church of God Home.

A Friend, Jan Hoover
_____________

Karen, I am sorry to hear of the passing of your mother. It has been 2 1/2 years since my mother passed and I still miss her. You will always have good memories which will help you through this. Know that you are in my prayers.

Glenda McClain Hatt
_______________

Karen,

I am so sorry to hear of your mother's passing. I remember teaching her how to turn on her high beams when she was in the drive thru at Sovereign with her new car. Thoughts and prayers to you and your family.

Chastity Bucher
_______________

Karen,
Our deepest sympathy on the loss of your Mother. Time will heal your heart but the memories will always be with you. Your Mother is at home with God now and he will take care of her.
Take care and keep in touch w/us.

Gene & Sandy Landis
_______________

Karen,
Our thoughts and prayers are with you and your family
on the passing of your mother.
We know it is hard, but the pain does ease with the passing of time.
Keep the good times in your memeories.
Our deepest sympathies.

Jeff and Darlene Heberlig
_______________


Your message of condolence will appear here.