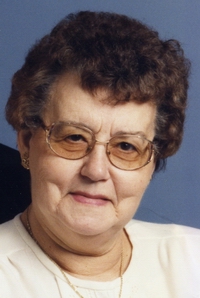 Mary Jane Myers, 81, of Shermans Dale, passed away on Friday, July 22, 2011, at her home. She was born on Wednesday, August 7, 1929, in Carlisle, and was the daughter of the late Grace Finkenbinder and the widow of Clair H. Myers, who died Nov. 16, 2003.
Mary Jane was a 1946 graduate of Carlisle High School. She had worked at the former Carlisle Food Market and retired as the Postmaster at the Shermans Dale Post Office after 30 years of service. She was a member of the Shermans Dale United Methodist Church and was a devoted contributor and volunteer at the Perry County Food Bank.
She is survived by three daughters; Margaret E. (and her husband, Robert) Heisner of Carlisle, Melanie A. Fetterhoff of Carlisle and Laurie E. Myers of Mechanicsburg, one son, Randall H. (and his wife, Deborah) Myers of Shermans Dale, six grandchildren; Michael Moll, Brian Myers, Ginger Keck, Stephanie Campbell, Heidi Fetterhoff and Holli Miller, 12 great-grandchildren and one nephew.
Funeral services will be held on Wednesday, July 27, 2011 at 10 a.m. in the Shermans Dale United Methodist Church, 50 Windy Hill Rd., Shermans Dale, with Rev. N. Jeffrey Brewster officiating. Burial will be in Shermans Dale Presbyterian Cemetery. Viewing will be at the church on Tuesday from 6 - 8:00 p.m. and on Wednesday from 9:30 a.m. until time of the services. Ewing Brothers Funeral Home, Carlisle, is in charge of the arrangements. Memorial contributions may be made to the Perry County Food Bank, 300A South Carlisle St., New Bloomfield, PA 17068.
Click here to send a condolence
Jane as we knew her will be truly missed... Jane was always there for us when we needed to talk to someone... Jane and Clair were the BEST neighbors anyone could ever ask for, we couldn't of hand picked them any better. We are truly blessed having known both of them... Our hearts go out to the family, Jane we Love you...

Jeff, Chastity, Makayla and Hannah Seburn
_______________
Your message of condolence will appear here.