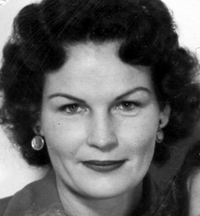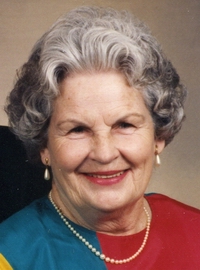 Ellen Claire Hays Trattner, 88, joyfully left this earth to be with her Heavenly Father on Monday, May 2, 2011, at Chapel Pointe Health Center, Carlisle. She was born in Brooklyn, New York on Wednesday, January 31, 1923, and was a daughter of the late John R. Hays and Claire (Smith) Hays Meszaros. She was the widow of Herbert Marvin Trattner, Ret. Colonel U. S. Army, her husband of over 50 years, who died February 16, 2001. She was also preceded in death by two brothers; John (Jack) Hays and Francis (Frank) Hays and three sisters; Arline Ralph, Mary White and Patricia Ruth Hays.
Ellen is survived by her daughter and son-in-law, Gail and Jim Buckley and daughter, Ellenclaire Trattner, all of Carlisle, four granddaughters; Maryellen (and husband, Jonas) Sheehan of Hershey, Missy (and husband, Edward) Nallen of Sicklerville, NJ, Megan (and husband, Daniel) Fass of Arlington, VA and Kate Klapatch of Carlisle. She is also survived by six great-grandsons and two great-granddaughters. She leaves behind many friends, past and present, with special recognition to her friend and neighbor, Helen (Bookie) Lucas, her dear friend, Sister Maris and her cousin and friend, Marie Guarino.
Ellen loved her family and friends. Her favorite place was the beach and she loved to walk along the shoreline and listen to the sound of the waves. She passed that love to her daughters, grand-daughters and great-grandchildren.
The family would like to thank the wonderful people of Menno Village, Chambersburg, Forest Park Health Center, and most notable, the kind nurses, aides and staff at Chapel Pointe Personal Care, Chapel Pointe Health Center and Hospice of Central Pennsylvania, whose caring actions can never be repaid. Ellen's health had been failing for the past year and she is finally with her Lord and is at peace. She will be sadly missed by all.
Funeral services will be held at 11:30 am on Saturday, May 7, 2011, at Ewing Brothers Funeral Home, 630 S. Hanover St., Carlisle, with Rev. Vernon Isner officiating. Viewing will be held from 10:30 am until the time of services on Saturday. Burial at Arlington National Cemetery, Arlington, VA will be at a later date. Contributions may be made to Hospice of Central Pennsylvania, 98 S. Enola Dr., Enola, PA 17025.
Click here to send a condolence
Ellen was such a sweet wonderful lady. I always enjoyed talking to her, and she was always so cute and funny. She will always hold a special spot in my heart, and I will truly miss her. Your family is in my thoughts and prayers.

Amber Batzel (Chapel Pointe)
________________
With deepest sympathy to the family. Ellen was a sweet lady, I took care of her at Forest Park and she was delightful, especially when she would walk down the hall and have a smile and Hello to all she passed by. God Bless

Karen Williams
______________
My sincere condolences to the whole family. Ellen was a vibrant, take charge person who will be sorely missed. I always enjoyed talking with her when we met. You can all be proud of the care and concern you showed her especially as her health declined. She is now at peace with God.

Jeanne Kirkpatrick & family
______________
Dear Trattner family, I wish to express my sympathy in Ellens passing. I had the pleasure of knowing her in better days but I know she is in a better place.
Sincerely, Ruth Killian
______________
Your message of condolence will appear here.