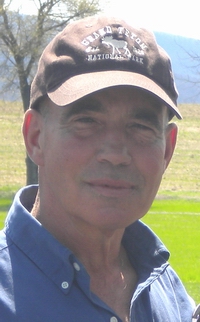 And then he went down to the ship...Henry E. Miller, 62, of Harrisburg, passed away on Tuesday, April 26, 2011, at his home. He was born on Tuesday, March 15, 1949, a son of the late George E. Miller and Georgette (Ferrera) Miller Goodwin
Henry was a voyager with wanderlust in his veins. Born in Recifie, Brazil and growing up along the French Riviera. He was an avid sailor, having gained his sea legs along the stormy Portuguese coast. An art connoisseur, Henry appreciated the beauty in this world. He was an eternal optimist and devoted to his family and friends almost as much as he was to chocolate.
Henry is survived by his brother, George, his sisters; Elizabeth, Sara and Lorraine, his nephew, Eric, a niece, Alexandra and his dear friends Bob, Tim, and Willy.
A Memorial Mass will be celebrated at 5:30 p.m. on Wednesday, May 4, 2011, in the St. Patrick Shrine Church, 152 E. Pomfret St., Carlisle, with Rev. Daniel J. Menniti as the celebrant. Private burial will be held at a later date. Ewing Brothers Funeral Home, Carlisle, is in charge of arrangements.
Click here to send a condolence
I was so sorry to hear of Henry's passing. He was a wonderful and charming man with a kind and beautiful spirit.

Luci Harris
_______________

I was so sorry to hear of Henry's passing away.
I will always remember Henry for his devotion to his family in Portugal, as well as to his family in the US, and for all the fun we had when he visited us in Lisbon/ Cascais and all the laughs we shared.
Um grande abraço para o George, Lorraine, Alexandra and Eric.
May Henry sail away, Filipa

Ana Filipa Sequeira
_______________
So many friends of Henry's to contact and so many threads to follow in order to do it. Ever the master of the mystery caper, even now. Henry, now that you are gone how do we live up to your gentle expectations and hopes for us? You said that we were all "incredible" and how do we live up to that? You made everyone you met feel special. Thank you.
_______________
I would like to add some salient points missing from Henrys obituary. Henry was a true polymath whose range of knowledge included many arcane and esoteric fields. He was fluent in five languages and towards the end of his life was learning Chinese. He was one of the youngest interpreters for the US State Department after having entered the University of Maryland at the age of fifteen majoring in physics. He was a globetrotter who collected antiques, some of which were thousands of years old. Above all he had a joie de vivre and kindness which was communicated to all who met him.

George Miller
_______________
I'm very sad about Henry's so early passing.
The Atlantic Ocean was never an obstacle to be present and always helpful.
He will be deeply missed and will always be in our memories here in Portugal.

Teresa Sequeira
_______________
I will always remember the many Saturday morning conversations we had, Henry's kindness and humor, and the good times we had when Henry escorted me around the D.C. area. I will miss him.

Lorraine Miller
_________________

I knew Henry at the University of Maryland and often visited his home in College Park.
He was my first love

Frederick
_______________

George-
I was so sorry to find out about Henry's
Death. He meant so much to me.
Frederick Bradstreet
4 Bradstreet Terrace
North Haven,Ct 06473



Your message of condolence will appear here.