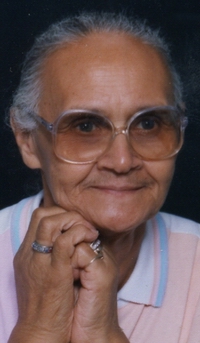 Betty M. Petty, 84, of Carlisle, passed away on Sunday, April 24, 2011, at Carlisle Regional Medical Center. She was born on Wednesday, May 26, 1926, in Carlisle, a daughter of the late Wilson I. and Edith (Sampson) Hinton and the widow of Charles Y. Petty, Sr., who died Nov. 8, 1997.
Betty graduated from Carlisle High School. She was a loving homemaker and enjoyed crocheting afghans. She was a member of Shiloh Missionary Baptist Church, Carlisle. In her later years, when she could no longer attend church on her own, Betty attended the Agape Tabernacle Of Praise in Harrisburg with her grandchildren.
She is survived by two sons; Charles Y. (and his wife, Mariann) Petty, Jr. and Ernest L. (and his wife, Cheryl) Petty, both of Carlisle, two daughters; Lisa M. Christopher of Carlisle and Judith A. (and her husband, Nathan) Petty-Smallwood of Southlake, TX, one brother, Melvin Hinton of Harrisburg, 9 grandchildren, 27 great-grandchildren, 3 great-great-grandchildren and many nieces and nephews. Betty was preceded in death by daughters; Charlotte Brock and Yvette Petty, a brother, Donald Hinton and sisters; Ruth Coleman, Helena Davis, Dorothy Evans, Sarah Evans, Mercedes Felton and Grace Hinton.
Funeral services will be held at 12:00 Noon on Friday, April 29, 2011, at the Carlisle Alliance Church, 237 E. North St., Carlisle, with Rev. Duane R. Coleman officiating. Burial will be in Cumberland Valley Memorial Gardens, Carlisle. Viewing will be on Friday from 11 a.m. until time of services at the church. Ewing Brothers Funeral Home, Carlisle, is in charge of the arrangements. Memorial contributions may be made to the Alzheimer's Association, 3544 N. Progress Ave., Suite 205, Harrisburg, PA 17110.
Click here to send a condolence
Joslyn and Family.
My heart grieves with you and for you, because a true angel has left this earth. Know God uses us everyday to do His will .
I know at times it seems difficult to take the road that he chooses,at times you don't understatnd why,but after all he does know the way to go and he does know best... And when it's all said and done, we too agree with his will, that it was best for us to go that way and for things to happen they way they did.

Love,
T.P
Tasha
_______________
Everyone I was close to always called you Aunt Bet. Sweetie, you will be greatly missed. My condolences to your friends and family and all will remain in my prayers.

Dana Drew
_______________
I would like to tell the family your Mother was a beautiful person and she will be truly missed but she is with your Dad and all is good with her now.

Donna Mae Owens-Daughtry
______________
to Betty ~
My prayers and deepest thoughts I give to your family in this time of sorrow - may the blessings from the Lord and fond memories help them heal with the loss of their Mother...
God Bless...

Reg VanAsdalan
______________
I send my condolences to the family of Betty Petty. She was much loved, honored and appreciated.

Kireston "Nanny" Wilson
______________
To the Petty family,
You have my deepest sympathy. To have to say good bye to your last parent is very hard. I have such fond memories of your family when we were neighbors. You are in my prayers. God will take care of you, providing your family with the strength and assurance you will need in the days and weeks ahead.

Janet L. Bell
_______________
A beautiful Angel called home with her work well done.
Don't be sad and don't be blue because the wonder Angel named Betty Petty is in heaven, preparing a place for you. You will meet again.
God bless you all.
From Mel Jr. and Family

Melvin Hinton Jr.
_______________

I know you are in a better place Aunt Bet but our hearts are very heavy right now and you will be truly missed. We miss you already. R. I. P.
We love you.

Your nieces, Lin, Mae and Pick
_______________
Our heartfelt condolences and sincerest regrets go out to the entire Petty family. Ms Bett was beloved by us all.

A contribution to the Alzheimer's Association will be made in memoriam.

The Roebuck Family
_______________

Your message of condolence will appear here.