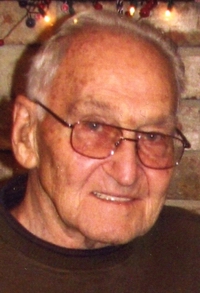 Lee N. Stone, 87, of Carlisle, passed away on Friday, March 25, 2011, at M. S. Hershey Medical Center. He was born on Tuesday, May 8, 1923, in Carlisle, a son of the late Andrew J. Stone and Helen B. (Kutz) Stone.
Lee was a US Army veteran of WW II and retired in 1983 from the Pennsylvania Railroad with more than 40 years of service. He was a member of Orchard Springs Fellowship in Aspers, and he enjoyed traveling, square dancing, shuffleboard and meeting his fellow PA Railroad retirees on Wednesday mornings at the McDonald's in Summerdale. He loved all of his grandchildren and would attend as many of their activities and events as possible. He was affectionately called "Grandfather".
He is survived by his wife of 17 years, Bessie A. (Wayman) Morgan-Stone, sons; Rodney (and his wife, Marilyn) Stone of Adell, WI, Dennis (and his wife, Paige) Stone of Miami, FL, Greg (and his wife, Sandy) Stone of Conestoga and Kyle Morgan of Carlisle, daughters; Nanci (and her husband, Allan) Link of Washington D.C., Trudy (and her husband, Larry) Adams, Catherine Stone, Kimberly (and her husband, Richard) Schaeffer and Kyndle Morgan, all of Carlisle, brother, Ray Stone of Carlisle, sister, Helen Hain of Carlisle, 30 grandchildren, 30 great-grandchildren, 2 great-great-grandchildren and many nieces and nephews. Lee was predeceased by son, Brian Stone and brothers; Emanuel, Floyd, George and Paul Stone.
Funeral services will be held at 10:30 a.m. on Wednesday, March 30, 2011, in the Ewing Brothers Funeral Home, 630 S. Hanover St., Carlisle, with Pastor Anthony C. DeRosa officiating. Burial with military honors by Cumberland County Honor Guard will be in Cumberland Valley Memorial Gardens, Carlisle. Viewing will be held on Tuesday from 6 p.m. to 8 p.m. at the funeral home and on Wednesday from 9:30 a.m. until time of services. Memorial contributions may be made to Orchard Springs Fellowship, 2140 Carlisle Rd., Aspers, PA 17304.
Click here to send a condolence
We are so very sorry for your loss.
It was our pleasure to know Grandfather.

The Lane's
Matt, Angie, Amya, & Addison
_______________
My deepest sympathy to the family on Lee's passing. He was always a great "neighborhood father" to those of us who grew up on Cavalry Rd.

Don Warner
________________
R.I.P. UNCLE LEE YOU SURE ARE GONNA BE MISSED! I'LL ALWAYS HAVE THE MEMORIES OF THE TIMES ME AND MY DAD CAME DOWN TO FLORIDA TO VISIT. TELL MY MOM AND DAD I LOVE AND MISS THEM.

YOUR NIECE, CHRISTINA (STONE) WICKARD
________________

I want to say what a great grandfather you were to me and my family. Sometimes we all didn't get along but I could always count on your love. I will always remember you for calling me Mr.Personality, for all the times spent at family functions and the time we spent in Florida. I will miss you dearly and will someday see you again. I am glad we were able to see one another not long ago and the memories of you being at my daughter's wedding and holding my grandson as you had once held me. I will always love you.

Your grandson, Scot
(Gregory Scott Stone)
_______________

Cass, Trudy and Athena -
My heart goes out to you and your families.
My thoughts and prayers are with you.

Pat Markel
_______________
Uncle Lee, you are surely going to be missed. You are a great guy and were the glue to the family! Just like Aunt Chris mentioned I remember those trips to Florida to visit.We all loved you.
Rest In Peace
Love, Amy

Amy Shellenberger McQuillen
_______________
Bessie and very large family, myself and three children offer our condolances at this very sad time. I am so very certain of how much he will miss all of you and all of you him. He aged very well for his years and was a very loved man.
God Bless all of you and we all will join him in the future.

Patricia V (Stone) Zellers and three children
_______________
Bessie and large family, we offer our consoldences to the whole family. I have fond memories of cousin Lee, speaking over the phone and late 1990's at family reunion. Lee wore his years well and I am happy that we knew him, althought in a very limited way over the past fifteen years.
God bless him and your family at this very sad time.
Love to all now and in the future.

Patricia V (Stone) Zellers,
and children Sharon A of San Antonio, TX
as am I, Steven J
_______________
Grandfather, you were such a loving person and for that I thank you! I feel so blessed to have had such an amazing person in my life. I am so glad my family and I were able to make it out to see you not too long ago, and that you were able to make it to my wedding and meet Mike my husband and Brayden my son, your great-great grandson. I will remember you and love you always, see you again someday. <3

Brittany ( Stone) Porreca , Great granddaughter
_______________

Sorry to hear of the passing of my great uncle Lee. It was always interesting to hear all his stories of his travels and of all the grandkids.
He had a great life and will be missed.
With love Jeffrey Jumper
_______________

Your message of condolence
will appear here.