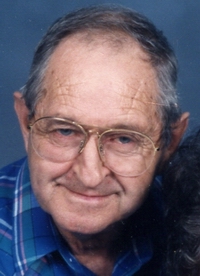 William "Clark" Thumma, 88, of Carlisle, died on Friday, February 25, 2011, at Carlisle Regional Medical Center. He was born on Sunday, February 25, 1923, in Dickinson Twp., a son of the late John O. and Bessie (Eckard) Thumma.
Clark was formerly employed with the North Eastern School District for 12 years as the head custodian and had also worked for 12 years with the former W. H. Garland, Inc., Carlisle.
He is survived by his wife of 47 years, Delores M. (Snyder) Thumma, sons; Troy A. Thumma, Sr. and Clark Gary Thumma, both of Carlisle, Albert D. Crisamore, III of Luray, VA, Carl E. Crisamore of Camp Hill and Timothy R. Crisamore of York County, daughters; Debra A. Grice and Deidre E. Shortlidge, both of York and Karlyn J. Foose of West York and numerous grandchildren. Clark was preceded in death by his first wife, Jenette (Garmin) Thumma, who died Oct. 29, 1958, a daughter, Patsy Ann Thumma, brothers; John and Robert Thumma and sister, Catherine A. Barrick.
Graveside services will be held on Tuesday, March 1, 2011 at 2:30 p.m. at Young's United Methodist Church Cemetery, 40 Old State Rd., Shermansdale, with Pastor Tim Wheeler officiating. Ewing Brothers Funeral Home, Carlisle, is in charge of arrangements. Memorials may be made to Celtic Healthcare of Carlisle, Suite 100, 220 Wilson St., Carlisle, PA 17013.
Click here to send a condolence
To my grandpa....

We weren't that close, but I wish I would have had more time with you over the years.

You will be missed dearly...Many tears will be shed when I think of you saying. "Paula Kay"

I love you!
Your GrandDaughter Paula Kay
_______________
I am so sorry for the loss of such a dear and kind man. I enjoyed talking to him when I visited with Delores. I am thinking of you at this difficult time. Please take care of each other.

Linda N Kreiser LPN CHPLN Celtic Hospice
_______________
I miss my father so bad its hard to keep it to get her but now I have two grandsons to help keep it together because I know thats what he would do he was a better man then I would ever be I miss you dad and always will love him.

Troy A Thumma Sr
_______________
Your message of condolence will appear here.