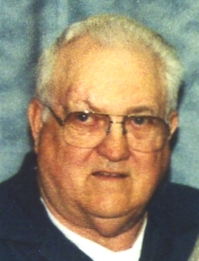 John W. Martin, 80, of Mechanicsburg, died Monday, December 13, 2010 at HealthSouth Rehabilitation of Mechanicsburg. He was born on Saturday, September 20, 1930, in Pottstown, a son of the late Louis E. Martin, Sr. and Mary Jane (Moreland) Martin. He was married to the late Freda M. (Diller) Martin, who died Dec. 8, 1996.
John graduated from the former Blain Union High School in Blain. He served in the U. S. Marine Corps and was a veteran of the Korean War. John was employed for more than 20 years with the former Capital Products, Inc. in Mechanicsburg as a tool and die repairman. He also worked part-time for many years with Avis Car Rental at Harrisburg International Airport. He was a former member the Presbyterian Church of Mechanicsburg and was a member of the Mechanicsburg Area Church Bowling League. He was an avid golfer and Philadelphia sports fan.
John is survived by a son, John C. Martin of Elliottsburg, a daughter, Debra K. Flachsmann (and husband, Matthew) of Carlisle, three brothers; James M. Martin of Dover, DE, Robert E. Martin of Carlisle and Franklin R. Martin of New Bloomfield, a sister, Jane Kaiser of Dillsburg, four grandchildren, three great-grandchildren and many nieces and nephews. He was also preceded in death by a brother, Louise E. Martin, Jr.
Funeral services will be held at 10:30 a.m. on Monday, December 20, 2010 at Ewing Brothers Funeral Home, 630 S. Hanover St., Carlisle with Rev. Myrtle E. McCall officiating. Burial will be in Dillsburg Cemetery with military honors by Cumberland County Honor Guard. Viewing will be on Sunday from 2 to 4:00 p.m. at Ewing Brothers Funeral Home. Memorial contributions may be made to American Diabetes Association, 3544 N. Progress Ave., Suite 202, Harrisburg, PA 17110.
Click here to send a condolence
Deb, Matt and Jess,
You have our deepest sympathies. We know how rough this has been on all of you. If there's anything at all we can do, please let us know.
Love,
Deb and Roger Liberator
______________
Deb, Matt & Jess,
We would like to convey our sincere sympathy to all of you on the loss of your dad & grandfather. No mere words are enough, but just know that we love you and our heartfelt thoughts and prayers are with you at this most difficult time. Please also know that we are here if you need us.

Love, Judi, Barb, Donny & Don
_______________
Deb and Jess,

We are deeply sorry for the loss of your father and grandfather. Please accept our sincerest condolences.

Jennie and Alan Mills
______________
Your message of condolence will appear here.
Ewing Brothers Funeral Home, Inc.
Since 1853
630 S. Hanover St., Carlisle, PA 17013
Phone: (717) 243-2421
"Five Generations of Service"
Steven A. Ewing, FD, Supervisor, Owner
William M. Ewing, FD
(1926 ~ 2009)
Seymour A. Ewing, FD
(1926 ~ 2009)
Jessie Morrison Ewing, FD
(1892 ~ 1988)
William J. Ewing, FD
(1898 ~ 1934)
Hastings A. Ewing, FD
(1866 ~ 1924)
Alexander B. Ewing, FD
(1831 ~ 1903)
PROUD MEMBER OF
Capital City Funeral Directors
Association
Copyright © Ewing Brothers Funeral Home, Inc. 2007-2018