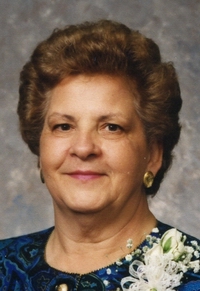 Beulah N. Billman, 79, of Carlisle, passed away Thursday, November 25, 2010 in Carlisle Regional Medical Center with her family at her side. She was born Friday, September 18, 1931, in Harpers Ferry, WV, and was a daughter of the late Louis and Leona (Ingram) Staubs.
Beulah was a graduate of Charles Town High School. She retired from the Cumberland County Nursing Home after 18 years in the house keeping department. She was a member of Grace United Methodist Church, Carlisle. Beulah enjoyed reading, crocheting, and loved spending time with her family, especially being active in her grandchildren's lives and activities.
She is survived by her beloved husband of 58 years, Chester W. Billman, a daughter, Brenda L. (and husband, Richard) Merrick of Carlisle, three sons; Joseph L. (and wife, Teresa) Billman, David A. (and wife, Sue) Billman, both of Carlisle, and James M. Billman of Rockledge, FL, five grandchildren; Carrie Collins, Angela Zook, Shannon, Sara and Luke Billman, and one great-grandson, Robert Collins, a sister, Gloria Seal, of Ranson, WV, three brothers; Roland Staubs of Baltimore MD, Donald Staubs of Bunker Hill, WV and Raymond Staubs of Shepardstown, WV. In addition to her parents, she was predeceased by a sister, Ellen (Sis) Cole and four brothers, Paul, Gilbert, Harold and Vernon Staubs.
Funeral services will be held at 11:00 a.m. on Wednesday, December 1, 2010 in Grace United Methodist Church, 45 S. West St., Carlisle with Rev. Marlin Snider officiating. Burial will be in Cumberland Valley Memorial Gardens. Viewing will be held Tuesday November 30, 2010 from 6:00 p.m. until 8:00 p.m. in Ewing Brothers Funeral Home, 630 S. Hanover St., Carlisle, and Wednesday from 10:00 a.m. until time of service in her church. In lieu of flowers, memorial contributions may be made to the American Diabetes Association, 3544 N. Progress Ave., Harrisburg PA.
Click here to send a condolence
To the Billman families,
I am very sorry for your loss. Keep the good memories close as you get through the days to come.

Denise (Wimer )Evans
_______________
To the Billman Family --
As we gathered with you on Thanksgiving, just after Beulah's death, I couldn't help but to think of the living legacy she had left here on earth as she ascended into heaven. Yes, there were tears of grief, but also tears of joy in knowing that it was only her life here on earth that was over. And you, her family, share that assurance partly because of Beulah's daily testimony. The legacy that she has left is not one of dollars but one of hope, hope that we will all be reunited later at the feet of Our Savior.How appropriate that her death came on Thanksgiving, a day that marks not only a special day of thanks but also the beginning of the Christmas season when we celebrate the birth of that Savior.

Our prayers are with you all as you meet the many demands of the next few days and weeks. May you find strength in each other and in Christ. God bless!

Bill and Gerry Myers
_______________

What a wonderful woman and family.
So many good memories.
Thinking of all of you at this time.

Derek and Debbie Cunningham and family
_______________
Chet and Family,
Our deepest sympathy and prayers are with you in this time of loss. You'll be in our thoughts and prayers. May god bless you in this time of sorrow.
Tyke and Denise

Tyke Delp
_______________

Please know that my sympathy and prayers are with all of the family.
I will always have fond memories of times gone by.
Love and Prayers

Janice Slagle Adams
_______________
Proverbs 31:28 Her children arise and call her blessed; her husband also, and he praises her. Fifty-eight years of marriage is quite an accomplishment. My mom said she could never remember Beulah ever complaining. I remember that she was very proud of her children and grandchildren. Our hearts grieve with you but we do not grieve like those who have no hope. Praying for you.

John & Carol Mellott & family
_______________

My thoughts and prayers are with you and your family during this time. I hope that you can find peace in knowing that the memories will always keep her with you. God Bless You.

Paul, Cam and Mikel Baer
_______________
Your message of condolence will appear here.
Ewing Brothers Funeral Home, Inc.
Since 1853
630 S. Hanover St., Carlisle, PA 17013
Phone: (717) 243-2421
"Five Generations of Service"
Steven A. Ewing, FD, Supervisor, Owner
William M. Ewing, FD
(1926 ~ 2009)
Seymour A. Ewing, FD
(1926 ~ 2009)
Jessie Morrison Ewing, FD
(1892 ~ 1988)
William J. Ewing, FD
(1898 ~ 1934)
Hastings A. Ewing, FD
(1866 ~ 1924)
Alexander B. Ewing, FD
(1831 ~ 1903)
PROUD MEMBER OF
Capital City Funeral Directors
Association
Copyright © Ewing Brothers Funeral Home, Inc. 2007-2018