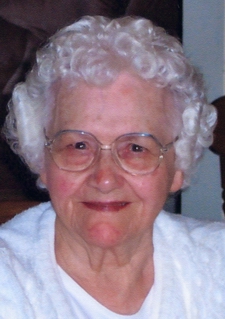 Marie B. Lindsay, 93, of Carlisle, passed away on Friday, October 15, 2010, in the Swaim Health Center at Green Ridge Village in Newville. She was born on Wednesday, December 20, 1916, in Ft. Loudon, a daughter of the late Samuel and Harriet (Gallagher) Hardy and was the widow of Herbert J. Lindsay, Sr., who died March 19, 1995.
Marie was a homemaker and enjoyed taking care of her family.
She is survived by three sons; Harry D. (and his wife, Helen) of Plainfield, James E. (and his wife, Louise) Lindsay of Carlisle and Herbert J., Jr. (and his wife, Kathryn) Lindsay of Shippensburg, two daughters; Dorothy L. (and her husband, Grant) Bush of Carlisle and Betty Jean Johnson of Newburg, one brother, George Hardy of Ft. Loudon, two sisters; Jeanette Burkett and Ruth Burkett both of Shippensburg, 14 grandchildren, several great-grandchildren, great-great-grandchildren, nieces and nephews. Marie was preceded in death by a son, Fred L. Lindsay, a brother, Raymond Hardy and two sisters; Carrie Furman and Grace Williams.
Funeral services will be held at 11:00 a.m. on Tuesday, October 19, 2010, in the Ewing Brothers Funeral Home, 630 S. Hanover St., Carlisle, with Rev. Donald C. Snyder officiating. Burial will be in Cumberland Valley Memorial Gardens, Carlisle. A viewing will be held on Tuesday from 10:00 a.m. until time of the services. Memorials may be made to American Diabetes Association, 3544 N. Progress Ave., Suite 202, Harrisburg, PA 17110.
Ewing Brothers Funeral Home, Inc.
Since 1853
630 S. Hanover St., Carlisle, PA 17013
Phone: (717) 243-2421
"Five Generations of Service"
Steven A. Ewing, FD, Supervisor, Owner
William M. Ewing, FD
(1926 ~ 2009)
Seymour A. Ewing, FD
(1926 ~ 2009)
Jessie Morrison Ewing, FD
(1892 ~ 1988)
William J. Ewing, FD
(1898 ~ 1934)
Hastings A. Ewing, FD
(1866 ~ 1924)
Alexander B. Ewing, FD
(1831 ~ 1903)
PROUD MEMBER OF
Capital City Funeral Directors
Association
Copyright © Ewing Brothers Funeral Home, Inc. 2007-2018