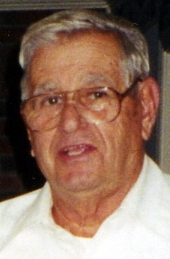 William F. Moore, 86, of Carlisle, passed away on Monday, June 28, 2010, in his home. He was born on Thursday, January 10, 1924, in Sea Girt, NJ, and was a son on the late Melvin S. and Lucille (Hendricks) Moore and was also preceded in death by his step-mother, Rae S. Moore.
Bill was a 1943 graduate of Manasquan High School in Manasquan, NJ and received a bachelor's degree from Franklin and Marshall College in Lancaster. He was a U. S. Army veteran of WWII. Bill was a retired salesman and had worked for various companies throughout his career. He was a member of Second Presbyterian Church, Carlisle and enjoyed hunting, deep sea fishing, crabbing on the Chesapeake Bay and tending his vegetable garden.
He is survived by his loving and devoted wife of 61 years, Rosemary (Eberly) Moore, a daughter, Susan M. (and her husband, Dennis) Yeingst of Boiling Springs, a son, Dr. W. Scott Moore, MD (and his wife, Anne) of Winston-Salem, NC, his twin sister, Vera DiNucci of Ocean Port, NJ, daughter-in-law, M. Barbara Moore of Chesapeake Beach, MD, nine grandchildren, five great-grandchildren and many nieces and nephews. Bill was also preceded in death by one son, Terry R. Moore and one brother, Melvin W. Moore.
Memorial services to celebrate Bill's life will be held at 2:30 p.m. on Saturday, July 3, 2010, in the Second Presbyterian Church, 528 Garland Dr., Carlisle, with Rev. Jeff Gibelius and Rev. Jennifer McKenna officiating. A visitation will held at the church from 2 - 2:30 p.m. Burial will be at the convenience of the family. Ewing Brothers Funeral Home, Carlisle is assisting the family with the arrangements. In lieu of flowers, memorials may be made to Second Presbyterian Church Memorial Fund or to Chesapeake Bay Foundation, The Philip Merrill Environmental Center, 6 Herndon Ave., Annapolis, MD 21403.
Click here to send a condolence
Sue and Denny,
I am so sorry to hear about your father Sue, I know he hasn't been well for a long time, just didn't know he was getting worse. Please give my sympathy to your Mom and brother too. I will not be able to come to Carlisle on Saturday but my prayers are with you.
God Bless you all,

Love,
Bette McGoldrick
_______________
Margaret & I were saddened to learn of the passing of your husband, William F. Moore. We haven't seen or heard from you in many years but we have very warm and wonderful memories. God Bless you and your wonderful family.

Keiper Groff F&M'48 Phi Kappa Tau
_______________

Your message of condolence will appear here.
Ewing Brothers Funeral Home, Inc.
Since 1853
630 S. Hanover St., Carlisle, PA 17013
Phone: (717) 243-2421
"Five Generations of Service"
Steven A. Ewing, FD, Supervisor, Owner
William M. Ewing, FD
(1926 ~ 2009)
Seymour A. Ewing, FD
(1926 ~ 2009)
Jessie Morrison Ewing, FD
(1892 ~ 1988)
William J. Ewing, FD
(1898 ~ 1934)
Hastings A. Ewing, FD
(1866 ~ 1924)
Alexander B. Ewing, FD
(1831 ~ 1903)
PROUD MEMBER OF
Capital City Funeral Directors
Association
Copyright © Ewing Brothers Funeral Home, Inc. 2007-2018