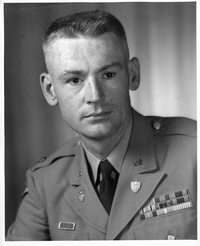 COL. William (Bill) Louis Vinette, US Army (Ret.), age 87, of Carlisle, died Saturday, April 10, 2010 in Carlisle. He was born on May 14, 1922 in Syracuse, NY, the son of the late I. Louis Vinette and Valeria Dowling Vinette.

COL Vinette was a 1940 graduate of Eastwood High School in Syracuse and worked for the City of Syracuse from 1941-42 and 1945-47. He began his military career in 1942 and retired as Colonel in 1973. Colonel Vinette was awarded numerous military honors and medals including the Legion of Merit w/Oak Leaf Cluster, Army Commendation Medal w/4 Oak Leaf Clusters, European Theater of Operations Medal w/9 Campaign Stars, Korean Service Medal w/2 Campaign Stars, Viet Nam Service Medal w/3 Campaign Stars, Presidential Unit Citation (WWII), WWII Victory Medal, US Army Reserve Medal for 30 years of service. He served in World War II, the Korean Conflict, as part of the U.S. forces in the Dominican Republic, and in Viet Nam, and retired from the Pentagon. Following retirement, he returned to the Pentagon, then worked at the U. S. Justice Department and then the Pennsylvania Emergency Management Agency. Colonel Vinette attended Syracuse University, Lemoyne College in Syracuse, University of Maryland, University of Texas and the US Army Command & General Staff College. He was a member of St. Patrick Catholic Church, Carlisle and a life member of the Retired Officer's Association. He was a member of several other military associations, and a former member of the Knights of Columbus and the Veterans of Foreign Wars.

He is survived by his devoted and loving wife of more than 60 years, M. Jane Vinette, two daughters; Patricia Veneziani of Senoia, GA, Mary Jane Vinette of Golden, CO, three sons; Michael J. Vinette of Atlanta, GA, William L. Vinette, Jr. of Strasburg and SFC (Ret) Thomas R. Vinette, USA of Mechanicsburg, ten grandchildren, five great-grandchildren and many nieces and nephew. He was preceded in death by three brothers; Thomas, Raymond and Edward Vinette.

A viewing will be held from 6:00 to 9:00 p.m. on Wednesday in the Ewing Brothers Funeral Home, 630 S. Hanover Street, Carlisle with prayer service at 7:30 p.m. A Mass of Christian Burial will be celebrated at 10:30 a.m. on Thursday, April 15, 2010, at St. Patrick's Catholic Church, 85 Marsh Dr., Carlisle, followed by burial with full military honors at St. Patrick's Catholic Cemetery, Carlisle. A reception will follow at the Monroe Twp. Fire Company, 25 Gathering Hall on Rt. 174 in Churchtown. Memorial contributions may be made to Blessed Sacrament School, 3129 James St., Syracuse, NY 13206 or to the National Center for PTSD www.ptsd.va.gov .
Click here to send a condolence
Tom & Elizabeth,
While there are no words to help ease the loss you bear, know that you are close in thought and prayer. Find peace and love in the memories you cherish and comfort in knowing that daddy's pain is over.

Lisa Wilson
_______________
Grandpa,
I know I didn't get the chance to know you better, but I just wanted to say that I'm going to miss you. I wish you could have known your amazing great grandson, Sebastian. I have told him about you. The few times I did see you, I carry with me as positive and happy memories. You will be missed here on earth although I'm sure your looking over us. I will think of you often.

Grandma and family, I'm sorry for your (our) loss. It's always sad to lose those we love, but I know he knew you all were around him in his final moments. You are in my prayers in this difficult time.

Love,
Metairie Hecht (na.Vinette)
_______________
Tom, Liz, and Family
Our thoughts and prayers are with you in this most difficult time. May you find comfort in the arms of your loved ones.

Rachel, Chad and Casey Essig
_______________
Tom, my deepest sympathy to you and your family. I am so sorry for your loss.

Emma White
_______________
Tom,Liz, and family:
We were so sorry to hear of the loss in your family. Please accept our deepest sympathy. Our thoughts and prayers are with you and your family at this time. Heaven has one more angel to watch over you now. With thought I hope brings some traquility and peace..

Ruth, Joe ,Katie, Cory,Connor McManus: Eileen Yothers
_______________
Since William (or Liam as we Irish would call him) was proud of his faith, heritage and service to his country, and rightfully so, I think it only fitting that the following prayer should be said for him:

Celtic Song of Farewell

May choirs of angels lead William into paradise,
and may martyrs come to welcome him to bring you home into the holy city,
so he may dwell in new Jerusalem.

May holy angels be there at Williams welcoming,
with all the saints who go before him there,
that he may know the peace and joy of paradise;
that he may enter into everlasting rest.


Saints of God, come to his aid! Come to meet him, angels of the Lord!
Receive William and present him to God the Most High.

Grant him eternal rest, O Lord and may your light shine on him. Receive his soul and present him to God the Most high.

Best wishes to the Family and I pray God will lessen you sorrow and pain.

Thomas Kane and Family
_______________
Your message of condolence will appear here.
Ewing Brothers Funeral Home, Inc.
Since 1853
630 S. Hanover St., Carlisle, PA 17013
Phone: (717) 243-2421
"Five Generations of Service"
Steven A. Ewing, FD, Supervisor, Owner
William M. Ewing, FD
(1926 ~ 2009)
Seymour A. Ewing, FD
(1926 ~ 2009)
Jessie Morrison Ewing, FD
(1892 ~ 1988)
William J. Ewing, FD
(1898 ~ 1934)
Hastings A. Ewing, FD
(1866 ~ 1924)
Alexander B. Ewing, FD
(1831 ~ 1903)
PROUD MEMBER OF
Capital City Funeral Directors
Association
Copyright © Ewing Brothers Funeral Home, Inc. 2007-2018