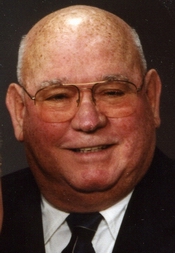 First Sergeant (Ret)William J. Coder, US Army, age 75, of Carlisle, died Monday, March 15, 2010, in Carlisle Regional Medical Center. He was born on Saturday, June 30, 1934, in Madera, a son of the late James and Bessie (Oaks) Coder.
Bill graduated from Shippensburg High School and later on earned a Liberal Arts degree from Harrisburg Area Community College. He retired from the U. S. Army as First Sergeant after 24 years of service. A veteran of the Korean and Vietnam Wars, Bill earned many honors and medals for his service, including; the Good Conduct Medal (8 awards), National Defense Service Medal, Korean Service Medal w/1BSS, Vietnam Service Medal, Vietnamese Cross of Gallantry and the Army Commendation Ribbon (4 awards). Bill also retired from the US Post Office in York after 15 years of service. He was a Mason since 1963 and was currently a member of St. John's F&AM Lodge #260, the Scottish Rite-32nd degree and the Zembo Shrine and their Motorcycle Touring Unit. He was a member of Dillsburg American Legion, National Association of Letter Carriers Branch 509 and a life member of Dillsburg VFW Post 6771. Bill enjoyed motorcycles, especially his Honda "Trike". He also enjoyed camping and golfing.
He is survived by his devoted and loving wife of 18 years, Linda L. (Worden) (Wood) Coder, four sons; James (and his wife, Vickie) Coder of Cadiz KY, William (and his wife, Millie) Coder and Donald (and his wife, Lisa) Coder both of Louisville, KY and Geoffrey (and his wife, Donna) Coder of Lewisberry, a daughter, Diana (and her husband, Daniel) Miller of Marietta, GA, his stepchildren, Jon (and his wife, Tracy) Dario of Warren, NJ and Kristina (and her husband, Paul) Conner of Bear, DE, 13 grandchildren, 3 great-grandchildren and several nieces and nephews. Bill was preceded in death by two sisters; Rella Patterson and Millicent Dockey and one brother, Jack Coder.
Funeral services will be held at 10:30 a.m. on Saturday, March 20, 2010, in the Ewing Brothers Funeral Home, 630 S. Hanover St., Carlisle, with Rev. Walt Frankenberry, officiating. Burial with military honors will be held in Indiantown Gap National Cemetery, Annville at a later date. Viewing will be held from 6 - 8:00 p.m. on Friday at the funeral home where a Masonic service will be held at 7:30 p.m. and on Saturday from 9:30 a.m. until time of services. Memorials may be made to Shriners Hospitals for Children, 3551 N. Broad St., Philadelphia, PA 19140-4131.
Click here to send a condolence
Sandy and I send our respects to you upon the passing of your wonderful husband and father of your lovely family. Sandy and I knew him too briefly, but we cared and respected him and you upon our first introduction.

Lee and Sandy Stump
_______________
We were saddened to read of Bill's death in the Sentinel. Want you to know we will be praying for all of you as you work through this. Take your pain and dump it in the nail-pierced hand of our Savior and let him heal you. Don't knock it Linda, He will fill you with the most amazing peace. He promises a new body and no more pain and His promises are true. Meanwhile we will keep praying.

Shirley & Wayne Wilkie
_______________
Linda and family, My love and prayers are with you all especially to you Linda. You are such a wonderful wife and friend to your Bill. I know he hated leaving you here but he knew you would be in good hands with your family and friends all around you now and in the future. I will call soon........

Karen Saporito and family
_____________
Sandy and I share our heartfelf prayers and thoughts in Bill's passing. Our time with Bill was short, but I always enjoyed riding beside Bill in our parades. Bill often shared his time and knowledge freely and he will be missed. With our respect

Sandy and Bobby Allen
_____________
My thoughts and prayers are with you all at this sad time. God Bless You!

Heather Book Short
_______________
Linda, I am so sorry to hear about Bill's passing. He was truly a dear friend and will be missed. Sorry it took so long to send you this note but I lost the website and lost Diane's phone number. Please know our prayers are with you.

Mike Glumac
_____________
Your message of condolence will appear here.
Ewing Brothers Funeral Home, Inc.
Since 1853
630 S. Hanover St., Carlisle, PA 17013
Phone: (717) 243-2421
"Five Generations of Service"
Steven A. Ewing, FD, Supervisor, Owner
William M. Ewing, FD
(1926 ~ 2009)
Seymour A. Ewing, FD
(1926 ~ 2009)
Jessie Morrison Ewing, FD
(1892 ~ 1988)
William J. Ewing, FD
(1898 ~ 1934)
Hastings A. Ewing, FD
(1866 ~ 1924)
Alexander B. Ewing, FD
(1831 ~ 1903)
PROUD MEMBER OF
Capital City Funeral Directors
Association
Copyright © Ewing Brothers Funeral Home, Inc. 2007-2018