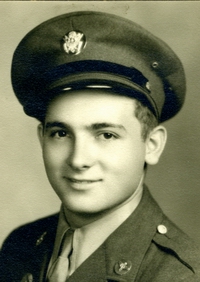 Kenneth E. Barrick, 87, of Carlisle, died Saturday, February 20, 2010, in the Carlisle Regional Medical Center. He was born on Friday, November 10, 1922, in Carlisle, and was a son of the late Samuel E. and Mabell (Behnings) Barrick. He was married more than 60 years to the late Pauline M. (Adams) Barrick, who died July 22, 2004.
Ken was a veteran of WWII, and served in the Army Air Force as a Staff Sergeant and an aircraft inspector. He retired after 32 years of service as an inspector of repaired vehicles with the Mechanicsburg Naval Supply Depot. After retirement, he worked parttime for the Carlisle Area School District. Ken enjoyed fixing just about anything mechanical, and would often help his neighbors and family with his ability to make repairs. He was a member of Grace United Methodist Church, where he was a former usher, the Elks Lodge 578 and V.F.W. Post 477 all of Carlisle. Ken was preceded in death by five brothers; Leroy, Luther, Paul, Ralph and Raymond Barrick and one sister, Dorothy Hair.
He is survived by two sons; Ken J. (and his wife, Jackie) Barrick and Frank L. (and his wife, Stacy) Barrick both of Carlisle, three grandsons; Darrell, Josh and Hunter Barrick, who affectionately called him "Pap" and several nieces and nephews.
Funeral services will be held at 2 p.m. on Wednesday, February 24, 2010, in the Ewing Brothers Funeral Home, 630 S. Hanover St., Carlisle, with Rev. Bruce E. Fensterbush officiating. Burial with military honors provided by Cumberland County Honor Guard will be in Westminster Memorial Gardens, Carlisle. A viewing will be held at the funeral home on Wednesday from 1 p.m. until time of the services. Immediately following the graveside service the family will receive friends for a time of fellowship at the Grace United Methodist Church, 45 S. West St., Carlisle. Memorial contributions may be made to a charity of your choice.
Click here to send a condolence
Our deepest condolences to you at this time.

Randolph Hays family
_______________
Dear Frank, Stacy, Josh and Hunter...
Thoughts and prayers are with you all. I know how much "Pap" meant to all of you. I will never forget his stories of the days when Pauline watched the boys and we would see them at Wendy's having lunch...he loved his boys!

Kelly Lebo
_______________
Frank, Stacy, Josh and Hunter,
Our condolences to your family. From first hand experience, we all know what a treasure Ken was. May you find comfort at this time.

Serafin Family Dentistry, LLC
______________
Dear Kenny and Frankie,
So shocked and saddened to learn of your Father's death. Both of your parents were ultra special people whom I knew & loved from age 10. Many, many fond memories, and I cannot believe both are gone. Please know you are in my thoughts. Lots of love and big bear hugs to you and your families.

Kathy Gallagher Davison
______________
Your message of condolence will appear here.
Ewing Brothers Funeral Home, Inc.
Since 1853
630 S. Hanover St., Carlisle, PA 17013
Phone: (717) 243-2421
"Five Generations of Service"
Steven A. Ewing, FD, Supervisor, Owner
William M. Ewing, FD
(1926 ~ 2009)
Seymour A. Ewing, FD
(1926 ~ 2009)
Jessie Morrison Ewing, FD
(1892 ~ 1988)
William J. Ewing, FD
(1898 ~ 1934)
Hastings A. Ewing, FD
(1866 ~ 1924)
Alexander B. Ewing, FD
(1831 ~ 1903)
PROUD MEMBER OF
Capital City Funeral Directors
Association
Copyright © Ewing Brothers Funeral Home, Inc. 2007-2018