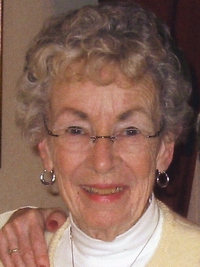 Patricia K. "Patt" Davidson, 80, formerly of West South St., Carlisle, passed away on Tuesday, January 12, 2010, in the Chapel Pointe Health Center, Carlisle. She was born on Friday, December 27, 1929, in Camden, NJ, and was a daughter of the late William F. and Charlotte M. (Roach) Kebea and the widow of the former Mayor of Carlisle, George W. Davidson, Jr., who died May 4, 1993.
Patt was a 1948 graduate of Woodbury High School in Woodbury, NJ. She retired from the Carlisle Area School District with more than 20 years service. She was a secretary at Mooreland Elementary and the Wilson Middle schools. Patt was a longtime member of Allison United Methodist Church in Carlisle. She could always be seen working on her lawn and took great pride in caring for her home. Patt loved to spend time with her grandson, "Mac". She was preceded in death by her brother, William Kebea.
She is survived by her son, Michael L. (and his wife, Tammy White) Davidson of Ephrata, a sister, Joan Sode of Cherry Hill, NJ, her grandson, McCrae "Mac" White Davidson and one nephew.
Funeral services will be held on Friday, January 15, 2010 at 2 p.m. in the Ewing Brothers Funeral Home, 630 S. Hanover St., Carlisle, with Rev. Tom Mauer officiating. Burial will be in Cumberland Valley Memorial Gardens, Carlisle. A visitation will be held on Friday from 1:00 p.m. until time of the services at the funeral home. Memorial contributions may be made to Hospice of Central PA, P.O. Box 266, Enola, PA 17025.
Click here to send a condolence
Dear Michael,

We were sorry to hear of your mother's passing and send you our sympathy to you and your family. We have been long time friends and will miss her.

Steve and Barbara Coslett
______________
I worked with Patt at the Carlisle Area School District for many years and would like to send my condolence to her family. She was a sweet and wonderful lady to work with.

Cathie Adams
______________
Mike,

So sorry to hear of your mom's passing. Our thoughts and prayers are with you and your family.

JoAnn Coslett
______________
Michael, Tammy and Mac,
I am so sorry to hear of the loss of your mother/grandmother.
I wish I could have been with you on Friday and am glad that Linda was with you. My prayers have been with you. Love, Lewis

Walter Lewis Snook
_______________
Dear Mike, Tammy and Mac,
We are so sorry for your loss and want you to know that you are in our prayers. Losing a parent is not easy. But know your friends are always here for you.

Miguel and Blair
_____________
To Michael, I am so sorry about your mother. My thoughts and prayers are with you. She was a great lady.

Joyce Croft Randall
______________
Your message of condolence will appear here.