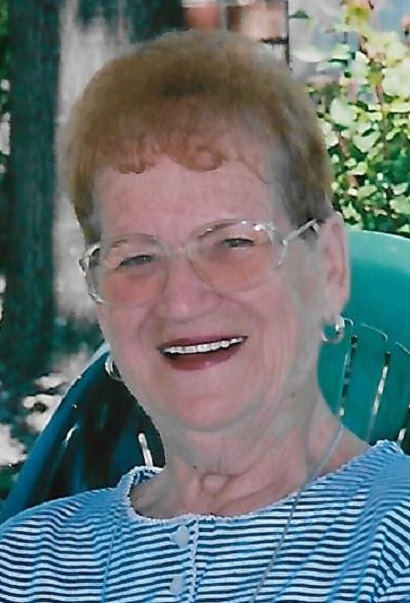 Virginia A. Wyrick, 86, formerly of Carlisle, passed away on Sunday, May 27, 2018 in the Lebanon Valley U. C. C. Home in Annville. She was born on October 30, 1931 in Carlisle and was a daughter of the late Paul H. and Elizabeth M. S. (McCommon) Walterick and the widow of Paul E. Wyrick who passed away on July 18, 1978.
Virginia graduated from Carlisle High School with the Class of 1949. She worked and retired with 20 years of service with PA Department of Transportation at the Carlisle office. Virginia and her late husband owned and operated an agricultural and dairy farm along Alexander Spring Rd., Carlisle. She was a member of the First United Church of Christ in Carlisle, a former member of the Plainfield Grange and the Carlisle Hospital Ladies Auxiliary. Virginia deeply loved her family and received great enjoyment from helping others.
She is survived by one son, Daniel E. (wife, Merrie Beth) Wyrick of Carlisle, two daughters; Corinne E. (husband, Richard) Kleinsak of Smithsburg, MD and Yvonne S. Johnson of Lebanon, one sister, Dolores J. Walterick of Carlisle, five grandchildren; Kendra Smith, Kayla Iannuzzi, Krista Wyrick, Danielle Johnson and Christopher Kleinsak, four great-grandchildren and several nieces and nephews. Virginia was preceded in death by one son, Paul C. Wyrick who passed away on April 22, 1989, two sisters; Miriam M. and Evelyn M. Walterick and one son-in-law, Michael S. Johnson.
A viewing will begin at 12:30 p.m. on Friday, June 1, 2018 followed by funeral services at 1:30 p.m. in the Ewing Brothers Funeral Home, 630 S. Hanover St., Carlisle with Rev. Rachael Schwab officiating. Burial will be in Cumberland Valley Memorial Gardens, Carlisle. Memorial contributions in Virginia's name may be made to a charity of your choice. Please visit www.Since1853.com to send condolences.
Click here to send a condolence
Dear Dan, Merrie and Family, Our prayers and thoughts are with you Virginia will be remembered by us as a very special neighbor who reached out to help us and others and bringing kindness. God's Blessings be with all of you.
Harry and Dottie Sysak
______________
Corinne, Losing our mom is never a easy thing to go through, please know that my thoughts and prayers are with you in this difficult time!

Carol Stride
______________
It is with sadness and joy I feel for you during the loss of your mother. You have done a wonderful job taking care of her for so many years.
She was, and still is a wonderful loving mother that walk this earth. The courage and strength she had while losing her husband at such a young age. And the strength she had raising her 4 children.

I dont know if I would have the courage or the strength in me to go on.

Be blessed she was here on this earth for so long. Be blessed she was your mom, because of her, you are what you are
today
.

Yvonne I am so proud of you for your strength and courage taking such great care of her. Any one that knew you could see the strength and courage after losing your loving husband just short years before. I look up to you and I am so amazed to watch you grow from a timid tenager to a beautiful, loving, endearing and courageous woman you have become.

May god bless you and your family for peace and remembering all the things life with her has given you.

Love
Deb Means
______________
Yvonne and family. Our condolences and know that you have endured much and your strength of friends and your family keep you strong. May God bless you,and know that you are loved...

Terry and Mary
______________
Yvonne and Danielle, so sorry for your loss. Your mother and Nana was a lady with a great sense of humor. We had some really good times with her. Love and prayers to your family. Damian and Tammy Allwein.
________________
Your message of condolence will appear here.