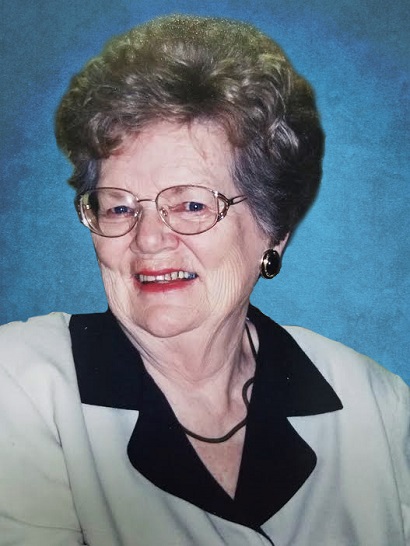 I. Ann Stutenroth, 88, of Carlisle, passed away on Wednesday, May 9, 2018 in the Thornwald Home, Carlisle. She was born on January 9, 1930 in Waltham, MA and was a daughter of the late John D. and Esther C. (Devereaux) Macdonald.
Ann graduated in 1949 from Carlisle High School. She and her husband founded and operated "Carpet Tyme" in Carlisle for many years. Ann was an accomplished artist and was well-known throughout the State of Pennsylvania. She was a longtime member of the former First United Methodist Church in Carlisle and a past member of the Carlisle Art Association.
She is survived by her devoted husband of 68 years, Allan J. "Al" Stutenroth, two sons; Tim Allan (wife, Carla) Stutenroth and Daniel Eric (wife, Tonia) Stutenroth both of Boiling Springs, one sister, Kitty Macdonald Ernst of Perkiomenville, PA, five grandchildren; Catherine and Shannon Stutenroth, Jason Stutenroth, Jennifer Horning and Elizabeth Stutenroth, seven great-grandchildren and many nieces and nephews. She was preceded in death by five brothers; John, Malcolm, James, Robert and Kenneth Macdonald and two sisters; Rosemary Messerlian and Sheila Macdonald.
A visitation will begin at 9:00 a.m. on Saturday, May 26, 2018 followed by a memorial service at 10:00 a.m. in the Ewing Brothers Funeral Home, 630 S. Hanover St., Carlisle with Rev. Tim Wheeler officiating. Burial will be private in Ashland Cemetery, Carlisle. Tribute donations in memory of Ann may be made to Homeland at Home Hospice, 2300 Vartan Way, Ste 270, Harrisburg, PA 17110 or to the Alzheimer's Association Greater PA Chapter, 2595 Interstate Dr., Ste 100, Harrisburg, PA 17110.
Click here to send a condolence
Dear Al, Family and Kitty,
My heartfelt sympathy on the loss of your beloved wife, Mom Grandmother, Great-grandmother and my Special Friend,

Ann and I were Carlisle High classmates and then co-workers at the CT&R for many years. Although we lost touch as our family responsibilities increased, I never forgot the wonderful memories of our friendship. Your 68-year marriage, Al,is an enviable testament to your devotion to each other and should be a source of comfort to each of you.
It was a long time ago and Kitty may not remember, but I had the pleasure of meeting her and hearing her stories about the Frontier Nursing Service.
My thoughts and prayers are with all of you. As we say in my Greek Orthodox Faith: May her memory be eternal.

Sincerely,
Martha Fourlas Juvelis
Bethesda, Maryland

_________________
Your message of condolence will appear here.