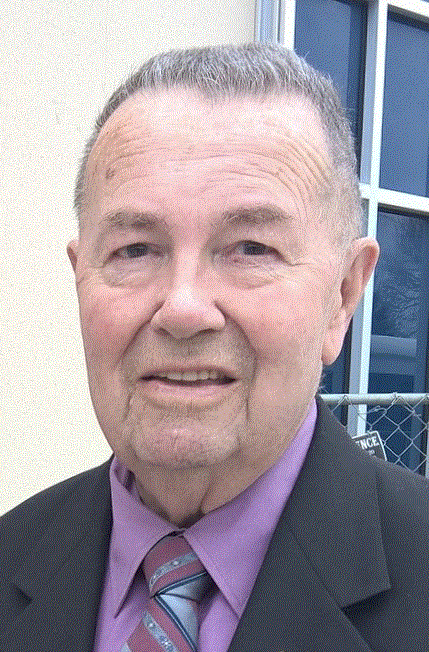 Edgar Stuart Henry, 89, of Carlisle, quietly passed away on Tuesday, November 28, 2017 in the Sarah A. Todd Memorial Home, Carlisle. He was born on April 13, 1928 in Middle Spring, Cumberland County, and was a son of the late Paul A. and Mamie (Warren) Henry.
Ed was a 1946 graduate of Shippensburg High School. He served four years in the US Air Force during the Korean War, and retired after 36 years of service as an Illustrator with the Letterkenny Army Depot. He also worked as a free-lance painter, sign making and lettering trucks. He was a member of Carlisle Evangelical Free Church since 1985, a life member of the Newville American Legion, and served as a Boy Scout leader in the 1960s. Ed enjoyed visiting shut-ins and the elderly. He will be deeply missed by his loving family.
He is survived by his devoted wife of 62 years, Gladys L. (Martin) Henry, one son, Keith (wife, Kitty) Henry of Gastonia, NC, three daughters; Kathy Henry (husband, Ronald) Russell of Carlisle, Susan Henry (husband, Mike) Castles of Boiling Springs and Amy Henry (husband, Baxter) Morrison of Fayetteville, NC, one sister, Betty Piper of Newburg, one brother, Richard (wife, Ruth) Henry of Newburg, one brother-in-law, Rev. James White of Stroudsburg, 10 grandchildren, 9 great-grandchildren and several nieces and nephews. He was preceded in death by four sisters; Dorothy Henry, Janet Carbaugh, Mary Helm and Jean White and two brothers; Paul Henry and Carl Henry.
A visitation will begin at 10:00 a.m. on Saturday, December 2, 2017 followed by a Celebration of Life Service at 11:00 a.m. in the Carlisle Evangelical Free Church, 290 Petersburg Rd., Carlisle, with Pastors Shad Baker and Bob Gray officiating. Burial will be in Cumberland Valley Memorial Gardens, Carlisle with military honors. Ewing Brothers Funeral Home, Carlisle, is in charge of the arrangements. In lieu of flowers, memorial contributions may be made to the Sarah A. Todd Memorial Home, 1000 W. South St., Carlisle, PA 17013. Visit www.Since1853.com to send condolences.

Click here to send a condolence
Our deepest sympathy to Gladys and family in your loss. Ed was a great guy and we were happy to have known him.
Don and Pat Fry
________________

I want to extend my sincerst sympathy to Gladys, Kathy, Keith, Susan, Amy and the rest of the family for the loss if Ed! I pray you are eased if your sorrows by focusing on the LIFE of Ed! I have Soooo Many fond memories of Ed. From our camp outs in the back yard the night before trout season, the Boy Scout activities he kept interesting. ALL THE JOKES, his meat and potatoes dinners, lunch and breakfasts when he was our Camp cook and ALL THE FAMILY outings and vacations! He is missed but celebrated for having the privilege of knowing him and being influenced by him! He meant a lot to me and my family! Happy Travels ED! We will meet again!
Toby Breon
________________
It's like I saw him yesterday and it has been years! I remember the boy scout days of yester year. My sympathy to his family. He will be missed but now he starts a new journey.
Many blessing.
Frank Myers Jr.

_______________
Keith, Kathy, Sue and Amy,
My deepest sympathy to you and your families on the death of your Father. May God grant you comfort during these difficult days.
Mary Fetrow aka Mamselle
______________
Gladys & family: so sad to hear of your loss. I have fond memories. Your loss is Heaven's gain.
__________
Sincere Sympathy, Gladys & family/Ed was a swell guy & good friend & neighbor. Prayers to you & your family during this difficult time..May God bless you all...Sincerely, .
Don & Diane Jumper
_______________

Your message of condolence will appear here.