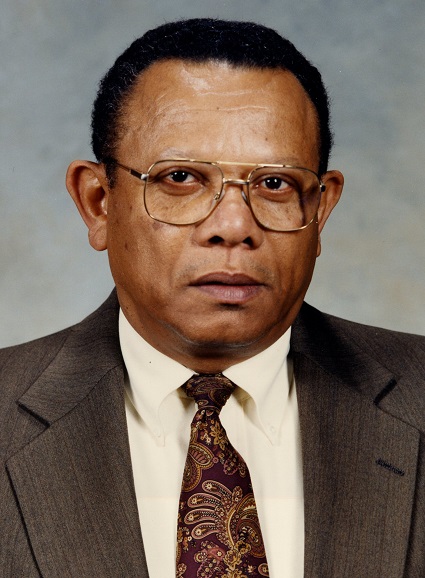 Domingo Quintero-Martinez, 83, of Carlisle, passed away on Saturday, August 26, 2017 in Green Ridge Village, Newville. He was born on December 20, 1933 in Vega Alta, Puerto Rico, and was a son of the late German Quintero and Fernanda Martinez.
Domingo was an Army veteran of the Korean Conflict and served in the US Navy from 1956 to 1960. He was a high school graduate and earned his Master's degree in Social work from the University of Puerto Rico. Domingo taught social studies and social work in Puerto Rico. From 1976 to 1996, he was an ADAPCP Counselor at the United States Army War College in Carlisle. He was a member of the Harrisburg Brethren in Christ Church.
He is survived by his devoted wife of 55 years; Beatriz C. de Quintero, five children; Enid N. (and her husband, Douglas M.) Sheeley of Elkridge, MD, Tomas A. (and his wife, Dawn Alexander) Quintero of Boiling Springs, Leida E. (and her husband, Bernard L.) Wojciechowski) of Harrisburg, Lenid B. (and her husband, Steve) Keebaugh of York and Omar A. (and his wife, Diane) Quintero of Richmond, VA and seven grandchildren. Also surviving are four sisters and one brother all of Vega Alta, Puerto Rico.
A visitation will begin at 6:00 p.m. on Friday, September 1, 2017 followed by funeral services at 7:00 p.m. in the Ewing Brothers Funeral Home, 630 S. Hanover St, Carlisle, with Pastor Glenn Dalton officiating. Burial with military honors will be held on Tuesday, September 5, 2017 at 11:30 a.m. at the Indiantown Gap National Cemetery, Annville. Memorial contributions in Domingo's name may be made to the Harrisburg Brethren in Christ Church (for the Youth Ministry), 2217 Derry Street, Harrisburg, PA 17104. Visit www.Since1853.com to send condolences.
Click here to send a condolence
It was with great sadness that we learned of Domingo's passing. Please accept our heartfelt sympathies on the loss of your loved one. You and your family are in our prayers.
Nilsa, Rick, and mom(mary)
______________
Prayers for the family I enjoyed the little time I spent with the family and getting to know Domingo.
Tabitha Cousins cna of green ridge
______________
We are so sorry for your loss.
Remember the smiles.
Cherish the moments.
Find comfort in memories

Dolly Rice Kern
______________
We are so sorry for your great loss of Mr. Quintero who will be in our hearts forever. His kindness is always remembered by us.

Jim and Nok Eppink
_______________
Domingo was always an inspiration and had a ready smile and a word of encouragement. We wish we were closer so we could attend. We pray God's comfort and blessing to rest with the family as you travel this difficult road. He accomplished much and he will be rewarded.

Eldon & Marilyn Byer - Canada

_______________
It was with a heavy heart that I heard of the passing of Domingo. Such a sweet, sweet, man with a kind and gentle spirit. His presence in Church will be sorely missed as he and Beatriz sat in front of me in Church. Blessings and prayers to the family.

Patricia Morton
________________
We certainly pray that the God of all comfort will supply your every need. We pray God's blessing upon you.
Fruitbelt Farm Workers
John Ile, Treasurer

John Ile
_______________

Beatriz,
Sentimos mucho escuchar de nuestro querido hermano Domingo. Esperamos que Ud. pueda sentir el amor de Dios en este tiempo de duelo y saber que Domingo ya esta descansando con su Señor. Abrazos y oraciones de la familia Jen y Jonatán Córdova Heise(Oaxaca, México)

Jen (Heise) Cordova
______________

Beatriz and Family. May God grant you comfort and peace during this time. Blessings of faith and hope in being reunited with Domingo in Heaven. In Christ's Name. Amen.

Caryn Watson-Crawford
_______________
Betty and Family, I had the pleasure of working closely with Domingo during most of his tenure as the Director of the Alcohol and Drug Counseling Program at Carlisle Barracks. He was an excellent Counselor and well respected by his clients and co-workers. I will always remember his great faith and gentle, loving spirit. Americo and I pray for peace and comfort for you all.

Ginger Wilson-Gines
______________

Our sympathies are with Beatriz and the family at this sorrowful time. You are in our prayers. Domingo was a very good man--a very good role model.

Judith Marcella
________________

Betty & Family, Just to let you know your friends are praying for you. Denver will never forget how much Domingo helped him on their mission trip. We were so sad to hear of your loss.

Denver & Gayle Tuckey
_______________
We are united in the distance ... giving thanks to God for having our Pito in this life. God bless you!
Fam. Quintero Mercado
______________

We are very sorry for the loss of our Uncle Pito. Not being able to be physically with you, we accompany you in the distance. Rest in peace, uncle.
_____________
We're very sorry for the loss of our Uncle Pito. Not being able to accompany them physically, we accompany them in the distance. Rest in peace, uncle. A hug for Titi Bea and the whole family.
Delma M. Quintero
________________

My deepest condolences to the family of Domingo Quintero. I will always remember Domingo's wonderful spirit, his generous nature, his strong love of family, and his great salsa dancing with his beautiful wife, Beatriz!

Grace Jarvis
_____________

Professor Quintero and Family,
I am so sorry for your loss and hope that you find comfort in your memories of your long life together. My heart goes out to your family. With Heartfelt Sympathy.

Sonia Flegeal
________________
Your message of condolence will appear here.