July 4, 2017: Ashland Cemetery located within the Borough of Carlisle is a beautiful and serene place of historic significance to the Carlisle community. This unfortunately has now been changed be it temporary or forever has yet to be determined.

I would like to first and foremost thank the many people who have expressed their support by personal visits, emails and phone calls as we move through this unprecedented period in the history of Ashland Cemetery. Your support has been overwhelming. The people of this great community have given me, my wife, my son and my mother the resolve to restore Ashland Cemetery from the recent desecration by two individuals who not only believe they are above the rules and regulations of private property but the laws that govern the great State of Pennsylvania.

_________________________________________________________________________

September 10, 2017: On the one year anniversary of my brother's death I went to Ashland Cemetery around 5:30 p.m. to stand at his grave not as a funeral director and not as a cemetery owner but as a brother. Prior to arriving at the cemetery I had spent nearly ten hours at the funeral home doing paperwork and serving a very close family in the afternoon. As my wife and I left the funeral home, I went to a beautiful pine tree my brother had planted years ago near the rear entrance. With a pair of snips in hand, I proceeded to prune one branch from the tree.

Upon arriving at the cemetery, I walked to the side of my brother's grave with branch and snips in hand. I snipped three small parts off the branch and laid one at each of the flat memorials that mark the graves of my father, my uncle and my aunt. I then went over to my brother's grave and knelt down to the side and snipped the branch two more times and made a Christian Cross that I laid down at the head of his grave. I will post photos and videos in the near future to show how the decoration from my heart to my brother was treated. I have decided not to post the video showing the desecration of my natural decoration to my brother. It is just to mean and I do not want to stoop to the level of the perpetrators.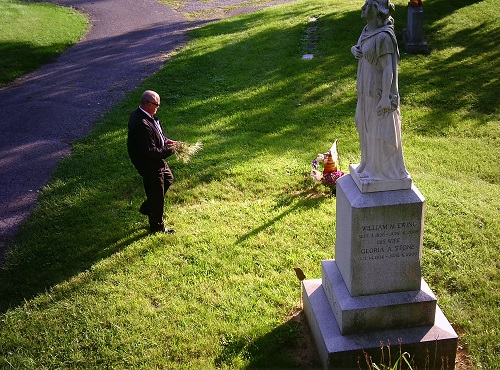 November 14, 2017: A beautiful and serene photo below depicts Ashland Cemetery in the glory of the autumn season. We look forward to the first snow fall on Ashland's hallowed burial grounds, may the purity of a white snow covered landscape restore the quiet and reverent place that Ashland Cemetery has always been known. We continue to thank the many people in our community who fully support our efforts in the protection this historic place.
November 21, 2017: The staff of Ashland Cemetery and myself would like to thank the many lot owners of Ashland Cemetery for their continued support and care of our hallowed burial grounds. Ashland has always been a quiet and serene place of rest, which we take great pride in maintaining. No cemetery deserves the disrespect that has been demonstrated in the past few months by two individuals against Ashland. We stand united in the preservation and protection of these historic burial grounds. May holiday blessings be upon you and your family this season and we look forward 2018. Most sincerely, Steven A. Ewing
November 24, 2017: Once again I would like to thank all the people who are standing behind me and the care of Ashland Cemetery. Your thoughts and prayers continue to sustain us through these times. Many times over the past several months people have pulled me aside and told me "We are with you, Steve". People love Ashland Cemetery and the natural beauty if offers and my brother was one of them. He certainly loved the statue that marks his grandparents, father, aunt, uncle and now his grave. He would be appalled that cheap, garish, artificial decorations are placed in Ashland Cemetery let alone on his grave. We will continue to do what is right for the preservation of this historic burial ground.
November 27, 2017: All quiet in Ashland Cemetery this past weekend, no protest or disorderly crowds. We appreciate no vandalism or criminal mischief in the cemetery of late and thank the Carlisle Borough Police and Assistant District Attorney Matt Smith for putting an end to this type of behavior. We also appreciate Judge Jonathan Birbeck's decision for seeing an unruly crowd for the antagonist they were that resulted in a $50.00 fine to a senior citizen. And, we certainly appreciate Judge Thomas Placey's ruling that allows us to remove items that have been left on a grave for more than 15 days or presents danger to the staff or visitors at Ashland Cemetery. It is a welcome relief not to see items left on a grave for years.
November 27, 2017: Looks like Mr. Capozzi still isn't happy. I did not accept the interview with Channel 27 News and Dennis Owens. I referred Mr. Owens to interview Mrs. Capozzi since it was her trust fund that purchased the rights of burial in Ashland Cemetery. Where has Mrs. Capozzi been and how does she feel about all of this? The Capozzi's have two monuments that I granted permission to be installed and Mr. Capozzi can decorate around those monument all he wants within a 12 - 13 inch radius, but that is not good enough for this lawyer. He is hell bent on ruining Ashland Cemetery at all cost and harassing me and my family. Shame on you Mr. Capozzi and your legal bullying. You have made your son's grave a mud hole in the middle of a carnival.

November 28, 2017: Well it looks like the legal bully Capozzi doesn't like Judge Placey's ruling, so back to court we go. He didn't like it when Judge Placey made the ruling and now he is going to try and get it changed. This fella seems to think he is above the law, because in his own words, "Don't you know who I am, I'm Capozzi"! Capozzi thinks punching holes in his son's grave with cheap garish items is grieving. Capozzi thinks placing so many items on his son's grave that it kills the grass is grieving. Capozzi thinks using his monuments as a "jungle gym" is grieving. Capozzi thinks outlining his son's grave with pumpkins is grieving. Capozzi thinks placing a Santa's hat with reindeer antlers on an angel's head is grieving. Capozzi thinks placing mardi gras beads on an angel is grieving. Capozzi thinks urinating in Ashland Cemetery is okay. The question is what does Mrs. Capozzi think of all this? This is not grieving, it is desecrating a historic burial site and the sanctity of hallowed burial grounds. Shame on you "Capozzi".