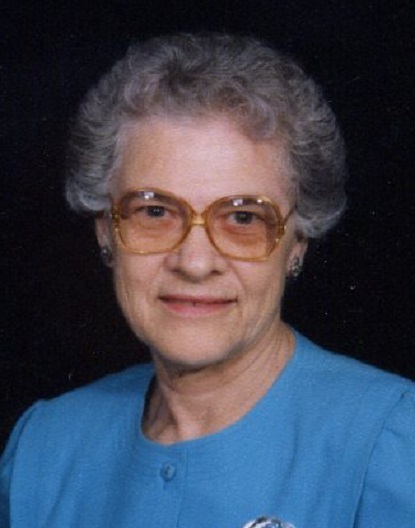 Please note change of service date to Monday, March 13, 2017.

Romaine E. Lehman, 98, passed away on Wednesday, March 8, 2017 in Chapel Pointe Carlisle. She was born on June 24, 1918 in Carlisle, and was a daughter of the late Clark Thumma and Myrtle (Miller) Thumma Bishop, and was the widow of Lester C. Lehman, who passed away in 1998.
Romaine was a devoted homemaker. She was a member of the First United Methodist Church, Mechanicsburg and the Mae Fetrow Bible Class.
She is survived by one daughter, Martha J. (Dean) Otto of Boiling Springs, one son, John R. (Starr) Lehman of Carlisle, two sisters; Mary (Edwin) Garman and Evelyn (Sterlen) Sheaffer both of Carlisle, four grandchildren, seven great-grandchildren and many nieces and nephews. She was predeceased by one granddaughter, Deanna Lynn Otto, two brothers; Lester and Ralph Thumma and two sisters; Cecile Herr and Mildred Lebo.
A viewing will begin at 12:30 p.m. on Monday, March 13, 2017 followed by funeral services at 1:30 p.m. in the Henry Chapel at Chapel Pointe, 770 S. Hanover St., Carlisle, with Rev. Steven Motter and Rev. Dennis Keller officiating. Burial will be in Westminster Cemetery, Carlisle. Ewing Brothers Funeral Home, Carlisle, is in charge of the arrangements. Memorial contributions may be made to the Chapel Pointe Benevolent Fund. Visit www.Since1853.com to send condolences.
Click here to send a condolence
The Lehmans were a big part of our life in Carlisle. We left Carlisle 22 years ago but fondly remember our friends the Lehmans. May she rest in peace.
Frank and Charlotte Klein
______________

With caring sympathy. Praying the Lord gently leads your heart to a quiet place of healing during this time of loss.

Steve & Diane Schrader
_______________

Marty, Sorry to hear of your mom's passing. May GOD wrap his loving arms around you and your family during this time of need. Hugs and Prayers.

Steve Trace
______________
Your message of condolence will appear here.