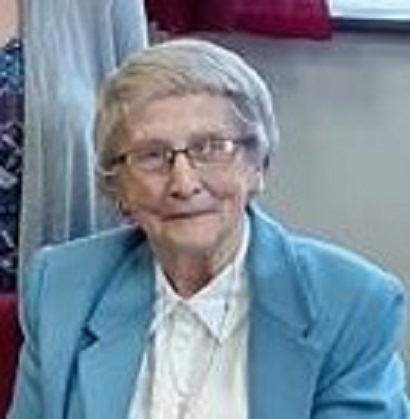 Marion V. Houck, 86, of Carlisle, passed away on Friday, December 9, 2016 in the M. S. Hershey Medical Center. She was born on February 15, 1930 in Nazareth, PA, and was a daughter of the late Walter C. and Anna M. (Kahler) Himler and was the widow of Albert F. Houck, who died on Oct. 24, 1997.
Marion graduated from Nazareth Area High School with the class of 1948. She was a loving homemaker and a faithful longtime member of St. Paul Evangelical Lutheran Church in Carlisle. She served as a Sunday School Teacher, Altar Guild Member, Women's Circle Member, Peanut Butter Egg Maker and many other volunteer positions within the church.
She is survived by two daughters; Nancy (husband, Eugene) Hertzler of Mechanicsburg and Charlene Mahoney (significant other, Peter Black) of Carlisle, two sons; Thomas (wife, Deborah) Houck of Carlisle and Paul (wife, Juanita) Houck of Mooresville, NC, two sisters; Alice Beers of Carlisle and Kathryn (husband, Howard) Bruch of Falls Church, VA, eight grandchildren; Brian (wife, Sarah) Hertzler, Greg Hertzler (companion, Karen Lowry), Abby (husband, Robert) Simmons, Ryan Houck, Jordan Houck, Justin Mahoney (fiancée, Karen Larson), Jennifer (husband, Jayshon) Wilson and Joshua Mahoney; step grandchildren Nikki (husband, Chris Hoskins) Ruby, Anthony (wife, Courtney) Ruby and Benjamin Ruby; four great-grandchildren and several nieces and nephews.
A memorial service will be held on Friday, December 16, 2016 at 11:30 a.m. in the St. Paul Evangelical Lutheran Church, 201 W. Louther St., Carlisle, with Pastor Robert Moore officiating. Visitation will be from 10:30 a.m. until time of service. A time of fellowship will immediately follow the service at the church. Burial will be at the convenience of the family in Mt. Holly Springs Cemetery. Ewing Brothers Funeral Home, Carlisle, is assisting the family. Memorial donations in Marion's name may be made to St. Paul Evangelical Lutheran Church. Please visit www.Since1853.com to send condolences.
Click here to send a condolence
Our thoughts and prayers are with the entire Houck family. We are very sorry for your loss. Our prayers are with you
today
and going forward, prayers you during your time of healing. God Bless you.

Amy and Konrad Hewitt
______________
Heartfelt prayers and blessings to the entire Houck family. Marion was truly a very special lady and may her memories and love comfort all of you in the days going forward.
Donald & Mary Wohler
______________
Tom and entire Houck Family: We are so sorry for your loss. You all will be in our thoughts and prayers during this time. Barb Adams Heather, Jay, Leah and Allison Bear.
Barb
______________
Nancy
                                                and Family, I am so very sorry for your loss. My Mother passed away 12/16/14, so I know exactly how you are feeling. Please
                                                know that I'm thinking of you.

Kathy Powless Crawford
_____________

May "the hearer of prayer"continue to sustain your family during this most difficult time. Share your memories as you lean on each other for encouragement to stay strong. We hope that the many cards, hugs, kind words, and loving prayers give your family comfort.
Desiree Sigler
_____________

Marion was a gracious lady and a very faithful member of our St. Paul congregation. We share Charlene and family's sorrow at this time.

Lissy and Doug Weirich
______________
Charlene, Peter, and the entire family, our heart felt condolences on the passing of your Mom. A great lady I personally recall the pleasure of knowing during our crafting days together... God Speed we have another Angel to watch over us all.
Frederick, Marty, & Williams Family
_____________
Your message of condolence will appear here.