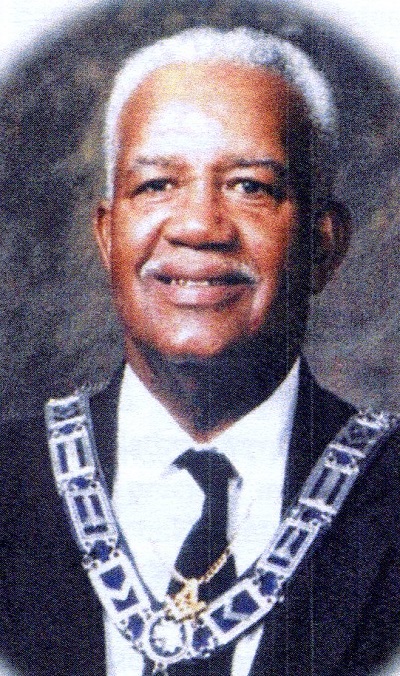 John Mason Barnett, Sr. was born on June 8, 1932 in York County, South Carolina to the late Robert and Pearla Ervin Barnett. He was the first of sixteen children. John was called home to be with the
Lord on Monday, September 26, 2016 at Claremont Nursing Home in Carlisle, Pennsylvania.
John Mason attended school in the York County School Systems in South Carolina. He was married to Doris Rollinson, and to this loving union two sons, John Barnett, Jr. and Travis Barnett were born.
During his younger days John sung with Jack Adams and the Friendly Five. He was also an active member of Humphrey's Chapel A.M.E. Zion Church, Dallas, North Carolina where he served as a Trustee and on the Usher Board. After moving to Carlisle, Pennsylvania. John worked for Carolina Freight until retiring in 1994. He was a member of the Lions Club and was a Free Mason at Letort Star Lodge # 18.
Besides his parents, he was preceded in death by one daughter, Myra Faye Barnett-Culbreth; one son, Ricky Mason Barnett; five sisters, Lula Mae Kendrick, Dorethea Thomas, Ida Mae Barnett and Mary E. Littlejohn; two brothers, Joe Nathan Barnett and Agusta Barnett.
He leaves to cherish precious memories his wife of forty-two years, Doris Rollinson-Barnett; daughters, Regina Barnett-Brown of Kings Mountain, NC, Marlene Watson of Gastonia, NC, Rena Barnett-Burris (Harrison) of York, SC, Paula Barnett of Shelby, NC and Sherry M. Hill of Kings Mountain, NC; sons, John Barnett, Jr. and Travis Barnett of the home and Dr. Otis Floyd (Shirley) of Gastonia, NC; his granddaughter, Alaina Brannen of Carlisle, PA; seven sisters, Anne Mitchem (Dennis), Wilma Barnett, Belinda Barnett, Catherine McDowell, Brenda Mackins and Shirley Mackins of Gastonia, NC and Lillian Sharon Smart (Randy) of Greensboro, NC; seven brothers, Robert Barnett, Jr. (PricilIa), Thomas L. Barnett, Phillip Barnett of Gastonia, NC, Joseph Barnett (Gail) of Carlisle, PA, Charles E. Barnett (Linda), Isiah Mackins and Robert Mackins of Gastonia, NC; five sisters-in-law, Frances Webber (Lewis) of Shelby, NC, Margie Adams (James) and Sherrita Rollinson of Gastonia, NC, Roselyn Rollinson of Charlotte, NC and Linda Barnett of Kings Mountain, NC; two brothers-in-law, Andrew Rollinson (Vanessa) and Refore Rollinson of Gastonia, NC; fifteen grandchildren, seventeen great grandchildren and a host of nieces, nephews, cousins and friends.
PLACE OF SERVICE
Mt. Calvary Baptist Church, 408 Marietta Street, Gastonia, North Carolina
DATE & TIME:
Monday, October 3, 2016 @ 3:00 P.M.
VISITATION
The family will receive friends at the church one hour prior to funeral
(2:00 until 3:00 P.M.)

Burial was private.

Ewing Brothers Funeral Home, Carlisle, handled the local arrangements.
Click here to send a condolence
To the entire Barnett family,
Although I knew Mr. Barnett for only a short period of time, I found him to a standup guy and true gentleman. Please take comfort in knowing that he has heard, "Well done, good and faithful servant.
Craig Kern
______________
Doris,,,John & Travis,,so sorry for your loss. Thoughts & prayers to you all🙏
Linda Hair
_______________

My deepest condolences to Doris, John Jr. and Travis. My heart broke when I heard the news of my dear Uncle John passing away. How much I love this man can't be put into words. You are in my thoughts, all my love always.
Trish Warren
_______________

Your message of condolence will appear here.