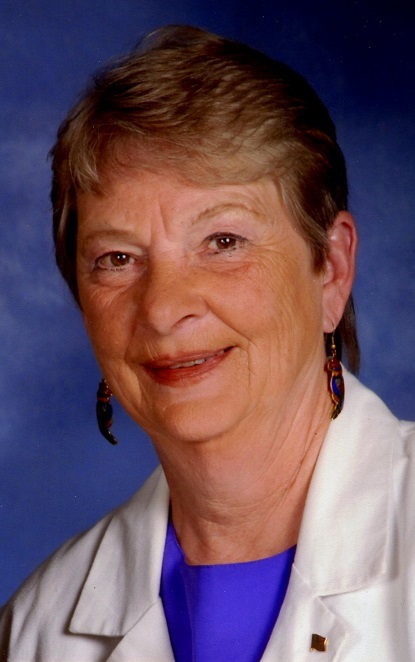 Judy Ann Horn-Lanoue, 70, of Carlisle, passed away on Wednesday, May 18, 2016 at her home. She was born on June 11, 1945 in Eau Claire, WI, and was a daughter of the late Evertt and Catherine (Bauer) Bilderback.
Judy graduated in 1963 from Sacred Heart High School in Lima, WI, and shortly thereafter enlisted in the US Army and served during the Vietnam War. Judy retired in 2013 from the Carlisle Barracks, where she was employed for 30 years with her last job being in the DRM. She was a member of St. Patrick Catholic Church, Carlisle and formerly attended services at the Mary Queen of Peace Parish at Carlisle Barracks. Judy enjoyed making shawls for St. Patrick Catholic Church, gardening and earned her black belt in Tae Kwon Do.
She is survived by her husband of 16 years, Stanley A. Lanoue, one daughter, Kimberly (Ron) Watkins of Martinsburg, WV, two sons; Timothy J. (Beth) Horn of Jacksonville, FL and William J. Horn of Carlisle, two sisters; Mary Jane (Ben) Shaab of St. Louis, MO and Joan Hurlburt of Mondovi, WI, five brothers; Paul (Debbie) Bilderback of Alexandria, OH, John (Terry) Bilderback of Mondovi, WI, Gene (Barb) Bilderback of Apple Valley, MN, Leon (Ruth) Bilderback of Gahenna, OH, Dennis (Debbie) Bilderback of Hasting, MN, four grandchildren; Lindsay and Kalyn Watkins and Faith and John Russell Horn, seven step-grandchildren; Devon, Katie, Ashley, Dolten, Hayden, Eathen and Ava and many nieces and nephews. She was predeceased by her first husband, SGM (Ret) Glenn R. Horn, US Army.
A Mass of Christian Burial will be celebrated on Wednesday, May 25, 2016 at 10:30 a.m. at St. Patrick Catholic Church, 85 Marsh Dr., Carlisle, with Rev. Don Bender officiating. Burial with military honors will be at Indiantown Gap National Cemetery, Annville. A viewing will be held at Ewing Brothers Funeral Home, 630 S. Hanover St, Carlisle on Tuesday from 6:00 p.m. to 8:00 p.m. with a Prayer Service to be held at 7:45 p.m. Memorial gifts in Judy's name may be made to St. Patrick Catholic Church, 152 E. Pomfret St, Carlisle, PA 17013.
Click here to send a condolence
I had gotten to know you in the short time I worked with. You are forever in my heart.
amy walter home instead
________________

We are deeply saddened by Judy's passing. She was a compassionate neighbor and friend we will forever miss. Rest in Peace, Judy.

The Stuart Family
________________

Many blessings of comfort and peace from our Lord and Savior for your family in the loss of Judy. She was a great friend who was full of faith, and I know she is being held by Jesus now. Our loss is heaven's gain!

Debbie Teague
_______________

Rest in Peace Dear Friend, neighbor and fellow WAC veteran. You will be missed by all of us.
The Danzeisen Family
_______________

My deepest sympathy to the family.
Linda Horn
_______________

Judy will be greatly missed. She was always pleasant and very helpful. I can't think of a time when she did not have a smile on her face. I will be keeping Judy, Stanley and her family in my thoughts and prayers.
Ann Marie Wolf
_______________

I am deeply saddened by the news of Judy passing. I extend my deepest sympathies to you and your family. May Judy's soul be at peace with our Heavenly Father.

Genny Hobson
_______________

Our thoughts and payers are with you Stan and with the entire Family.
RL, Karin & Family
_______________
So sorry for your loss. Our prayers and thoughts go out to your family during this difficult time. May you find comfort and support from family and friends and treasure the memories.

Tom & Julie Bauer
_______________
My deepest sympathies to all the family. I remember her laughter.

Kathy Bauer Hopkins
_______________
So sorry to hear of the loss of Aunt Judy. She will always be in my heart, and her family will be in my prayers.

Tammy Hollibaugh Nickoloff and family
_______________
My Deepest sympathy .Judy was not only my sister-in-law she was my Friend.In my heart always.Sending love to all.
Donna Kay Boden
______________
We who knew (48 years) and loved Judy have some idea of how great your loss truly is. I write this with a heavy heart.

Joseph, Claudia, Robert, John, and Stephanie Kandlbinder (San Antonio, Tx)
______________
Eternal rest grant unto her O Lord and let perpetual light shine upon her.

Deacon Kevin J. Coyle, St. Patrick Church
______________
To Judy's family - I am so sorry for your loss. Judy was such a wonderful person and I enjoyed working with her at Carlisle Barracks. I pray that you find peace and comfort in your faith. God bless.

Elizabeth Heffner

____________________
We want to send our sincere sympathy on the loss of Judy. We feel blessed to be able to call her family through the years. We regret we were not able to attend her services. Please know we were there in spirit and will keep you in our prayers as you adjust to your loss.

Jake and Candy Moore and family
______________
Tim, Beth, Faith, J.R. and family,
We are so sorry to hear about your great loss. May Judy's spirit will live on through your stories. God bless you all.

Jim, Kelly, Griffin and Brady Goodfriend
_____________
Your message of condolence will appear here.