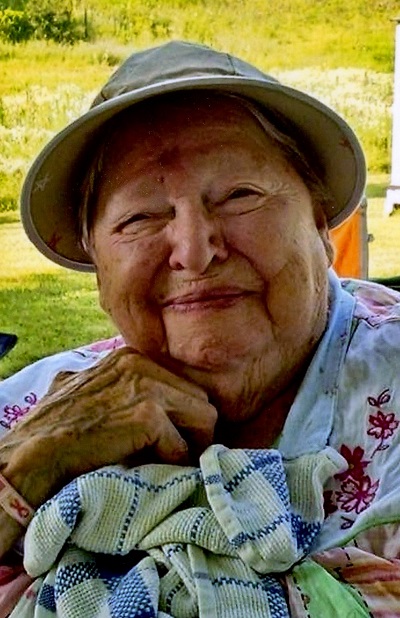 Ruth E. Gutshall, 94, of Newville, went to be with her Savior on Tuesday, May 10, 2016. She was born on June 26, 1921 in Newville, and was a daughter of the late Howard K. and Mary (Scherich) Negley and the widow of Freemont P. Gutshall, who died Oct. 9, 1988.
Ruth and her late husband were dairy farmers for many years. She enjoyed being a homemaker and the matriarch of five generations. She also enjoyed spending time with her loved ones and working on her puzzles. Ruth was a member of Cornerstone Chapel of Hope - Carlisle, the Farm Women Group 18, and Mt. Aetna Fire Co.
She is survived by two sons; Robert W. Gutshall of Richland and Jay J. (wife, Janet) Gutshall of Mechanicsburg, seven daughters; Fay D. (husband, Leroy) Negley of Newville, Kay R. Spahr and Janet M. Schucker both of Womelsdorf, Mary R. (husband, Terry) Stauffer of Murrells Inlet, SC, Norma J. (husband, David) Wolf of Bernville, Jane E. (husband, Keith) Schnoke of Womelsdorf and Nancy L. (husband, David Anthony) Gutshall of Newville, two brothers; Lee and Richard Negley both of Newville, one sister, Evelyn Ocker of Newville, one daughter-in-law, Joan Gutshall of Newville, 19 grandchildren, 37 great-grandchildren, 10 great-great-grandchildren and many nieces and nephews. She was predeceased by one son, Stanley Gutshall, three brothers, five sisters and one daughter-in-law, Gladys Gutshall.
A viewing will begin at 11:00 a.m. on Monday, May 16, 2016 followed by funeral services at 1:00 p.m. in the Ewing Brothers Funeral Home, 630 S. Hanover St, Carlisle. Her grandson, Pastor Keith Gutshall and Pastor George Rockwell will officiate. Burial will be in Cumberland Valley Memorial Gardens, Carlisle. Memorial gifts in Ruth's name may be made to the American Cancer Society.
Click here to send a condolence
RIP Ruth I spent many of summers in Newville and other places you lived. My time on the farm was interesting and fun with the family.Everyone will miss your smile. God Bless.

Nancy Daniels (Mehaffie)
______________
I am so very sorry for your loss. Karin and I would like to express our condolences. May everyone find peace.

Michael Bell
_____________

I am so sorry for your loss. Ruth was a wonderful woman, and I absolutely loved getting to know her. She had such grace, humor, and a deep love from her family.
Leslie Shughart
_____________

Your message of condolence will appear here.