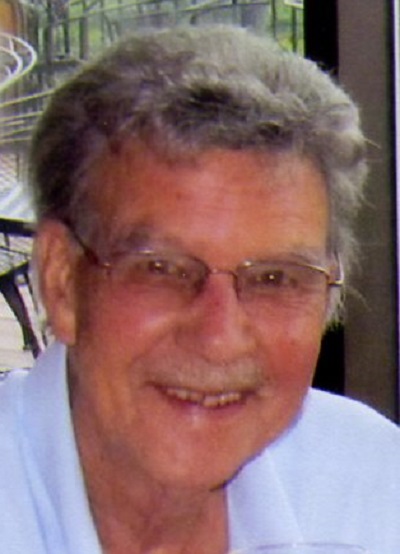 Charles Stake, 83, of Gardners, PA, passed away peacefully on Thursday, February 18, 2016 at Pinnacle West Shore Hospital in Mechanicsburg. He was born on October 21, 1932 in Newville to the late Elmer and Ethel (Barrick) Stake.
Charley grew up in Newville and served in the U.S. Army (1953-1955) in Germany and during the Korean War. Having received his Certificate of Registration from the State Board of Barber Examiners in 1958, Charley later opened his own shop in 1961, "Charley's Barber Shop" on Louther Street in Carlisle, where he stayed until his retirement in 2013. During that time he served as President of the Carlisle Barbers' Association. Charley lived life to the fullest with humor and zest. He traveled solo by motorcycle to the Pacific Ocean and sailed up and down the Middle River and Atlantic Ocean. He was a self-taught, lifelong learner and avid reader. If he could dream it, he could build it. He was a member of the Susquehanna Wine Guild, and in his free time he tended to his vineyard and bottled his own wine. He completed the NAWCC Museum's Advanced Clock Repair Course and enjoyed working with and repairing clocks.
In addition to his loving wife, Helen Smith, he is survived by his three children; Anita Rae Smith (Ron), Shippensburg, Gerald Stake (Jami) and Beverly George (Duff) of Carlisle, five grandchildren; Jessica Chestnut, Levi Smith, Alee Long (Evan), Lydia George, Naomi George and three great granddaughters; Julia Chestnut, Aubrey Chestnut and Malena Long. He is also survived by two brothers; Alvin (Mary), Shippensburg and Benson (Pat), Newville and two sisters; Bonnie Trostle (Richard), Amelia Island, FL, Betty Stake (David DeHart), Mechanicsburg and several nieces and nephews. Charley was predeceased by one brother, Paul.
The family would like to express their sincere thanks to Brian Bonner, the medics of Cumberland Goodwill EMS, Dr. Collins and the staff at the CRMC for their outstanding care, as well as the staff at the Pinnacle West Shore Hospital. In lieu of flowers, the family encourages you to share a random act of kindness because, as Charley would say, "Life is short, let's drink the good wine now".
At Charley's request there will be no services. Ewing Brothers Funeral Home, Carlisle is in charge of the arrangements.
Click here to send a condolence
My wife and I feel the hurt of losing Charlie. However, none more then you do Helen. We hope that the pain will get less as time passes on but Charlie was one of a kind. Our Love & prayers are with you and the family.

Chris & Liz Dettrey
_______________

Charlie will sorely be missed. Our hearts, thoughts and prayers are with you Helen. Also for Charlie's family. If you need us, we are here for you.

Bert & Carol
_____________

So sorry to hear of the passing of Uncle Charlie. Our prayers are with you.

Ron and June Baddorf
______________
So sorry to hear this. We've know Charley for 40 yrs - he was a great guy! Thoughts and prayers to "Ronita", Bev, Jerry, Helen and to the whole family.

Bill & Kathy Bevan
_______________
My condolences to the family esp. Anita, Jerry & Beverly.

Love, Joyce Baddorf Simons
_______________
My sincere sympathy to Charley's wife and family. He will be missed.

Jane McGregor
________________
My sincere sympathy to all of the Stake family.

Judy Hoover Showvaker
_________________
Dear Helen Family and Friends,
Norma and I extend our sympathy to all and want you to know that our thoughts and prayers are with all of you during this most difficult time. Charlie was a great friend and will truly be missed.
Sincerely,

Dave and Norma Miller
________________
We sent our condolences for Charley's wife and family.
We will miss him very much.
Psalm 23
The Lord is my shepherd, I shall not be in want. He makes me lie down in green pastures, he leads me beside quiet waters, he restores my soul. He guides me in paths of righteousness for his names sake. Even though I walk through the valley of the shadow of death, I will fear no evil, for you are with me; your rod and your staff, they comfort me. You prepare a table before me in the presence of my enemies. You anoint my head with oil; my cup overflows. Surely goodness and love will follow me all the days of my life, and I will dwell in the house of the Lord forever.
John & Barbara De Pauw
________________
Helen,
No words can come even remotely close to easing the pain you and your family feel. Our hearts go out to you in this difficult time.

Don & Joan Hopler
________________
Charlie cut my hair for over 30 years. He was one of the most interesting people I've ever known. Sailor, biker, clock repairman and vintner - I always admired the way he could change and grow! I'm a beer drinker, but I'll have to visit the state store and pick up a bottle of wine to raise a toast to Charlie. The good stuff, of course!

Bill Bogar
________________
I am a long time friend of Charley's son (Gerald) and can recall many fond memories from days spent at their house. From days working on our dirt bikes in the garage where Charley would either be lending a helping hand or providing tips and pointers or tinkering on a project of his own. You always wanted to be their Sunday evenings when Charley return from his sailboat to feast on the hard shell crabs he brought back with him. One special memory I have is of Charley and a friend of his lending Gerald and I their motorcycles for a road trip to Knoxville Tennessee for the Worlds Fair. Being a motorcyclist myself I can't imagine lending my motorcycle to an experienced rider for a trip around the block let alone 2 young rookies who have never been on street motorcycles before for a multi-day trip. It takes a special person to lend a vehicle to a non-family member not knowing if it will come back in one piece or not.
Our deepest condolences to the Stake family:

Dale & Nancy Hoover
___________________
Anita and family, we are so sorry to hear that your dad passed on. May you cherish the good times and keep his memory alive in your heart. Peace and blessings! Dave and Betty

Dave and Betty Evelhoch
______________
To Charley's family, please know that he is in my thoughts and prayers. I can remember sitting at Raudabaugh's Barber Shop waiting to get a crew cut as a six year old. Charley had a special smile and way with kids that made a haircut a special event.

When I was about to have back surgery in 1978, he came to my house to give me a haircut -- he knew how being in the hospital with long hair would bother me. He certainly helped on my road to recovery. He made two other house calls as I recovered after the surgery.

I moved from Carlisle in 1988, yet because we returned every three or four weeks to visit family, Charley continued to be my barber even though I lived in North Carolina. He would stay late on Friday evenings as we would arrive around 10:30 or 11:00pm to be sure that I got a proper hair cut. He still made a haircut a fun adventure for a sixty year old.

He would share his latest adventure on the motorcycle or sailing or whatever he was learning to master.

As I read the other condolences, it brought back fond memories of Charley and his shop. He was more than a barber. He was a conversationalist, a philosopher, a businessman, and most of all a friend.

Blessing and God's Peace to the family.
Jack Weller
________________
I was fortunate enough to have met Charles and his family in 2011. He was one of a kind. We would spend days with him learning about wines, Pennsylvania history, sharing technology with him, and telling him our veterinary adventures. He loved his grandchildren like you would not believe and his excitement for them during any of their achievements was extraordinary.
How blessed this man was to have lived a life full of joy and great love. He has made an impact on people like you would never believe and we cannot wait to meet him again in eternal life. Rest Easy, Pappy.
Danielle Jehn
________________
Helen-- We will sincerely miss Charley. After knowing him for many years we are blessed to have been able to call him our friend. I regret not visiting with him more after he retired.

Leonard & Diane Kuhn
________________

Helen, Sorry for your loss. Charlie was one of a kind a very unique person. He knew the most prominent people to the common person. Yet he was friends with everyone. Always a smile and words of wisdom. He was not afraid to try something. He would figure it out the Charlie way and it would work out for Charlie. He said to me once see the house I'm working on which was on my way home from work. And I said no. What I didn't see was a house among trees were that were growing in the house. But leave it to Charlie he rebuilt the house that had trees in it and I think he had it put on the historical register. That was the type of person Charlie was one that you meet in your life time and will always remember. Rest well my friend you will be greatly missed.

George Boring
________________

My sincerest condolence.
Paul Beierschmitt
________________

Anita and family,
You are in our thoughts and prayers. Much love to you all especially my BFF.
Hosfelt family
______________
Helen and family: Charley was my landlord many years ago and each time I returned to PA for a visit (after moving to FL) he always graciously took me to dinner. I have met Helen by phone only and you have my deepest sympathy. Charley will be missed by many, many people.

Ginger Mattern Trench
________________
Your message of condolence will appear here.