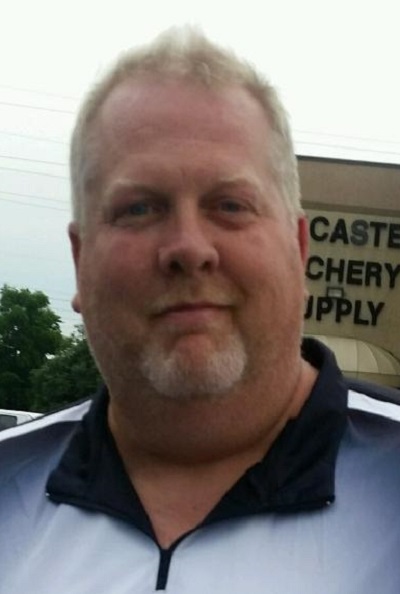 David A. Kerr, 50, of Carlisle, passed away unexpectedly on Monday, February 1, 2016 at Carlisle Regional Medical Center. He was born on April 28, 1965 in Carlisle, a son of the late Robert W. Kerr and Margaret Ann (Holmes) Kerr.
Dave graduated from Carlisle High School with the Class of 1983. He served during the Persian Gulf in the US Army from 1985 – 1992, and was honorably discharged with a rank of Staff Sergeant. He has owned and operated, D. K. Electric, Carlisle for many years, and had also worked several years with the former Carlisle Tire and Wheel. Dave loved hunting and competed in numerous archery benefits and competitions. He hunted not only in PA but numerous other states just searching for that huge rack. He was a member of the Block Camp, VFW Post 8386 and Mosquito Creek Sportsman Club, all of Frenchville; Eagles Aerie 1299, White Circle Club, Loyal Order of Moose and the Fish & Game Association, all of Carlisle.
He is survived by his fiancé, Buffie Markley and her mom, Linda Hurley, two sons; Zachary and Aaron Kerr, two daughters; Hannah and Morganne Kerr, two step-daughters; Sabrina and Rachel Markley, one sister, Elizabeth (husband, Jeff) Seibert, a half-brother, Ronald (wife, Michelle) Kerr, three grandchildren; Mia, Ava and Zoe Kerr, one niece, one nephew, four uncles and his step-mother, E. Carol Kerr of Carlisle.
A visitation will begin at 1:00 p.m. on Wednesday, February 10, 2016 followed by a memorial service at 2:30 p.m. in the Ewing Brothers Funeral Home, 630 S. Hanover St, Carlisle with Pastor Greg Hench officiating. Military honors by Cumberland County Honor Guard will be held at the funeral home. Burial will be private.
Click here to send a condolence
I am so sorry for your loss. Dave will be greatly missed.

Mark Bahr
_________________
Dear family, we are so saddened to hear of Daves' passing. He was really a great guy. We pray the lord will guide and comfort you at this very difficult time.
Marcy, Butch, and Jordan Bitner
______________
So sorry to hear this. You subbed many jobs for our company. Prayers for your family.
Bill & Tawna Clipp
________________
So sorry for your loss, prayers to the family.
_______________
So sad to see such a good man go too soon. Sending our thoughts and prayers to DK's family. He was always such a good friend to our family.
Derek & Courtney Failor
_______________
We are very sorry for your loss Dave will be missed
Vito and Suzanne Iannuzzi and Family
_______________
I am so sorry to hear of Dave's passing. We would run into each other at the electric supply house all the time. He would always try to get me to join him and friends on hunts. I wish I would have taken the time to join him. He will be missed. Thoughts and prayers for family.
John Swartz
________________
To the Kerr family. Sorry about your loss. Dave was a great guy that I met when I worked at the Home Depot. Thoughts and prayers are with you and your family at this time.
Raymond brown and family
________________
Ann. Sorry for your loss he was a good man
Jerry E Logan
_______________

So sorry for your loss. I worked many jobsites with Dave in the past. My prayers go out to the family.
Denny Hamilton - Hamilton Heating and Cooling
_______________

Our Deepest Sympathies, may he rest in peace and love.
The Manze Family
_______________

Priscilla Dunkleberger and Jennifer Dunkleberger
_______________

DK was a good man. He will be missed. Thoughts and prayers to the family.
Jim & Gwen Howell and family.
____________

So sorry for your loss.
Forrest Healey
_____________
Your message of condolence will appear here.