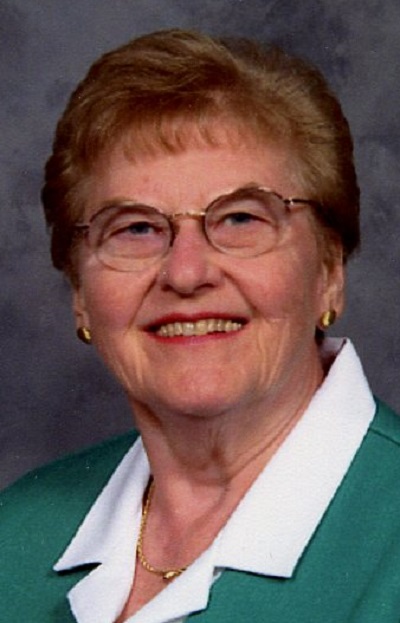 Phyllis Shambaugh Meenan, 82, of Carlisle, died Wednesday, December 9, 2015 at her home. Born December 24, 1932, in Carlisle, she was the daughter of the late Clarence E. and Ida F. Herman Shambaugh and the widow of M. Clyde Meenan, who died in 1999.
A graduate of Carlisle High School, Class of 1950, she received a B.S. in Education from Shippensburg University and M.Ed. from Pennsylvania State University. She taught fourth grade in the Carlisle Area School District at Stevens and later at Bellaire schools for 38 years. She also gave private piano lessons for over 40 years.
She was a member of the former Grace United Methodist Church, where she sang in the Chancel Choir, served as a volunteer office receptionist, taught Sunday school in both the children and adult departments and accompanied children's choirs. She was also a member and officer of United Methodist Women, member of the Thelma McCullough Sunday School Class, representative to Annual Conference and served on various committees. Other affiliations include; AARP, AAUW, PSEA, NEA, Cumberland County Retired Teachers Association, Carlisle Regional Medical Center Auxiliary and Friends of Bosler Library. She enjoyed playing bridge and treasured her school, bridge and church friends.
She is survived by two step-daughters; Elaine Hanson (Chris) of Pasco, WA, and Avis Kunz of State College; a step-grandson, Michael Kunz of Cleveland, OH, and several cousins, including Judy Kennedy.
Funeral services will be held at 10:30 a.m. on Tuesday, December 15, 2015 in the Ewing Brothers Funeral Home, 630 S. Hanover St, Carlisle, with Rev. Sharonn Halderman officiating. Burial will follow in LeTort Cemetery, Middlesex Twp. A viewing will be held on Monday evening from 6 - 8:00 p.m. at the funeral home. Memorial contributions may be made to the United Methodist Home for Children in Mechanicsburg or the Bosler Library. The family would like to thank the doctors and nurses at the Carlisle Regional Medical Center, Celtic Hospice and Christian Companion for the care that she received.
Click here to send a condolence
Phyllis was such a lovely person to know and a good friend. We always enjoyed hearing her teach our Sunday School Class. We would like to extend our deepest sympathy to the family. May God Bless You.
Edd & Shirley Nickle
_______________

Dear Family, I have been friends with your wonderful Phyllis since we joined Grace United Methodist Church. We sang in the choir together. I work at Bellaire Elementary School now. She listened to my problems and always gave me heartfelt advice. I will truly miss her. Terri Reisinger.
________________
Your message of condolence will appear here.