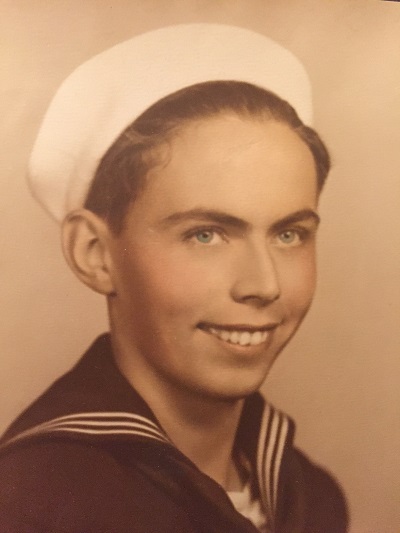 Stephen Vincent Butler, 90, of Carlisle, died on Thursday, November 5, 2015 in the Church of God Home, Carlisle. He was born on January 4, 1925 in Brooklyn, New York, a son of the late Stephen J. and Anna (Murray) Butler. He was married for 67 years to the late Carmen R. (Ferreno) Butler, who died Oct. 10, 2004.
Stephen graduated from Bushwick High School and also attended St. John's University, both in Brooklyn. He was a US Navy veteran of WWII. Stephen was a faithful member of St. Patrick Catholic Church, Carlisle. In 1990, he retired after many years of service with the Internal Revenue Service in Harrisburg, where he was an auditor.
He is survived by one daughter, Diane S. (husband, Marlin) Lucas of Boiling Springs, two sons; Stephen R. (wife, Carol) Butler of Finksburg, MD and Mark L. (wife, Betty) Butler of Carlisle, six grandchildren, Christopher Butler of Baltimore, MD, Kristen (Cartwright) Hickey of Lincoln, CA , David Cartwright of Carlisle, Brooke (Butler) Romito of Carlisle, Victoria (Cartwright) Christen of Carlisle, Brynn Butler of Carlisle, nine great-grandchildren and many nieces and nephews. He was predeceased by two sisters; Alice Cavanaugh and Eleanor Mara.
A Mass of Christian Burial will be celebrated at 11:00 a.m. on Tuesday, November 10, 2015 in St. Patrick Catholic Church, 85 Marsh Dr., Carlisle, with Rev. William C. Forrey. Burial will follow in St. Patrick Catholic Cemetery, North Middleton Twp. A visitation will be at the church on Tuesday from 10:00 a.m. until time of service. Ewing Brothers Funeral Home, Carlisle, is in charge of the arrangements. In lieu of flowers, the family kindly requests memorial donations to St. Patrick's Library, 152 E. Pomfret St., Carlisle, PA 17013.
Click here to send a condolence
Mark, So sorry to learn of the passing of your father. Our thoughts and prayers are with you and your family

Danielle and Dick Boal
_____________

Though I only saw him sporadically in my adult life, Uncle Steve was an iconic figure in my childhood. Whether at Lake Sebago to which our two families made regular summer excursions, or Seaside Heights, where we spent two weeks together for several years running, or at any of the many family gatherings which the family held back in the fifties and sixties, Uncle Steve was a commanding figure, and a role model for all of us. Respect seemed to be his major issue, both for him as an authority figure, and for others. Only through respecting others can one truly develop self respect, the bedrock of any personal success. With the passing of my last uncle, an era is truly coming to an end. May God bless him and keep him, and may you be consoled in your loss.

Ken Conrey
_______________

Sending condolences to you at this difficult time in your family. May God comfort you and show you His love and peace. Thank-you for giving me the opportunity to help your dad, grandfather and uncle. during these last several years.

Jean E. Ream (nurse)
________________

We are thinking of you at this time and offer our sympathy. We hope you find peace through pleasant memories.

Vickie and Scott Feinstein
_______________

Betty and Mark
We're thinking about you during this time of sorrow.
Our thoughts and prayers are with you.

Buck & Igor
______________

Mark, my Condolences to you and your family.
May his memory serve to all who knew him as a blessing.

Ira Berry
_______________

Mark,
Our prayers and thoughts are with you and your family at this time of your loss.

Ollie's Outbound Traffic Team
_______________
Your message of condolence will appear here.