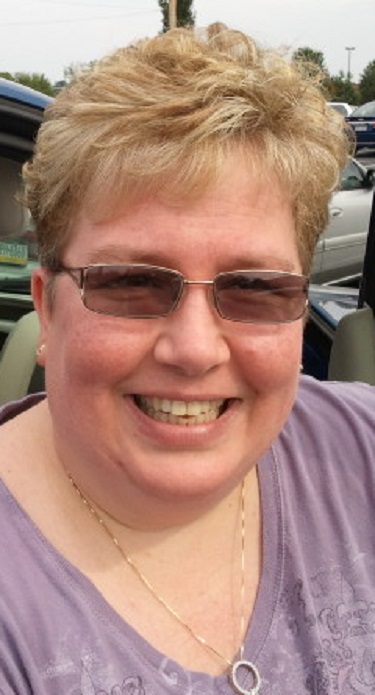 Jill A. Schiessl, 51, of Carlisle, passed away on Friday, October 30, 2015 at her home with her loving family by her side. She was born on June 25, 1964 in Huntingdon, a daughter of the late Russell D. and Jean (Whitsel) Kelley.
She graduated from Mount Union High School in 1982, and earned her Bachelor's in Education from Shippensburg University in 1986. Jill had a passion for teaching English, and worked 18 years at West Perry High School and for the past 10 years at Sci Tech High in the Harrisburg Area School District.
She is survived by: her husband of 21 years, Daniel M. Schiessl, II; one sister, Garnett (husband, Tom) Moore of Mt. Union; one brother, Gary (wife, Sherian) Kelley of Carlisle; three nieces: Kelly White, Linda Grove and Elisabeth Kelley-Foley; one nephew, Jonathan Kelley; two step-daughters: Samantha Damon and Jessana Schiessl; two great-nieces: Paige White and Magnolia Foley; and one great-nephew, Jackson Foley. Jill also loved and leaves behind her feline friend, "Baby Boo."
Funeral services will be held at 11:00 a.m. on Thursday, November 5, 2015 in the Ewing Brothers Funeral Home, 630 S. Hanover St., Carlisle, with Pastor William Benson officiating. Viewings will be held on Wednesday from 6 – 8:00 p.m. at the funeral home and on Thursday from 10:00 a.m. until time of service. Memorial contributions may be made to the Hope for Healing Fund. Please visit www.Since1853.com to send condolences.
Click here to send a condolence
Danny and family,
We are so sorry for your loss. You are in our thoughts and prayers. With heartfelt love and friendship.

Greg and Joie Wileman

________________

Dearest Jill, you lit the light of learning, life, love and laughter for so many. May the passions you sparked turn into a fire that will continue to shine for others in your honor! Such a beautiful soul. You will be missed. Danny and family, my thoughts and prayers are with you!!!!!

Megan James-Reich
______________

My condolences to the family of Mrs. Schiessl. I was a student of hers 15 years ago. Her class was my first at West Perry High School.
I remember watching The Miracle Worker in her class. In the movie, when Helen Keller spoke her first word, Mrs. Schiessl burst into tears. Of course we laughed as she told us, "shut up, shut up. Don't look at me."
I think about that moment in class fondly. It made me realize how passionate she was about teaching. She loved her students. Although her time here was short, she had a profound impact on many lives. My thoughts and prayer for you all during this time. God bless.

Alex Stewart
_____________

Mrs. Schiessl was an excellent educator. Her enthusiasm and made learning enjoyable and meaningful. She made you care because she cared. I had the opportunity to get to know her during long nights of play practice. She is a big reason I am now a teacher. Thank you for impacting so many students and especially for inspiring me. Prayers for your family and may you rest in peace.

Jessica (Rudy) St Clair
_______________

Danny, So sad to hear of Jill's passing. She is at peace and can/will never be forgotten. My family sends our condolences.
Mike Slear
________________
Your message of condolence will appear here.