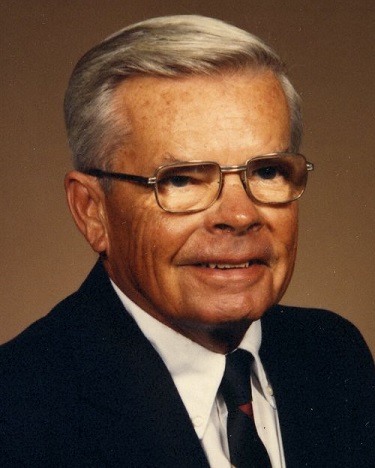 Paul C. Mellen, 93, of Carlisle, died on Thursday, October 8, 2015 at Forest Park Health Center. He was born on June 30, 1922 in Indianapolis, IN, a son of the late John F. and Francis (Thale) Mellen, and was married to the late Louise (Huther) Mellen, who died in 1987 and Mary J. (Kindred) Mellen, who died in 2014.
Paul graduated in 1940 from St. Joseph High School in Williamsport. He then graduated in 1942 from the former Dickinson Junior College, where he earned an Associate degree in business administration and then earned a Bachelor of Science degree from Lycoming College in 1949. He was a US Army veteran of WWII and was awarded numerous honors and medals for his military service. Paul retired from the Internal Revenue Service after 25 years of service, where he was a collection agent. He was a member of St. Patrick Catholic Church, Carlisle. He was a Past Treasurer of the Knights of Columbus Council 4057, the St. Patrick Athletic Association, the Holy Name Society Blood Bank, Boy Scout Troup 168 and the St. Patrick Scouting Committee.
He is survived by his children; Paul S. "Steve" (and his wife, Elaine) Mellen of Carlisle, Rebecca A. (and her husband, William Manspeaker) Dunkle of Ypsilanti, MI and Timothy J. Mellen of Chicago, IL, five grandchildren; Brian Dunkle, Stephen Mellen, M. Catherine Mellen, Elizabeth Mellen and Kevin Mellen, four great-grandchildren, three step-children; James, Mary and Thomas Kindred and several nieces and nephews. Paul was predeceased by one son, Peter A. Mellen, who died in 1992, his siblings; Francis J. and J. Robert Mellen and Rosemary Shusta and one grandson, Joshua Mellen, who died in 2009.
Mass of the Christian Burial will be celebrated at 11:00 a.m. on Wednesday, October 14, 2015 in the St. Patrick Catholic Church, 85 Marsh Dr., Carlisle, with Rev. William C. Forrey officiating. A viewing will be held at the church on Wednesday from 10:00 until time of the service. Interment with military honors by Cumberland County Honor Guard will follow in the St. Patrick New Catholic Cemetery, North Middleton Twp. In lieu of flowers, the family kindly requests memorial donations in Paul's name be made to St. Patrick Catholic Church, 152 E. Pomfret St., Carlisle, PA 17013. Ewing Brothers Funeral Home is in charge of the arrangements.
Click here to send a condolence
Rest in peace Dad

Timothy Mellen
_____________
So very sorry for your loss. He was a very caring, kind man. I know he will always be with you in your hearts.

Lori Weslo-Walker
______________
Your message of condolence will appear here.