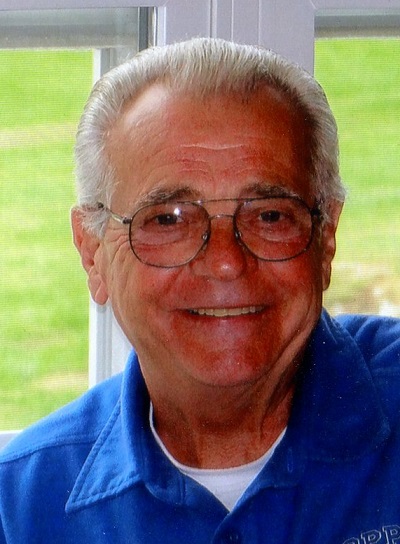 Frank Edward Keener, 74, of Newville, passed away on Friday, July 24, 2015 at home with his loving family by his side. He was born on July 3, 1941 in Flushing, NY, a son of the late Charles Keener, Sr. and Aline (Jockers) Keener.
Frank was a 1959 graduate of Baldwin High School in Baldwin, NY. He was a US Army veteran and served during the Vietnam War. Frank retired after 21 years of service with the Suffolk County Police Department, Marine Division, Long Island, NY. As a young man, Frank owned and operated Triangle Garden and Landscape and had also worked for Knickerbocker Beer and Congoleum Nairn. He was an automobile enthusiast and was a member of the Pontiac-Oakland Club, W.P.C., Cadillac-LaSalle Club and the National Desoto Club.
He is survived by his loving and devoted wife of 38 years, Susan Ann (Rausch) Keener, two daughters that adored and loved him dearly; Priscilla Ann Perdue (husband, Jeff) of Carlisle and Samantha Aline Moyer (husband, Jason) of Newville, one brother, Charles "Skippy" Keener of Beverly Hills, FL, four grandchildren who loved their Grampy/Boppy; Victoria Ann Keener, Lance Edward Perdue, Miles Edward Moyer and Madeline Adele Moyer and one niece and one nephew. Frank was predeceased by one brother, Mark Keener.
A visitation will begin at 1:30 p.m. on Thursday, July 30, 2015 followed by a celebration of life service at 2:30 p.m. in the Ewing Brothers Funeral Home, 630 S. Hanover St., Carlisle. Rev. Arlene Dunn will officiate the service. Interment will be private. Memorial donations may be made to Stand Up To Cancer (SU2C), P.O. Box 843721, Los Angeles, CA 90084-3721 or by visiting https://www.standup2cancer.org.
Click here to send a condolence
Sam, I am truly sorry for your loss. It's a very hard thing to lose your dad and I know that you really did adore him from how much you always talked about him.At least you will always have great memories.

Sue Shughart
____________
All our LOVE and Prayers to Sue, Priscilla and Samantha.
Remember all the good times you had together, and let that carry you through these difficult days ahead.
Dale and Diane Dean
____________
Dear Sue,
My sincere condolences to you and your family upon hearing of the loss of your husband Frank. My thoughts and prayers are with you all.

Jim D.
____________
Dear Keener and Perdue Family: What a wonderful man Frank was. He always made me smile. He always had a great attitude towards life and he will be missed very much. His love of his beloved animals touched my heart from the first time that I met him. He loved his family and was proud of all of all of you. It was my honor to have known Frank and I will miss his dearly.

Beth Wachter
_____________
Thinking of you and sending prayers your way at this sad time.

Bernie and Linda Hardy
_______________
It is with great sadness to hear of the loss of Frank. Having myself gone down this cancer road five years ago, Frank and his family were and will continue to be in our Prayers.

Wallace and Karen Bailey Of Homestead Stencil
_______________
To Sue, Prisicilla, Samantha, Maggie, Roscoe and family...

My love, thoughts and prayers are with you all at this sad time. Frank was a wonderful husband, father and friend and I know he will be greatly missed by all of you. He sure did love his girls. May he rest in peace.

Erica Lynn Diehl
_______________
Frank was a very special man and Brother. His wife and family were his whole world and he was surrounded with love right up to the end. He will be truly missed.

Skip and Lynn
________________
Frank will be very missed, and Sue, you have been magnificent. You have both set an example for family and friends about how to handle tremendous pain and suffering.

May our dear Frank rest in peace. He was an adorable younger cousin - always so good natured and kind. It is unfair he had to suffer so much, but certainly set the bar high, you both do, for how bravery really looks. Love from Virginia, Michael and Diana


Virginia Besas
_______________
Dear Keener family,
We are very sorry for your loss. Our prayers are with all of you at this difficult time. With heartfelt sympathy,

Mark and Wendy Golightly
_______________
I send our deepest condolences to all the Keener family. Frank was a cousin that always made me laugh throughout my childhood and i will never forget the family vacations we took together upstate New York. So many laughs ! we all will miss him, he was a big part of our family.
May he rest in peace. Love, Cousin Sue xo

Susan Hahn Jalbert
_____________

Sue, Cill, Jeff, Sam, Jason & kids...we are so sorry for all of you in this time of loss. Frank was a great man and raised an amazing family! You all showed him so much love and the strong family that you are is his eternal legacy. All our love and sympathy...

Steve, Marsha, Sarah, Nick, Taylor & Jen
_____________

Dear Sue and family
Richie and I are very sorry for your loss.we know he will be missed by all that knew him. Especially his laugh.will always be remembered I sat behind him in H.S.

Richard and Ann Keener and family
_____________
PP and Sam - All my love to both of you. Your dad must have been wonderful because he raised the two of you.
Kim
_______________
Dear Sue, Priscilla and Sam,
I am so, so sorry for your loss. I remember Frank as a fun loving man who adored his wife and daughters! With Deepest sympathies,

Helene DeRosa
_____________
I am so sorry to learn of Franks passing. My sincere condolences to his entire family. I knew them from Centerport, LI.

Pat (Robin) Mann
____________
We are thinking of the Keener family and are so sorry for your loss. We are happy to make a donation to Stand Up To Cancer. Cherish your memories.
With deepest sympathy,
Judy and Steve Brough
____________
Your message of condolence will appear here.
Ewing Brothers Funeral Home, Inc.
Since 1853
630 S. Hanover St., Carlisle, PA 17013
Phone: (717) 243-2421
"Five Generations of Service"
Steven A. Ewing, FD, Supervisor, Owner
William M. Ewing, FD
(1926 ~ 2009)
Seymour A. Ewing, FD
(1926 ~ 2009)
Jessie Morrison Ewing, FD
(1892 ~ 1988)
William J. Ewing, FD
(1898 ~ 1934)
Hastings A. Ewing, FD
(1866 ~ 1924)
Alexander B. Ewing, FD
(1831 ~ 1903)
PROUD MEMBER OF
Capital City Funeral Directors
Association
Copyright © Ewing Brothers Funeral Home, Inc. 2007-2018