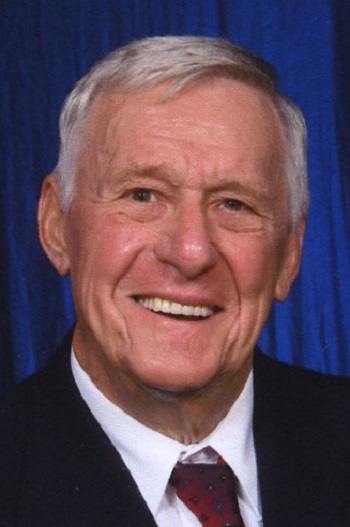 John P. Durnin, 89, of Carlisle, passed away at his home on Saturday, June 20, 2015. He was born on Nov. 21, 1925 in Carlisle, and was a son of the late John F. and Blanche M. (Porter) Durnin. John was married to the late Evelyn L. (Bowers) Durnin, who died Nov. 14, 2008.
John was a US Navy veteran of World War II. He was formerly employed with Piezo Crystal Co. in Carlisle, McCoy Electronics in Mt. Holly Springs for 30 years, the New Cumberland Army Depot for 8 years and the Frog Switch Co. in Carlisle for 10 years. John was a longtime member of the Carlisle United Methodist Church, American Legion Post 101, V.F.W. Post 477, Eagles Aerie 1299, all of Carlisle and the National Rifle Association. John was awarded his high school diploma from Carlisle High School in 2002.
He is survived by two sons; Douglas M. (wife Nancy) Durnin and Chris A. (and his fiance, Noble McLaughlin) Durnin, both of Carlisle, one daughter, Laurie A. (husband Doug) Gleim of Carlisle, one sister, Betty Jane Reese of Carlisle, three grandchildren; Sara Cuthbertson, Rachel Durnin and Jordan Gleim, two great-grandchildren; Ainsley Cuthbertson and Cooper Cuthbertson and several nieces and nephews. He was predeceased by one brother, Arthur H. Durnin.
A memorial service will be held on Saturday, September 19, 2015 at 1:00 p.m. in the Carlisle United Methodist Church, 45 South West St., Carlisle, with the Rev. James VanZandt officiating. A visitation will be held prior to the service from 11:00 a.m. to 1:00 p.m. Interment will be private. Memorial donations may be made to the church. Ewing Brothers Funeral Home is assisting the family.
Click here to send a condolence
Doug and Chris I'm so sorry to hear about your father's passing. You can be prepared but it is still a shock. Your families are in my prayers
Frank Teaney
_____________

Doug and Nancy, sorry for your loss.
Timothy Herman
_____________

May the constant love of caring friends soften your sadness. May cherished memories bring you moments of comfort. Sorry for your loss.
Sheldon Marshall
_____________

Doug, my thoughts and prayers are with you and your family.
Cindy Hoehn
_____________

John has been a member here at American Legion #101 for 63 yrs.
He will be missed by all.

Salute!

American Legion #101
_____________

Doug, prayers for you and your family.

Mark Kehler
____________

Doug and Nancy,

So sorry to hear about your loss. Your family is in my thoughts and prayers.

Colleen Reese
_____________

Doug Sorry to learn of your fathers death. He was quite q man! My condolences to you and the family.

Judge Caldwell
_______________

Doug, I am so very sorry to hear about the loss of your Father. Please know that you are in my thoughts and prayers.

Carole Bergstrom
_____________

My deepest sympathy for your loss. You & your family our in my thoughts and prayers. May fond memories always bring you comfort.

Sharon Ratchford
_____________

Doug & Nancy: Our prayers are for you and with the entire greater family during this time of great loss.

Glenn & Martha Peterson
_______________

We can never really prepare ourselves for the loss of a parent. He will always be with you in your memories. Cherish those memories. Please accept our sincere condolences.

Glenn & Barbara Myers
_______________
Your message of condolence will appear here.