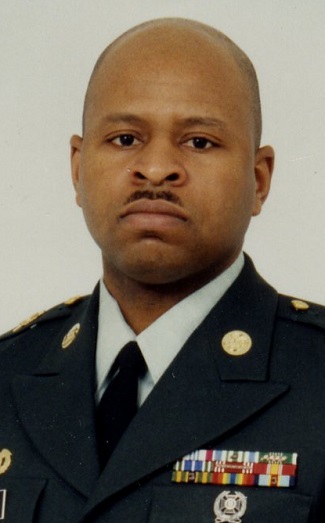 MSG (Ret) Joseph O'Neal, Jr., US Army, 54, of Carlisle, passed away on Wednesday, May 13, 2015 at West Shore Hospital, Mechanicsburg. He was born on October 15, 1960 in Waterloo, IA, a son of the late Joseph O'Neal, Sr. and Lucy M. (Booker) O'Neal.
Joe was a 1979 graduate of the West High School in Waterloo and shortly after began his military career which spanned more than 26 years. He retired as a Master Sergeant in 2005 and earned many honors and awards. Since his retirement, Joe has been employed at the New Cumberland Army Depot. He attended the USAWC Memorial Chapel at Carlisle Barracks. Joe enjoyed fishing, hunting and most of all his loving family.
He is survived by his devoted wife of 31 years, Lucille V. (Evans) O'Neal, one daughter, Tia R. O'Neal and one son, Joseph D. O'Neal, both of Carlisle, two brothers; Jimmy O'Neal and Willis (wife Jerenda) O'Neal, both of Waterloo, IA, two sisters; Lucille O'Neal of Robbinsdale, MN and Fredrine Booker of Cedar Rapids, IA, three grandchildren; Nalyana O'Neal, Miya O'Neal and Cece Etter, his father-in-law and mother-in-law, Tasker and Marilyn Evans, his sisters-in-law; Linda Sanders and Karen (husband Landy) Flowers and a host of nieces, nephews and extended family members.

A viewing will begin at 9:00 a.m. on Tuesday, May 19, 2015 followed by the funeral service at 10:00 a.m. in the USAWC Memorial Chapel at Carlisle Barracks. SGM (Ret) Bishop Willie Courtney, US Army will officiate the service. Interment with military honors by Cumberland County Honor Guard will be in Mt. Holly Springs Cemetery. Ewing Brothers Funeral Home, Carlisle is in charge of the arrangements.
Click here to send a condolence
To the family of MSG Ret Joseph O'Neal Jr.

The earth is the Lord's and the fullness thereof, it speaks of His greatness and it sings of his love. It whispers of mysteries we can't comprehend, of a beauty where life has no end.

With the deepest of sympathy in our hearts, we the O'Neal Family of Waterloo Iowa would like to extend our heartfelt condolences.

The ravages of time cannot be stopped: yes, outwardly we perish everyday but inner strength of heart can be renewed by trusting in the Lord to Light our way.

May the Lord heal your broken heart and mend your soul with the presence of His peace.

" I will turn their mourning into gladness: I will give them comfort and joy instead of sorrow".

Jeremiah 33:13

Please Know you are in our hearts and prayers

Ike and Mary Lynell O'Neal Buchanan
_____________

Dearest Lucille,
My deepest condolences to you my dear friend. I recall being in your wedding what a happy happy day it was for ALL of us. Dear friend, may the Lord comfort you, may you feel his loving arms supporting you. May He be your counselor and provider.

Audrey Trussell
_____________

Lucille, My heartfelt condolences goes out to you and your family. May the Lord comfort you in this difficult time and the days ahead.

Priscilla Goshea
_____________

Dear family and friends, I just a few moments ago read of the departure of Brother Joe, precious friend and co-laborer from our days together in the Ministry to the Military in Heidelberg, Germany. I remember and treasure his GREAT FAITHFULNESS to the work of the Lord and is support of his pastor and love for his church. I dont think I ever visited the MTTM center in Eppelheim without be greeted by the smiling face of Brother Joe O'Neal. I was thrilled to learn that Bishop Willie Courtey, his pastor while in Germany, was scheduled to speak at his memorial service. This is so appropriate. My deep condolences to Bro. O'Neals family. We pray that the Holy Spirit will supernaturally comfort you in your loss and the reality of knowing our precious Brother O'Neal has been promoted, cannot be touched by suffering and is forever rejoicing in the Presence of our Lord will motivate you to be ready when our day comes. Thank you Brother Joseph O'Neal for your great love and kindness to me, to your family and to the lives of the many soldiers you touched over the years. Dr. Robert A. Moore, Intl. Director, Ministry to the Military
Robert A Moore
______________

Blessings to you Sis Lucille and your Family. Please know that Scotty and I are praying for your peace and strength through these tough times, but want you to know that we know how much Brother Joe loved you and those kids. He was a great example of husband, father, friend and christian. He has ran an awesome race and now is receiving his reward in heaven.
We love you, Tia, Joe and grands.

Bro & Sis Charles & Travantha Miller
______________

Your message of condolence will appear here.