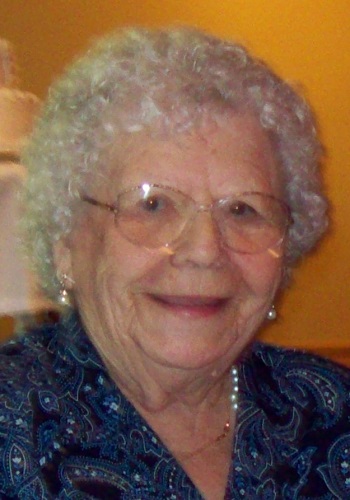 Lois F. Barrick, 95, of Carlisle, passed away on Saturday, May 2, 2015 at Claremont Nursing & Rehabilitation Center, Carlisle. She was born on March 9, 1920 in Woodstock, VA, a daughter of the late John C. and Rosa (Shaffer) Lloyd, and was the widow of Albert "Tom" Barrick, who died March 6, 1998.
For many years, Lois and her late husband had farmed in Silver Springs Twp. She also worked at Claremont Nursing & Rehabilitation Center, the former Embers Hotel and the former Roadway Restaurant. She was a member of the Opossum Hill Union Church, Carlisle.
She is survived by four daughters; Violet L. (Charles) Blose of Liverpool, Grace B. Jones of Mechanicsburg, Rose E. (Ronald) Tregl of Carlisle and Dona K. Freitas of Deltona, FL, 10 grandchildren, 14 great-grandchildren, 9 great-great-grandchildren and many nieces and nephews. She was predeceased by one daughter, Mary F. Hock, two brothers; Richard and Linwood Lloyd, three sisters; Dorothy Smith, Catherine Greene, Hilda Seibert and one grandson, Roger McBride, Jr.
A viewing will begin at 10:00 a.m. on Thursday, May 7, 2015 followed by the funeral service at 11:00 a.m. in the Ewing Brothers Funeral Home, 630 S. Hanover St, Carlisle. Pastor Randy L. Zook will officiate. Interment will be in LeTort Cemetery, Middlesex Twp. Flowers are welcome or memorial donations may be made to her church. www.Since1853.com.
Click here to send a condolence
We are friends of Vi & Charles Blose in Mississippi. We were sorry to learn of the death of Mrs. Lois and we will be in prayer for the members of her family. God bless.

Richard & Jan Bennett
______________

Nanny, I will forever remember you and forever love you. I don't have words right now, I am just blessed knowing you are an angel looking down on me.

Jani
_____________
Your message of condolence will appear here.