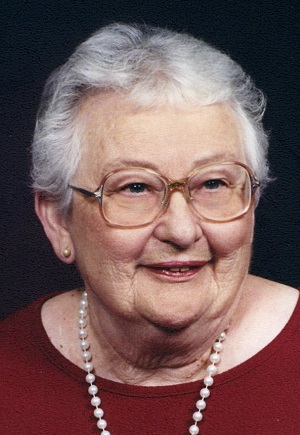 Anna M. Blackburn, 89, of Carlisle, died Saturday, May 2, 2015, at Lebanon Valley Brethren Home in Palmyra. She was born Jan. 21, 1926 in Fairfield, a daughter of the late John "Bert" and Catherine L. (Shryock) Bowling and was the widow of John A. Blackburn, who died Aug. 18, 1991.
Anna attended Gettysburg High School and earned her G.E.D. from Carlisle High School in 1973. She was a loving homemaker and also retired from the former United Telephone Co., where she had been a chief operator in Gettysburg. After retirement, Anna worked many years in food service with Dickinson College. She was a faithful member of St. Patrick Catholic Church, where she also volunteered with the Healthcare Ministry.
She is survived by two sons; David J. (Rachel) Blackburn of Citrus Heights, CA and Paul G. (Tara) Blackburn of Hummelstown, two daughters; Linda M. (Kerry) Hemperly of Cape Coral, FL and Laura A. Blackburn of Frederick, MD, one sister, Geneva G. (Joseph) Miller of Gettysburg, 5 grandchildren and many nieces and nephews. Anna was predeceased by 4 brothers; George, Edgar, Henry and Cletus Bowling and 3 sisters; Leonide Bowling, Elizabeth Knox and Pauline King.
A Memorial Mass will be celebrated at 10:30 a.m. on Friday, May 8, 2015 in the St. Patrick Catholic Church, 85 Marsh Dr., Carlisle. Rev. Brian Wayne will celebrate the Mass. A time of visitation and fellowship will immediately follow the service at the church. Interment will be private at Cumberland Valley Memorial Gardens, Carlisle. Ewing Brothers Funeral Home, Carlisle is assisting the family with the arrangements. In lieu of flowers, memorial donations may be made to the Good Samaritan Fund, 1200 Grubb Rd., Palmyra, PA 17078. www.Since1853.com.
Click here to send a condolence
My deepest condolences for your lost. You were very fortunate to have so many years of memories. May she rest in peace,

Sam and Lana Elias
____________
I am so sorry about the loss of your mom. She had a full life and was loved so deeply by her children, grandchildren, family and friends. I hope your memories of her will help you through this time. She was a blessing and I have many good memories of her!

Jeanne Pritt (Laura's friend from college)
_____________
Just wanted to say, even though I only met you once, you had to be an exceptional mother to have such a fantastic son who is so caring with such a good family and so diligent in his work.

Adam Barnhart
_______________

Sending my sincerest condolences to the entire Blackburn family. May your mother rest in eternal peace.
Orlando S. Roebuck
_____________

Our deepest sympathies to the entire Blackburn family. May her wonderful life and smiling memories bring you peace. We love you!
David, Amanda, Lance and Evan Coffey
_____________
Your message of condolence will appear here.