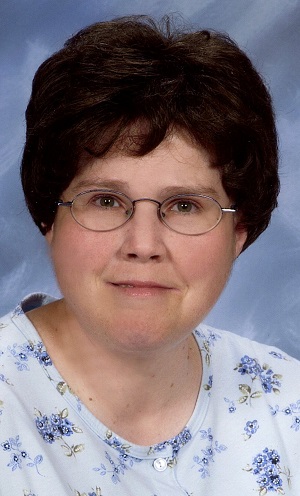 Mary Jane Stewart, 48, of Carlisle, died on the morning of December 29, 2014, at Penn State Hershey Medical Center. Jane, who was the first of five Stewart siblings, was born on March 10, 1966, in Vicksburg, MS, to John P. Stewart and Mary Campbell Stewart. At the time, her father, John, was serving as a pilot in Vietnam. Jane attended schools in seven locations in the United States and Germany. She graduated from Trinity High School in 1985 and attended the Hiram G. Andrews vocational school in Johnstown, PA. She began her career at the Book-of-the-Month Club in Mechanicsburg and then the Sears Outlet in Carlisle. She worked for the Carlisle Barracks PX for more than a decade before moving to Shippensburg, PA. She lived at Episcopal Manor while working for Shippensburg University for over 14 years. Her favorite job there was delivering mail to administrators and staff in the Old Main building while she wore seasonal attire. During her time in Shippensburg, Jane was devoted to her church, Our Lady of the Visitation, and to the local chapter of T.O.P.S. Due to deteriorating health, Jane returned to her home in Carlisle in 2012 and became a resident of the Cumberland Crossings Nursing Home later that year.
Jane is survived by her parents, Mary and John Stewart; her four siblings: Thomas Stewart and wife Joanne, William Stewart and wife Mary Louise, Frances Stewart, and Elizabeth Campbell Stewart O'Shea and husband Patrick; and nieces and nephews: Jackson Patrick Stewart, William Thomas Steggles, Henry Glasgow Stewart, Campbell Grace Steggles, and Mary Campbell Stewart.
From the Zugspitze to Waikiki to Stonehenge to Disneyland Tokyo to Paris with Grandma Jane, Jane was an intrepid traveler. She made friends all over the world. Jane visited England, Germany, Belgium, France, Italy, Austria, and Japan. Two of her favorite recent visits were to Hawaii and Tokyo. Besides travel, Jane enjoyed hobbies such as journal writing, word puzzles, latch hook, and games of all kinds. Her favorite pastime was watching Wheel of Fortune and General Hospital; her favorite show of all was Magnum P.I. with Tom Selleck. Her nieces and nephews most remember Jane for her card shark abilities in Uno, her competitiveness in bingo, her joy and laughter in playing hide-and-seek, her unique style of dance, and her love of all things Massey's and Genova's (now Vinny Restaurant).
Jane had an extraordinary sense of humor and was known for her playful "wink." She thoroughly enjoyed playing jokes on friends and family and took every holiday extremely seriously: she dressed up in green wigs for St. Patrick's Day, purple wigs just for fun, and had a huge array of costumes ready for Halloween.
Her family and friends loved her and enjoyed spending time with her. We will no longer see her every day but will always remember her.
The Stewart Family would like to thank the loving caregivers at Cumberland Crossings, Hospice of Central PA, and Penn State Hershey Medical Center. Jane's favorite charity is the Penn State Hershey Children's Hospital.
Mass of Christian Burial will be celebrated on Monday, January 5, 2015, at 11:00 a.m. in the St. Patrick Shrine Church, 152 W. Pomfret St., Carlisle. Rev. Warren Savage and Rev. William Forrey will celebrate the Mass. Interment will follow at St. Patrick New Catholic Cemetery, Carlisle. A viewing will be on Sunday from 2 – 4:00 p.m. in the Ewing Brothers Funeral Home, 630 S. Hanover St., Carlisle, where a prayer service will begin at 3:30 p.m.
Click here to send a condolence
Please know our thoughts and prayers are with all of you in the loss of your beloved Jane.

Ann and Charles Haffner
_______________

Mary, John, and Jane's beloved siblings, my heartfelt sympathy to each of you. Jane brought joy to so many lives by her daily visits -- always with the brightest smile! The stars tonight are her shining her love back to you. My thoughts and prayers are with your family.

Sara Grove
_____________

I worked with Mary Jane at Sears. She was a sweet girl and fun to be around. I thought about her many times since. My condolences.

Linda Karkovack
_____________

Dear Mary and John,
I'm sorry to hear about the loss of Jane. I have many fond memories of her when she worked at the mail room near the former International Studies office. Her sweet and bubbly personality always brightened my day. I would like to attend the wake and funeral, but unfortunately will be out of town. Best wishes to you and your family at this time of sorrow.

Jonathan Skaff
___________

I'm sorry to hear of the passing of Mary Jane. I've worked in the Shippensburg University admissions office since 2007 and vividly remember her great sense of humor, infectious smile, and that famous wink of hers. She has been missed in Old Main for the past couple of years and I know she will be dearly remembered by the many people she touched throughout her lifetime, including the Shippensburg University Family.

Damian Morales
_____________

Mary and John,
It's rare that I've seen two parents love and care for their child with the dedication and determination you had for Jane. You were an encouragement to me as I faced challenges in my own family. My heart is with you as you celebrate Jane's life and grieve her absence.
Love and blessings,
Kathy Dondzila
_____________

All who were fortunate enough to know Mary Jane are deeply saddened to hear of her passing. Please know that your family is in our prayers.

The Dolbin Family
_____________

Our deepest sympathy to the Stewart Family on the passing of their beloved daughter Jane. The few times we spent with Jane was very delightful and she was a very positive person. I know she will be missed by all, but always remember the good times spent with Jane.
Our love to all.
Joann, Victor, Samantha and Jennifer Wright
_____________

We're so sorry.
John Bloom and Amy Farrell
_____________

Dear Mary and John,
We have missed Jane's wink in the Century room for quite some time. I know that she brought much joy to the Stewart family and to everyone she met.

Angela Bartoli
____________

Mary and John,
Mary Jane was always a pleasure to work with. Her smile and playful approach to life are something I'll always remember.

P Kevin Capp
____________

Dear Mary and John:
Wanted you to know how deeply saddened I am at the news!. Please know that even though I cannot attend the funeral service, you will be in my thoughts and prayers and I will be thinking of you Jan5th.

Chandrika
______________

I remember Mary Jane fondly as a student at Trinity. She had a zest for life. and was a joy to be around. You are all in my prayers. Miss Kiker

Janice Kiker
____________

My thoughts and prayers are with the Stewart family. I enjoyed working with Mary Jane in Old Main and smiled as I read about her life in the Shippensburg Sentinel today. She lived a good life!

Shirley Smith
_____________

Mary Jane was one of the dearest people I've ever met. We've missed her at TOPS and will continue to miss her.
Janell Linn
_____________

I am so sorry to hear of your loss. Although I never met Jane, I know she meant the world to you, Mary. We are all thinking of you and your family.

Deepest condolences,
Allison Carey

Allison Carey and family
_____________

Dear Mary, John and Family -- I feel privileged to have known your endearing and valiant Jane and to observe your loving care for her through the years. The intensely moving obituary you crafted captures her sunny spirit and the joy she brought to so many lives. I extend my deepest sympathy to all of you at this time of great loss.

Charles Loucks
_____________

Dearest Mary and John,

Sam and I were reminiscing about Miss Jane yesterday, and he has a sweet memory of playing basketball with her when he was younger. And of course, who in the English Department could forget her grinning after she'd raided the candy jar. She was and is a lovely spot of happiness in my mind and heart. We are all so lucky to have had her in our lives. Thank you both and the family for sharing her with us.

Martha, Marie, Richard, and Sam
_______________

I met Jane for the first time in Kansas City. She was a baby and I was 10. She was the first cousin I remember holding and the connection we formed remains with me to this day. Jane had a spark that was not dimished by the challenges that came her way. She and her devoted parents and siblings were inspirational and one of the few examples of absolute love I`ve seen in live. I trust she is in a better place and at peace. Thanks Jane and Stewart family for who and all you are. With you in spirit and with deepest sympathies

Cousin Jerry
_______________

My sincere condolences. Jane was always such a light in Old Main!

Maryrose Wilson
_____________

So sorry to hear of Janie's passing. She was such a truly joyful person. You have our deepest sympathies.

Joe & Rishanda Richardson
_____________

Sending Love and Best wishes to Jane's family. What a lovely person she was. She will be remembered with great fondness!

Katy and Alan
_______________

Your message of condolence will appear here.