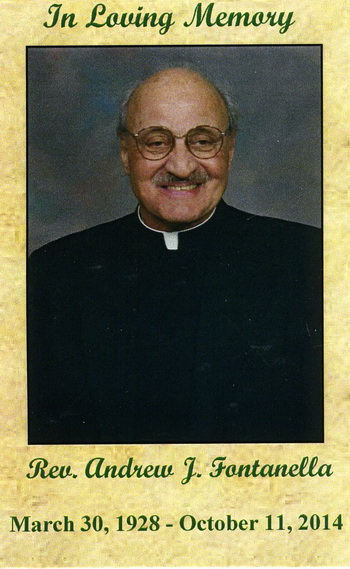 Father Andrew J. Fontanella, retired pastor of Saint Patrick Church, Carlisle, died Saturday, October 11, 2014 at Alice B. Tawes Nursing Home in Crisfield, Maryland. He was 86. Born March 30, 1928 in Patterson, New Jersey, he was a son of the late Andrew J. and Lucy Vuolo Fontanella.
After obtaining his Bachelor of Arts Degree in 1949 from Don Bosco College in Newton, NJ, he attended Saint Charles Seminary in Philadelphia, PA, and was ordained to the Priesthood in 1956 for the Diocese of Harrisburg. Father Fontanella served as Director of the Diocesan Office of Planning from 1973-76. He was a member of the Knights of Columbus 4th Degree. His pastoral appointments included Saint Francis of Assisi - Harrisburg, PA, Saint Peter - Mt. Carmel, PA, Assumption B.V.M. - Lebanon, PA, Corpus Christi - Chambersburg, PA, Saint Joan of Arc - Hershey, PA, Holy Spirit – Palmyra, PA, Holy Family – Harrisburg, PA and finally Saint Patrick in Carlisle, PA for 27 years until his retirement in 2003. At Saint Patrick's he was responsible for the expansion of the Parish, construction of the Parish Activity Center which is named in his honor, and the restoration of the Shrine Church. Following his retirement and move to Crisfield, he assisted Saint Elizabeth's in Westover, Holy Name of Jesus in Pocomoke City, and several other Eastern shore parishes.
Father Fontanella was a boating enthusiast who enjoyed boating all over the Chesapeake Bay. He was also an avid golfer and a crossword puzzle aficionado. He was a poet, philosopher, writer, theologian but most of all a pastor dedicated to serving the faithful and building community.
He is survived by two sisters-in-law, Joan Fontanella of Totowa, NJ, and Renee Fontanella of Toms River, NJ; and 20 nieces and nephews. Along with his parents, he was preceded in death by six siblings, Celeste Cervino, Josephine Micozzi, Loretta Massaro, Richard Fontanella, Alfred Fontanella and Dr. Stephen Fontanella.
A viewing will be held Friday, October 17, 2014 at Saint Patrick Catholic Church, 85 Marsh Dr., Carlisle, from 5:30 – 7:00 PM followed by Mass of Remembrance at 7:00 PM. A viewing will be held on Saturday, October 18, 2014 at Saint Patrick Catholic Church, 85 Marsh Dr., Carlisle, from 9:00 – 10:30 AM followed by Mass of Burial at 10:30 AM. A reception will immediately follow in the Reverend Andrew J. Fontanella Parish Activity Center. Internment will take place at 3:00 PM on Saturday, October 18th at the Shrine Church Cemetery, 152 E. Pomfret St., Carlisle. In lieu of flowers, memorial contributions may be made out to "Saint Patrick Church" for the debt reduction of the Reverend Andrew J. Fontanella Parish Activity Center. Memorials may be sent to Saint Patrick Church, 152 E. Pomfret St., Carlisle, PA 17013. Ewing Brothers Funeral Home, Carlisle, is in charge of arrangements.
Click here to send a condolence
Father Fontanella was my grandparents priest at St Patricks and I got to know him through them. He was a remarkable man, full of love for God and his congregation. You are now with your God and that is the end blessing and what you have preached your whole life. Thank you for being a great priest and friend to my grandparents and after the passing of my grandfather to our family as a whole.

Mandi Barrick (Chenoweth)
______________

I will never forget the heartfelt homily Father gave the first time he said Mass at St. Patrick's. I was a fairly young parishioner and knew instinctively that he was going to be a wonderful priest for my parish and my new little family. My husband and I were not disappointed. He told us what he wanted to do and pointed out that St. Patrick's was OUR parish and he then proceeded to implement things. These "things" were sometimes grumbled about but I know they were absolutely needed! Father Fontenella always knew everyone's first name and used them; to almost everyone's delight. I remember fondly him telling me that he had to remind my son, Vince, and Mr. August before they headed down the aisle for the start of Mass: "You aren't supposed to discuss the Friday night footgball game before Mass your're supposed to have more heavenly thoughts on your minds!!" And a few years later when Vince was sadly killed Father was a great comfort to us as we recalled those happy days when they both knelt on the altar. Father will forever be in our hearts and prayers.

Paula and Joe Correal
______________
Father Fontanella was a wonderful man and priest. I was so blessed to have him as my pastor from the time I moved to Carlisle in 1981 until his retirement. We stayed in touch by letter after he moved to Maryland, and he graciously returned to St. Pat's to marry my daughter and son-in-law. I often told him that his sermons should be published. May he know God's peace. He was a good and faithful servant to his God and his parishioners.

Anne-Marie Thompson
_______________
Family of Father Fontenella: Drew, as I knew him, was a special colleague of mine when I served in Carlisle, 1967 - 1979. My prayers and condolences - what a great man!

Walter Winger
____________________
Armond and Mary Acri wish to offer their condolence to his family and parish. We were the first couple he married at St Francis we are married 58 years

Armond V.Acri

____________________

We have been parishioners at St. Patrick's since 1986 and our earliest memories of Father were of the baptism classes for new parents that we attended. Also, his reminder each week to "have a good week, take care of each other and don't take each other for granted." God Bless!

Mark and Jackie Curtis
______________

We were blessed to have Fr. Fontanella in our lives. When My Parents would take communion, he would said my Parents names. He remembered a lot of peoples name at Saint Patrick early mass. When my Grand Mom, my parents pass away, he was there for us.
Father was such an inspiration for my family and for so many others. He was loving, caring, compassionate and a great conversationalist. He was always concerned about our well being. We will always miss you. Our thoughts and prayers are with you and your family. God bless you father.

De Pham
_____________
Your message of condolence will appear here.