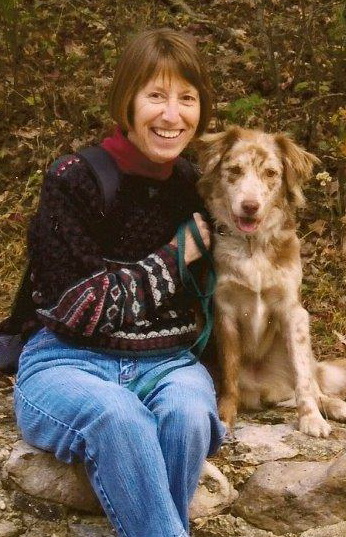 Katherine R. "Katy" Sexton, 73 of Gardners, passed to eternal life on Thursday, May 1, 2014, at her home with family by her side. She was born on December 31, 1940, in Bloomsburg, a daughter of the late William and Christine (Ritter) Dubbs.
Katy graduated in 1958 from Bloomsburg High School and received her Bachelor's degree in Education from Bloomsburg University in 1962. She was a loving homemaker, mother, teacher, editor and librarian. She treasured her 15 years at the Princeton Public Library in Princeton, NJ. Katy was a member of St. Paul Evangelical Lutheran Church, Carlisle, where she was a reader, usher and office volunteer. She was also a member and docent at the Appalachian Trail Museum at Pine Grove Furnace, as well as a volunteer at the Bookery in Carlisle. Katy was a member of the St. Paul Relay for Life team. So many lives were positively affected by her zest for life and genuine love of her fellow man with a special place in her heart for the animal kingdom.
Katy is survived by her loving and devoted husband of 52 years, H. Jay Sexton, a daughter, Chris Mudge of Glenside, a son, Dan (and his wife, Kristie) Sexton of Finksburg, MD, two grandchildren, Hannah and Matthew, another son by choice, Eric Scheuttig of Staten Island, NY, another daughter by choice, Jacquie Hall of West New York, NJ and several nieces and nephews. Katy was predeceased by two brothers: Mike and Bill Dubbs.
A memorial service will be held on Monday, May 12, 2014, at 11 a.m., at St. Paul Evangelical Lutheran Church, 201 W. Louther St., Carlisle with Pastor Carol Bowman officiating. Burial will be private. A second memorial service will be held on Sunday, June 8, 2014, at 3 p.m., at Prince of Peace Lutheran Church, 177 Princeton Hightstown Road, Princeton Junction, NJ with Pastor G. Fredrick Schott officiating. Ewing Brothers Funeral Home, Carlisle, is in charge of the arrangements. Memorial contributions may be made to St. Paul Evangelical Lutheran Church or an animal shelter of your choice.
Click here to send a condolence

Dear Jay & Family,
Katy was a joy to be around and enjoyed helping others in need. Thinking of you and wishing the comfort of our Lord Jesus Christ. With sympathy.

Don & Emily Thomas
______________

The sound of Katy's laughter was contagious. Always a smile and a warm hug. Heaven has gained an angel and we have lost a great friend. Prayers for you and your family on your loss. Find strength in the Lord.

Bill & Susan McClenahan
_____________

I don't have the words to express how much the loss of Katy means to me. Please know that if you need anything, call me and if I can help, I will.

Pat Sangialosi
_______________

Jay
So sorry for your loss. Katy was always a bright lively and entertaining individual. She was an inspiration to everyone and will be missed. My sympathy and prayers for you and your family

Wanda McCoy
______________

"How very much she will be missed and how fondly she will be remembered." We will never run-out of "Katy Stories!" She was one of a kind! Loved Her!

Dick and Joanne Pileski
______________

Katy was a special person. I will always remember the times she acted as lifeguard on Girl Scout canoeing and tubing trips. Katy, Pam Teske and I had some amazing adventures with girls. I also remember visiting Katy in her beautiful home along the Appalachian Trail. Members of our book club had a sleep-over there and went on a hike in the woods the next morning. Book club meetings were fun too. Katy especially loved novels set in WWII and didn't like books that weren't written in 3rd person. There are so many memories. She was such a vibrant personality and had such a big heart. My sincere sympathy goes to Jay and all of Katie's children and grandchildren. Now she is with God.

Phyllis Church
_______________

Jay and Family,
I was so saddened to hear about Katy. What a joy she was to have with us. Our Class Reunions will never be the same without her. We have all lost a dear friend. She will be dearly missed by all. Hold on to the many memories you have had with her and she will remain in your hearts forever.

Love & Prayers
Nancy C. Robbins
___________________

Dear Family of Katy,
Please accept my deepest sympathy. Katy had such a great sense of humor personality. She will be greatly missed at Prince of Peace. I will keep all of you in my prayers.

Kathy Marrolli
_______________

Jay, We want to say how much we will miss Katy! She always lit up the room in her own special way. Your love for her was very obvious and we know she is with our loving Father and Lord!

Ross & Kathy
_______________

My thoughts and prayers are with you and Duffy. I will miss her.

Becky Brown
______________

We were saddened to find out of the passing into eternal life of Katy. She will always be remembered for her zest for life. Our prayers and thoughts go out to her family

Jim and Phyllis Robbins, class of 58
_______________

Condolences to the loving family of Katy Sexton. Great is our God. He who believes in Him shall never die, and with Him shall walk in everlasting life.

Gail Geary
_______________

Jay, I started down to see you so many times this past week, but was having a hard time, I did stop today, but you weren't home. It was a great comfort to know Katy was always there and I will miss her more than words can ever say. She was a great friend, always had the right things to say, a big hug and made me laugh. If you need Bill and I for any reason please call, we want to be there for you. Words can never say what I feel in my heart, with deepest sympathy.

Love, Carol & Bill

CAROL JONES
_______________
Dear Jay and Family,

Katy was the "youngest" of those still attending reunions of the class of '58. She was glad to see everyone, judged no one, talked of the long ago and recent past and the present and future with positive acceptance and good cheer. She was fun to be with, irreplaceable. We share your loss and savor our memories of Katy, as I know you do yours. You have our sympathy, blessings, prayers, and love as you move forward.

Sincerely,
Ned and Gayle Coates
_______________

Jay and Family....So sorry to hear about Katy...I loved her upbeat personality and attitude. She will be truly missed by everyone!

Charlene Mahoney
_______________

My deepest sympathies to the Sexton family....

Richard Goodyear
_______________

Sorry for the sudden loss.
A true friend and a great neighbor will be sorely missed...
Tim Lybrand (neighbor Tim)
________________

I will never forget how kind, warm, and friendly Katy was to all those she encountered. She was always the friendly face in the room . My thoughts and prayers are with the entire Sexton family.

Kathy Royal Koop
_____________
Your message of condolence will appear here.