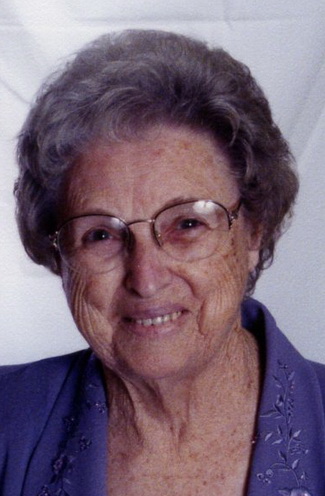 Kathryn Jane (Negley) Danner, 94, formerly of Newville, passed away peacefully with loving family by her side on Sunday, March 2, 2014, at Claremont Nursing & Rehab. Center, Carlisle. She was born on June 25, 1919, in Penn Township, Cumberland County, a daughter of the late Howard and Mary (Sherich) Negley and was the widow of Alfred "Mose" Danner, who died May 28, 1996.
Kathryn had worked several jobs in the Newville and Carlisle areas, and included the family farm, Pepsi Cola Newville Plant, C. H. Masland & Sons, Shirt Craft, U-Wanna-Wash-Frock and Terri Ann. She was a member of Shepherd's Gate Worship Center, Newville. Kathryn was a former Sunday School teacher.
She is survived by one son, Dale A. (wife, Brenda) Danner of Newville, two grandchildren, Amy (husband, Jeremy) Santana and Dustin Danner, two great-grandchildren; Isaiah and Elijah Santana, two brothers; Lee and Richard Negley, both of Newville, two sisters; Ruth Gutshall and Evelyn Ocker, both of Newville, two step sons; Daniel and David Danner, two step daughters; Arlene Grimes and Ovetta Nesbitt, 10 step grandchildren and several nieces and nephews. Kathryn was predeceased by three brothers; William, Paul and Harry Negley, four sisters; Grace Ickes, Helen Thrush, Dorothy Young and Martha Reisinger and one step son, Mark Danner.
Funeral services will be held on Thursday, March 6, 2014, at 2 p.m. in the Shepherd's Gate Worship Center, 53 South Side Dr., Newville, with Rev. Donald Yeagle officiating. Burial will be in South Fairview First Church of God Cemetery, Newville. A viewing will be from 12:30 p.m. until time of services at the church. Ewing Brothers Funeral Home, Carlisle, is in charge of arrangements. Memorial contributions may be made to her church.
Click here to send a condolence
I worked with Kathryn at Terri Ann. She was a lovely lady. I'm sorry for your loss
_______________

I'm so sorry for your loss! I know she must have been a wonderful mother, I only have to look at Dale to know this is true!!

mary ann d.
_____________

I was sorry to see the death of Kathryn. You all are in our thoughts and prayers during this time. We have so many wonderful memories of Kate. We are better people for knowing her.

Barbara Adams
______________

You are in our thoughts and prayers. May God Bless you all.

Betty Fraker - Linda and Bob Markley
_______________
Our loving thoughts and prayers are with all of you during this difficult time.
Cherish the sweet memories you have of this wonderful lady!

The George Rhone Family
_______________

Dale and Brenda sorry to hear about the loss of your mother,god needed her at that moment.today tomorrow and always.som day you all will meet your mother.

KATHERINE SHELLER PENNER
_______________
Our deepest sympathies to the family for your loss.
She was a wonderful and special lady and like a sister to our mother.
God bless you all.

The family of Phoebe (Barmont) Cormany
_______________
I have wonderful memories of the times spent with "Kate" and her family as my mother was a very dear friend. We continued to visit her until Mom's passing in 2007. They are finally reunited. Prayers for the family at this difficult time.

Deborah Cormany Culbertson
_______________

Dale Brenda & family.
Just a little note to say how sad we were to here of your mother's passing. You had a wonderful mother. I will always remember sitting and talking with her and Aunt Vada on her porch. She is in a much better place. May God bless you all.

Marlin & Geraldine Garner
_______________
I remember standing beside Kate many of church service and thinking how beautiful her voice was. Now she will be able to sing with all the angels. My thoughts and prayers are with the family. She was a wonderful person in my eyes.

Chris Stine
______________
Sorry for the loss of your mother, she was such a sweet lady. Our prayers are with you.

Gary & Roxann McKee
______________
Your message of condolence will appear here.