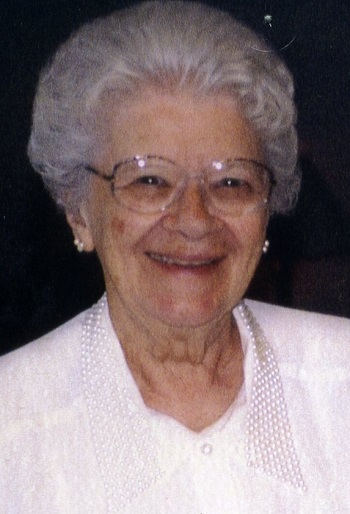 Gayle Virginia Gross, 93, of Carlisle, passed away on Tuesday, August 20, 2013, at Carlisle Regional Medical Center. She was born on March 27, 1920, in Carlisle, a daughter of the late Parker and Mima (Horn) Quigley, and was the widow William C. Gross, who died June 13, 2002.

Gayle had worked for 25 years at the former Carlisle Garment Factory. She was a former member of the Covenant Church in Modesto, CA, where she was active in the Women's Mission Group. Gayle had reconditioned hundreds of dolls for the Interfaith Ministries in Modesto that where given as gifts to underprivileged children. She was affectionately known as "The Doll Lady". She loved to sew and was an excellent seamstress. Gayle enjoyed traveling to Hawaii. She was a loving mother, grandmother and friend.

She is survived by two daughters; Kim A. (and husband, Gilbert) Wymond of Modesto, CA and Joby G. (and husband, Denny) Ruth of Carlisle, daughter-in-law, Bonnie Gross, four grandchildren, one great-granddaughter and many nieces and nephews. Gayle was predeceased by one son, Dennis C. Gross, one daughter, Gaylene Gross, two brothers and five sisters.

A memorial service will be held on Saturday, August 24, 2013, at 10:30 a.m. in the Henry Chapel at Chapel Pointe, 770 S. Hanover St., Carlisle, with Rev. George Hufnaugel officiating. Burial will be private in the North Middleton First Church of God Cemetery, Carlisle. There will be no viewing. Memorial contributions may be made to Hospice of Central PA, 1320 Linglestown Rd., Harrisburg, PA 17110.
Click here to send a condolence
Kim & Jobi!
Our Heartfelt Sympathy goes out to you & your families.
Your Mother is now at peace.

David & Linda Magaro
_______________


Jobie, Kim and Malieka,
We are so sorry to hear of your loss.
May you all be at peace knowing she is with the Lord.
May His Love sustain you through this loss.

Ginny, Millard and Marty Landis
_______________

Larry and I were sorry to learn of your mother's death. I loved your mom's sweet personality and was amazed about her sewing abilities. Ann used to tell me how she could look at something in a clothing store window and go home and make it. We wanted to come today for the service and of course see all of you but this has been a rough week for me healthwise. So, we are sending lots of hugs. It would have been great seeing Kim since we have not seen her in years. Oh, and one more thing, I remember your mom making doll clothes for Yvette.

Love, Larry and Yvonne Line
_______________


Your message of condolence will appear here.