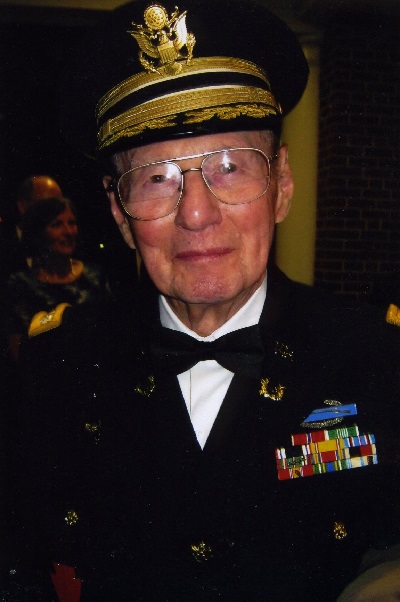 Francis K. Richwine, 94, of Carlisle, died on Wednesday, August 7, 2013, at Carlisle Hospital. He was born on July 15, 1919, in Harrisburg, a son of the late George Herbert Richwine and Florence Edna (Kost) Richwine.


Frank was a 1937 graduate of Camp Hill High School, the Pennsylvania State University (Class of 1941 with a B.S. Ed.) and the George Washington University School of Law (J.D. 1949, L.L.M. (Patent Law) 1950).
While at Penn State, Frank lettered as a member of the Rifle Team, served as a Squad Leader and Company Commander in the Army ROTC program, and was House Manager of Theta Chi fraternity.
In 1941, Frank was commissioned as a 2nd Lieutenant in the Officers Reserve Corps of the United State Army. He graduated from The Infantry Officers Training School at Fort Benning, Georgia in 1942. He trained with the 310th Infantry Regiment and was promoted to 1st Lieutenant in 1943. In July 1944, he shipped out to the European Theater of WWII, where he joined 1st Battalion, 110th Infantry Regiment of the 28th Division as Battalion Communication Officer. With the 110th, Frank won four battle stars, seeing action in the Normandy, Northern France, Ardennes and Rhineland campaigns. He marched with the 28th Division in its "Victory Parade" down the Champs Elysees in Paris on Aug. 29, 1944. In December 1944, Frank was captured at the Battle of the Bulge and interned in German POW camps until being freed in Jan. 1945 in the face of the oncoming Russian advance on Germany.

1st Lieutenant Richwine was awarded the Army Occupation Medal, the American Defense Service Medal, the American Campaign Medal, the European African Middle Eastern Campaign Medal, the World War II Victory Medal, the Prisoner of War Medal, a Combat Infantry Badge and the Bronze Star Medal. He later won the Korea Defense Service Medal for service in the Republic of Korea.

In December 1945, in Charleston, SC, Frank married 1st Lieutenant Dorothy Estelle Johnson, Army Nurse Corps and a veteran of the European Theater, serving with the 9th Army Field Hospital.

Frank later joined the Patent Division of the Office of the Judge Advocate General of the US Army and served as Patent Counsel, Assistant Staff Judge Advocate and Legal Officer with various commands in Washington, D.C., Korea, Okinawa, Tokyo, Japan and Paris, France. Upon his retirement from the Army as a Lieutenant Colonel in 1967, he joined the General Electric Co. as a Patent Counsel. He retired from GE in 1984. He and his wife, Dorothy moved to Carlisle in 1985.

Frank was a member of the District of Columbia Bar, the American Bar Association, the American Intellectual Property Law Association, a charter member of the Government Intellectual Property Lawyers Assoc. and was admitted to the Bar of the United States Supreme Court.

In Carlisle, Frank was active with the Military Officers Assoc., a local group of former Prisoners of War, the Camp Hill Old Boys and the Camp Hill Historical Society.

Frank's wife of 63 years, Dorothy, preceded him in death. He is survived by a daughter, Joan Elizabeth Richwine of Westport, CT, three sons; G. Michael Richwine (and his former wife, Irene N. Richwine of Vienna, VA) of Wilmington, DE, Major (Ret) J. Christopher Richwine, USAF (and his wife, Connie) of Waynesboro and Donald Karl Richwine (and his wife, Clare) of Erie and four grandchildren; Andrew C. Richwine, John P. Richwine (and his wife, Alicia) Kathryn Alexandra Richwine and Matthew P. Richwine.

Funeral services will be held on Tuesday, August 13, 2013, at 2 p.m. in the Ewing Brothers Funeral Home, 630 S. Hanover St., Carlisle, with Rev. Carol J. Bowman officiating. Burial with military honors by Cumberland County Honor Guard will be in Longsdorf Cemetery in New Kingstown. A viewing will be on Tuesday from 1 p.m. until time of services. In lieu of flowers, memorial contributions may be made to the American Medical Group Foundation, www.amga.org/foundation, The National Consumer Voice for Quality Long-Term Care, www.theconsumervoice.org or the Long Term Care Community Coalition, www.ltccc.org.
Click here to send a condolence
A great friend and patriot, and such a privilege to get to know someone who served with my dad in World War II. We will miss Frank greatly. Also, our sincere condolences to all the members of his family.

Bill and Patt Seely
_______________

We just learned of Frank's passing. He & Dot were wonderful neighbors of mine. When I was going through my horrible divorce, they were my friend, gave me such good moral support, & even allowed me to store furniture in their basement! Dot was always such a HOOT & would always make me laugh! Dot & Frank would entertain my parents when they would come to visit from VA. I will always remember them & their many kindnesses shown to me! I would see Frank from time to time, & I was AMAZED about how full of life he was in his nineties! They both are truly missed. God bless you, family members, who I never had the pleasure of meeting, but you had such loving & inspiring parents/grandparents who we adored!

Bonnie Deardorff
_______________


Your message of condolence will appear here.