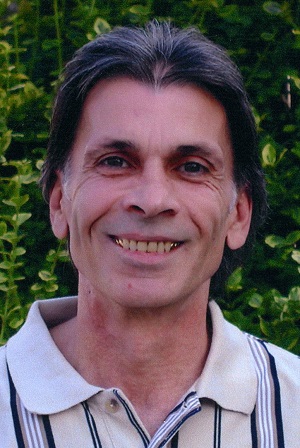 Albert J. Porto, Jr. (Jim), 62, of Carlisle, was suddenly called into Heaven on Saturday, July 6, 2013 by God, his Heavenly Father and greeted by his parents, Albert J. and Dorothy C. (Davis) Porto. Jim was born Oct. 27, 1950, in Carlisle, and was a 1968 graduate of Trinity High School and retired from PennDot, where he was a Materials Technician. Jim had attended St. Patrick Catholic Church in Carlisle.
Jim loved animals and always had pets while growing up. Along with dogs and cats, he also included snakes, alligators, hamsters, birds, tropical fish, and many others as members of the family throughout his childhood and teenage years.
Jim enjoyed people and had something to say to everyone he met, welcomed anyone new moving into the neighborhood, and offered help to anyone who needed it. KUKABOOCH!
Surviving are his "big" sister, Victoria A. Porto (husband, Ken Rush) of Carlisle, his "little" sister, Valentina Porto Chubb (husband, Jeff), nephews, Adam P. and Davis P. Chubb, all of Camp Hill and numerous cousins and friends. Jim was predeceased by cousin, Frank Porto, brother-in-law, Michael Lalumiere and other family members.
A visitation will be held on Friday, July 12, 2013 from 11:30 am to 1:30 pm with a memorial service at 1:30 pm in the Ewing Brothers Funeral Home, 630 S. Hanover St., Carlisle. Rev. Dwight Schlaline will officiate. Burial will be private. Memorial contributions may be made to The Carol M. Porto Treatment Center, PO Box 730, Prince Frederick, MD 20678 or www.portotreatment.com.
Click here to send a condolence
We are so sorry for your loss.
He was great person and made a lot of family members smile.

Tom and Mary Ann
_______________

We have lost a very sweet person with Jimmy's passing. I'm so glad I grew up with the Porto kids and knew Jimmy all these years. I'm very grateful that he remained such a good neighbor and friend to my mother, especially as she got older. It was a comfort to know Jimmy was just down the street from her. I'll miss Jimmy. And the neighborhood we all loved will never be the same without him.

Ginny Hutchinson
_______________

Jimmy was my little brother that I never had. I will never forget the good times we had growing up. He will be deeply missed.

Carrie Ellen
_______________

My deepest sympathy to all the family in the death of Jimmy. Porter Avenue and Louther Street will never be the same without him. He was a kind soul who always had a smile for everyone.

Georgenne Fitzpatrick Loy
_______________

Jim had a smile for everyone and was always so pleasant to me. I fondly remember the times he did errands for my mother when she was ill. His willingness to help was always appreciated. Jim was a friend and good neighbor who was the last one from the "old East Louther Street neighborhood".
A sweet soul who will be greatly missed.

"Bertie" Hutchinson
_______________

We are sorry to hear of your loss.
Our condolences to all of your family.

Ray- Zona Hearn
_______________

Victoria and Valentina,
So sorry to hear the news of your brother Jim. My prayers are with you and your families at this time. Know that God will give you the strength you need as you say goodbye.

Gary "Gump" Stackfeld & Angie Stackfield-White
_______________

Vickie and Family, so sorry to hear about the passing of Jim.
May God be with you.

Gary L Wickard
_______________

Jim, We've known you and loved you for many years, and will miss you and love you in the years to come. Our Main Man.

Love, Pam & Marv
(Pam Gordon)
_______________

With deepest sympathy. I lost my brother in 2001 so understand the pain you are feeling right now. Know that he will forever live in your heart.

JoAnn Kitner Horanic
_______________

Tina and family, you have my deepest sympathy in the passing of Jimmy. He always had a big smile along with a big heart. he will be missed dearly.
RIP Jimmy!!

Yvonne Gates
_______________

The memories we have shared will always be in our hearts and you will never be forgotten.

Ruth and Don
_______________

Vicki and Tina,
Thoughts are with you during this difficult time. You have been through a lot these past months. It was great having Jimmy as a childhood friend.

Rita (Cantalupi) Bitner
_______________


We will miss him forever.

Little Tina
_______________

Tina & Vicky,
We just heard of Jim's passing. So very sorry for your loss. You and your families will be in our thoughts and prayers.

RIP, Jim
Sue & Dave Mayberry
_______________

Dear Vickie, Tina and family, I am so sad to hear of Jimmie's passing. He was a great friend to me and my family for many years and I am in shock to hear of it just today. God Bless!

Doris Lippert
_______________

Dear Vicki and Tina,
I am so sorry for the lost of you brother, Jimmy. I haven't seen Jimmy in years, but I will always remember his warm personally and caring ways. You both are in my prayers. May God be with you both and you may you find strength in knowing Jimmy is in peace with our Lord.

Mary Rae & Jerry Yingling
_______________

Tina & Vicki,and family,
Our deepest sympathy & prayers go out to you and your family. God bless you all, keeping Jimmy close in your hearts.

Karen "Aichele" Walker & Joe Walker
_______________

Vicki & Tina,
Jimmy was always so pleasant to be around!
Always smiling and talking a mile a minute.
He will be missed by many.

Deb
_______________

Jimmy was a good Louther Street soul, always engaging me in friendly conversation when I arrived from out of town, and ready to give a hand to my mother and others in need. What a sad loss. 'Our Street' is diminished by his passing.

John Hutchinson
_______________

Jimmy was such a wonderful person. He was always the funnest person at our family gatherings. I remember when I was little and getting picked on in school. He flexed his muscles for me and said "Tell those bullies to leave you alone, or they will deal with your Cousin Jimmy". I will miss him so much. Rest in peace Jimmy. We love you!

Tasha Mannino Dickson
_______________

My mother & I worked with Jim years ago at the Carlisle Ribbon Mill. He always had a smile & would lend her a hand if needed. And when he'd walk the alley behind my Mom's place, he would always wave hello to her when she was out. Our deepest condolences for your loss. Something I read once goes - "When you look up at the evening sky, do not think of them as stars, but as a porch light your loved one turned on to let you know they made it home safely."

Liz & Martha Myers
_______________

Vicki & Tina:
We will miss Jimmy very much. Our hearts are saddened because our family Christmas gatherings, Holiday parties and summer pool gatherings won't be the same without his jokes, family concerns, pleasant smiles, Chips; and the best for last, "HIMSELF!"
Look down over us Jimmy.

May Perpetual light shine upon him and may he rest in peace, Amen.

Love and miss you.
Cousins: Susie, Ted, Tara, Tyler, Tina & Family, Tasha & Family
______________

Jimmy was our neighbor for many years ,He was a good man and friend and he will be greatly missed by the Vitale family and many others.

Terryl and Vittorio Vitale
________________

Vicky and Tina,
So sorry to hear about the passing of your brother Jimmy. Jim's picture says it all. He always had a nice smile for every one. Another member of the old East Louther Street family gone but will never be forgotten by those who grew up there. Your family is in our thoughts.
name: The Martin family, Dick, Toots and Dimps
_______________

Dear Vicki, just read about your brother and I am so sorry. I think of you often and wonder if you are still working at the same place. I hope you are doing well.

Love, Marilyn Beistel
_______________

Dear Vicki & Tina,
I am so sorry to hear of the loss of your brother, Jimmy. My thoughts and prayers are with you during this difficult time. With sympathy, Brenda Railing Bradley

Brenda Railing Bradley
_______________

Your message of condolence will appear here.
Back to Obituaries