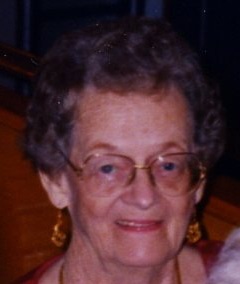 Dorothy "Dottie" Ruggles Kern, 91, of Carlisle, died Tuesday, June 25, 2013, at Carlisle Regional Medical Center. She was born Jan. 24, 1922, in Carlisle, a daughter of the late John A. and Ella (Schoch) Ruggles.
She was a 1939 graduate of Carlisle High School and attended the former Carlisle Commercial College. Dorothy retired after 34 years of service with the former Eaton Dikeman Co. in Mt. Holly Springs, where she was a laboratory secretary. During WWII, Dorothy was the telephone chief operator at the Carlisle Barracks. She was a longtime member of First United Church of Christ, Carlisle, where she sang in the choir for 60 years, taught Sunday school and helped with many church functions. Dorothy was a member and Past Worthy Matron of the Old Bellaire Chapter of the Order of Eastern Star No. 375 and a member of the local Auxiliary of the Sons of Union Veterans of the Civil War, and was a Past Department Secretary and Past Department President.
She is survived by her husband of 67 years; Lester A. "Al" Kern, one son, Craig A. (and his wife, Dolly Rice) Kern of Carlisle, one daughter, Cheryl A. (and her husband, Sal) Carrera of North Ft. Myers, FL, one sister, Martha R. Wilson of Carlisle, one grandson, Anthony S. Carrera, one foster grandson, Eric Wengrzyn and many nieces and nephews.
Funeral services will be held Saturday, June 29, 2013, at 11 a.m. in First United Church of Christ, 30 N. Pitt St., Carlisle, with Rev. Lynn R. Schultz officiating. Burial will be private. A viewing will be held on Friday from 6:30 – 8:30 p.m. at Ewing Brothers Funeral Home, 630 S. Hanover St., Carlisle, with an Eastern Star service at 8:00 p.m. and on Saturday from 10:30 a.m. until time of the services at the church. A luncheon will follow the services at the church on Saturday. Memorial contributions may be made to First United Church of Christ or to Old Bellaire Chapter No. 375, Carlisle.
Click here to send a condolence
We have lost a good and long time friend. To the family we wish the peace of knowing she is in a better place without pain and sorrow. We will miss her.


Emmett & Miriam Shulenberger
_______________

Al & Craig & Families,
It is hard to express words that might be comforting to you folks at this time of your loss of Wife & Mother! I am thinking of you with symphony and understanding which will hopefully give you some strength during this difficult time. Dottie's death reminds me that my similar experience a couple years back was very difficult but, being a Christian, and with family support were important for my own understanding & acceptances. Dottie (and Shirley) are now with their maker. God gives us that breath and at his will & pleasure, he takes it away.

God's Speed!
Dich Wood & Family
_______________

So sorry to here of Dottie passing . She was a lovely person.
We know she will be greatly missed.

Tom and Lenda Fischer
_______________

Al,
So sorry to hear of your loss.
Ron Stuck
_____________

Our deepest sympathy to the entire Kern family. Our thoughts in prayers are with you now and the days ahead..
Mari Anne and Mike McCoy and family
_____________

Will miss a great lady. My husband and I had many a good times together with Dottie and Al......God bless

Dave & Yvonne Davison
_______________

Al, Craig, Martha & Cheryl,
Heartfelt sympathies to you. May the Lord be your comfort & strength.
Met & was first charmed by Dottie at Eaton- Dikeman in 1960.
Glad to have known her. My condolences.

Art Amundsen
_______________

Uncle Alvin and family,
I am so very sorry to hear of the loss of Aunt Dorothy.
I have very fond memories of her and will pray that the Lord
will give you peace and sustain you in your time of grief.

Love...
Shelley Mills Gray (Carol's daughter)
_______________

Al: Thinking of you at this time of great loss. Dot was a wonderfull person who will missed but remembered with great fondness by all her friends and family.

Linda and Bill Sutton
_______________

Dear Dolly and Craig..
I recently heard about the passing of your mother.
She was a great lady! We had some fun times in the kitchen at First Church!

Love, Marilyn
(Marilyn Aust)
_______________


Your message of condolence will appear here.