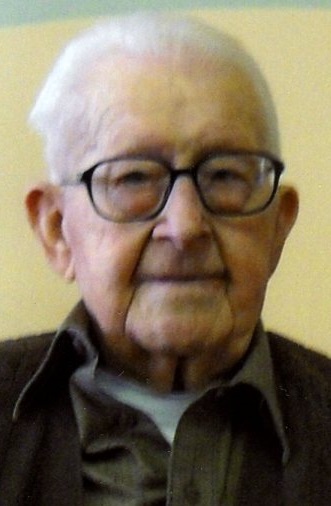 Wilmer F. Mayberry, 102, of Carlisle, passed away on Monday, June 17, 2013, at Sarah A. Todd Memorial Home, Carlisle. He was born March 29, 1911, near Newville, a son of the late John E. Mayberry and Myrtle M. (Lehman) Mayberry Killinger. He was married to the late Esther (Simons) Mayberry, who died Sept. 23, 1996.
Wilmer was a US Navy veteran of WWII. He retired after 46 years of service with the former C. H. Masland & Sons, Carlisle. He was a member of First United Methodist Church, Carlisle. Wilmer was an avid outdoorsman and enjoyed hunting, fishing and trapping.
He is survived by one daughter, Judy A. Kennedy of Carlisle, one brother, Mark C. Mayberry and one sister, Rosamond S. Kerr, both of Carlisle, one granddaughter, Stacey Paul and one great-granddaughter, Alexa Paul. Wilmer was preceded in death by brothers; Ray, Floyd and David Mayberry and his sister, Dorothy Miller.

A graveside service will be held on Friday, June 21, 2013, at 2:30 p.m. in the LeTort Cemetery, Claremont Rd., Drytown, with Rev. Daniel Mikesell officiating. There will be no viewing. Ewing Brothers Funeral Home, Carlisle, is in charge of arrangements.
Click here to send a condolence
Dear Judy:
I am Joyce (Simons) Andes. Your dad was my uncle. My father was Ralph Simons. My sister sent me the info of your dad's passing. She sent a photo and your dad looks as I remember him. and I haven't seen him in at least 40 years. I'm sorry for your loss.

Joyce Andes
______________
Dear Judy,
I was sorry to read of your father`s passing. I did not realize your father was 102. My mother was 100 when she passed in February. We have some good genes. You and your family are in our thoughts and prayers at this difficult time.
Charlie and Shyrl Carothers
______________


Judy, I am sorry for the loss of your Dad. I have known him since World War II. When our husbands went off to war, the wifes got together Esther, Sally, Goldie and myself. We continued our friendship long after the war was over and had reunions every year. My thoughts and prayers are with you.
Dotty Stringfellow and family.
_______________
Judy, I don't know if you remember me, but I was Linda Cline, a neighbor of Aunt Florence. I am the older sister, Deb the younger. I live in Lewistown, PA now, but dad, who is 91, called to tell me that your dad had passed away. I want to express my condolences to you. He always sold my mother the best red beets. We always referred to them as Wimm's beets, and I remember those childhood days with great fondness. Blessings!

Linda Cline Mohler
_____________

Your message of condolence will appear here.