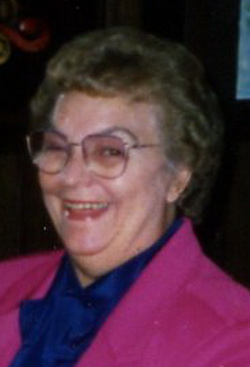 Anna R. Ritchie, 90, of Mechanicsburg, passed away on Sunday, December 1, 2013 in Carlisle Regional Medical Center. She was born on Saturday, January 13, 1923, in Mechanicsburg, the daughter of the late James P. and Mary (Arnold) Heisey. She was the widow of Captain (Ret) George W. Ritchie, USMC, who died March 31, 2001.
Anna was a 1940 graduate of Boiling Springs High School and Carlisle Commercial College. She retired from the Cumberland Valley School District, where she worked for over 25 years as secretary and office manager. Anna was a member of the Churchtown Church of God. She enjoyed bird watching and playing piano.
Anna is survived by her daughter, Sharon R. and her husband, Paul Wolfgang of Collingswood, NJ and two grandsons; Robert T. Wolfgang of Bellmawr, NJ and Thomas G. Wolfgang of Seattle WA.
Funeral services will be held on Friday, December 6, 2013, at 2:00 PM in the Ewing Brothers Funeral Home, 630 S. Hanover St., Carlisle, with Pastor Brian Warner officiating. Burial will be in Mt. Zion Cemetery, Boiling Springs. A viewing will be held on Friday from 1:00 PM until time of services. Memorial contributions may be made to Churchtown Church of God, P. O. Box 327, Boiling Springs, PA 17007.
Click here to send a condolence
Sharon...I was saddened to hear of Aunt Anna's death.
Please know that we're thinking about you and your family.

Lois (Mains) Burkholder
_______________

Sharon, So sorry to hear of your mother's passing.
My deepest sympathy to you and your family.

Delores Reighter Slear
_______________

Dear Sharon,
My thoughts and prayers are with you and your family as you say good-bye to your mother on Friday.

Your cousin, Barbara Mains Wilson
_______________

Dear Sharon: I was sadden to hear of your mother's death. I talked to her after my mother, Ruth Taylor, passed in September. Your mother said she was doing well and still driving some. Anna and my mother were good school friends and I remember when we were children you would visit with us in Bendersville. The last years of their 1940 class reunions I would drive Mom to Sunnyside and our mothers would sit together and visit with each other, and call on holidays. We will miss our mothers, but now they can visit each other in heaven.

With Sympathy
Diane Taylor Kuhn
_______________

I was saddened to hear of your mother's passing. I worked with her at Cumberland Valley District Office from 1972 until 1974. She was a sweet and kind lady...I was glad to have known her.
Karen (Ocker) Seavey
______________

Your message of condolence will appear here.