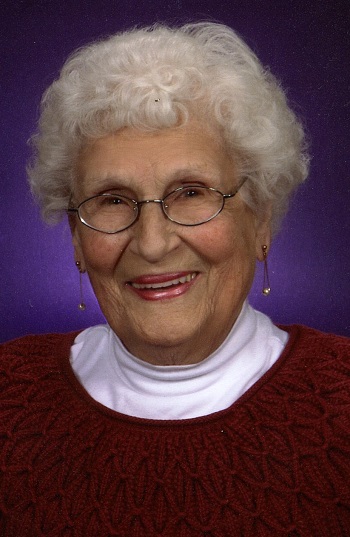 Vera E. Minnich, 86, of Carlisle, passed away on Friday, May 10, 2013, at LifeCare Hospitals of Mechanicsburg. She was born on Friday, November 12, 1926, in Mifflin Twp., a daughter of the late Irvin Ray Smith and Velva E. (Swartz) Smith, and was the widow of Francis Edward Minnich, who died Nov. 13, 1994.
Vera was a 1945 graduate of Carlisle High School and also graduated from the former Harrisburg School of Beauty. She was a licensed beautician for many years in the Carlisle area. Vera had worked at the Thornwald Home for 36 years and had also worked at the Church of God Home and the former Presbyterian Home, all of Carlisle. She also had a beauty shop in her home. Vera was a member for many years of First United Church of Christ, Carlisle.
She is survived by one son, Dennis E. (and his wife, Shari) Minnich of Carlisle, one daughter, Barbara L. (and her husband, Jack) Dumbauld of Annville, four sisters; Mary Louise Fitzgerald, Rachel Jean Reed, Edna M. McKillip and Elsie F. Finkey, all of Carlisle, one grandson, Erik R. Kaylor of Lebanon and several nieces and nephews. Vera was predeceased by brothers; Ray, John, Robert, Richard and Jackie Smith and one sister, Fredith M. Wholey.

Funeral services will be held on Wednesday, May 15, 2013, at 10:30 a.m. in the Ewing Brothers Funeral Home, 630 S. Hanover St., Carlisle, with Rev. Lynn R. Schultz officiating. Burial will follow in Westminster Memorial Gardens, Carlisle. A viewing will be held on Tuesday from 6 – 8:00 p.m. at the funeral home and on Wednesday from 10 a.m. until time of services also at the funeral home. Flowers are welcome or memorial contributions may be made to First United Church of Christ, 30 N. Pitt St., Carlisle, PA 17013.
Click here to send a condolence
Denny Barb and Family, Sorry for your loss.
Your mom was a very special lady.

Aunt Prudy and Gail
_______________

Denny & Shari,
Our sincere condolences on the passing of Denny's Mom.

Rob & Cindy Murray
_______________

Dear Denny and Barb,
So sorry to hear about your Mom. She died at Lifecare where Mom did in November.I know that they both are in Jesus' arms along with your dad, and mine. It still hurts, though, especially around Mothers' day. My sympathies go with you.

Love
Cathy Blocherer, Barrick
_______________

Dear Family,
May the Lord bless you and help you through this difficult
time in the loss of your mother
and our friend.
Neil & June Sanders
_____________

Barb, Denny & families: I am so sorry I was unable to make it to your Mother's viewing. I'll always remember how welcoming your Mother was when I visited your home. She was always such a kind, friendly person and had to have been a wonderful Mother considering the two great kids she and your dad raised. I realize we don't see each other anymore, but I'm glad to have had the chance to know you and your parents when we went to school with each other.

Debbie (Henry) Stought
_______________


Your message of condolence will appear here.