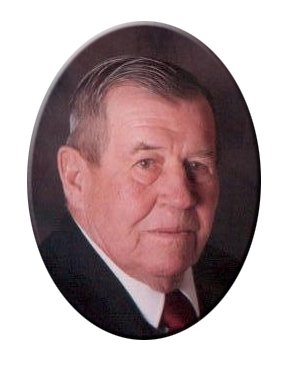 COL (Ret) Leon Crenshaw, US Army, 93, of Carlisle, passed away of natural causes on Thursday, March 21, 2013, at his home. He was born in Independence, Missouri on June 3, 1919, the first child of Marvin and Alice (Seavers) Crenshaw.
He grew up in western Missouri and attended the University of Missouri in Columbia where he received a Bachelor of Science in Agriculture in 1941. During his college years he excelled in livestock and dairy cattle judging, receiving a 1st Place medal at the American Royal in 1940 for Cattle and Horse judging. That year, he had more total points for college judging than any other college judge. Upon graduation, he was commissioned a second lieutenant in the U.S. Army.
Colonel Crenshaw served as an officer for thirty-two years. He was a veteran of World War II, Korea, and Vietnam. During WWII, he served in the European Theater of Operations with the 90th Infantry Division, Third U.S. Army, participating in five campaigns in Europe, which included the battles of D-Day at Utah Beach, Normandy, the Ardennes Pocket, Metz, and the Battle of the Bulge. In the Korean War he served with the 17th Field Artillery Battalion, Eighth U.S. Army. He fought in five campaigns, including the battles of the Pusan Perimeter, Inchon, Kunu-ri, and Chipyong-ni. His military decorations include five Bronze Stars, two Legion of Merit Awards, three Army Commendation medals, two Presidential Unit Citations, and the Arrowhead for the D-Day landing. His foreign decorations include the French Croix de Guerre, the Jubilee of Liberty for Normandy, and the D-Day Fiftieth Anniversary medal.
Prior to his assignment to the Army War College Staff and Faculty in 1970, Colonel Crenshaw's other significant assignments included Deputy Commander and Commander of I Corps Artillery in Korea and Chief of Operations (G-3) of US Army SETAF in northern Italy. His military education included the basic and advanced artillery courses, the Command and General Staff College, the Army War College, and the Defense Management Course. He also held a Master of Science degree from George Washington University in International Affairs.
Following his retirement from the service in June 1973, he resided on and operated his own farm in Shippensburg, PA. He moved to Carlisle in 2001. He was predeceased by his wife of nearly sixty years, Marianne (Lukas) Crenshaw, who died Dec. 26, 2006, a son, Leon Michael Crenshaw, a sister, Maxine Crenshaw, and two brothers; Walton and Eugene Crenshaw.
He is survived by three daughters; Sylvia A. Schneider (David) of Louisville, KY, Linda L. Mazzucchi (Michael) of Manassas, VA and Jennifer A. Cook (Judson) of Valrico, FL, a sister, Juanita Dorsch of Independence, MO, a sister-in-law, Sally Crenshaw of Kirksville, MO, eight grandchildren; Christopher Schneider, Andrea Legg, Rachel Elliff, Stephen Mazzucchi, Alexander Cook, Laura Cook, Debbie Cook and Lee Carter Cook, nine great-grandchildren, several nieces, nephews and his devoted care-giver, Kate Harper.
A viewing will be held on Monday, April 1, from 6 - 8:00 p.m. in the Ewing Brothers Funeral Home, 630 S. Hanover St., Carlisle. Funeral services will take place at 2:00 p.m. on Tuesday, April 2, in the USAWC Memorial Chapel, Carlisle Barracks, with Chaplain Arthur Pace officiating. Cumberland County Honor Guard will perform honors following the services on Tuesday. Interment at Arlington National Cemetery with full military honors will be held at a later date. In lieu of flowers, the family requests donations be made to the American Red Cross, The Army Heritage Center Foundation or to a favorite charity of your choice.
Click here to send a condolence

So sorry to hear of Col. Crenshaw's passing. He was a great friend to the Crowe family. I have very fond memories of pheasant hunting at the Crenshaw farm every year with my Dad - Col Charlie Crowe and Col. Crenshaw. Leon Crenshaw was a true gentleman and patriot. He will be very much missed.

Charlie Crowe
_______________

you have lost a great soldier,father, friend and husband to a wonderful lady who preceded him. They will be missed by many to be sure, the "Elliott family who will miss them dearly.

Ron & Jenny Elliott
_______________

To the Family of Colonel Crenshaw:
We extend our deepest sympathies and wish for you complete peace. Colonel Crenshaw was our hero, prince and idol. Our thoughts and good memories will comfort us for many years.

Best regards,
James and Alvergia Guyton
_______________

I served under him in Italy at SETAF. Wonderful man and a TRUE gentleman in all regards.

Gary Richardson
______________

Your message of condolence will appear here.